Great Discussion, Free Lunch, What Are You Waiting For? Registration Closes Today!
Join us for a free event to learn more about the economic impacts of a West Virginia Earned Income Tax Credit (EITC).
When: January 11 from 9:30 AM – 2:00 PM
Where: Embassy Suites, downtown Charleston
Who: Financial education practitioners, researchers and stakeholders, including representatives from the FDIC, Richmond Federal Reserve, Marshall University, Duke University, the United Way and KISRA will discuss the effects of a state EITC on West Virginia's economy and its families.
The event is free and registration is required to reserve lunch.
Why: Gain a better understanding of how a West Virginia EITC could boost local economies while positively impacting families who earn low wages
Supported by the Claude Worthington Benedum Foundation, the West Virginia Alliance for Sustainable Families, the West Virginia HUB, the West Virginia Healthy Kids and Families Coalition and the West Virginia Center on Budget and Policy.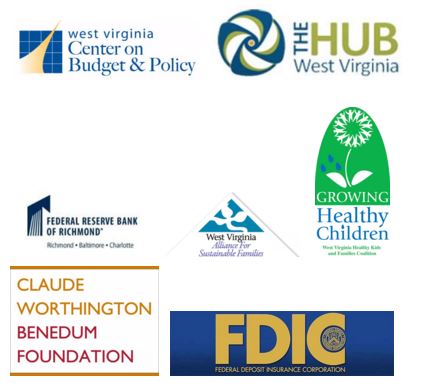 What a West Virginia Working Families Tax Credit Would Mean for the State and Its Economy
This week the WVCBP released its first report of the new year: A Tax Cut That Works for Working Families: A West Virginia Earned Income Tax Credit.
A pro-work, West Virginia EITC modeled after the federal credit would allow low-paid families to keep more of what they earn, reduce the substantial state and local taxes they pay, and give a boost to local businesses. Relative to other kinds of tax cuts, it's a targeted and modest investment that can make a big difference for thousands of working West Virginia households in every corner of our state.
Here more in the Parkersburg News and Sentinel.

2016 Legislative Session Starts on Wednesday: Here's One Issue We Will Follow
It's hard to believe that the 2016 Legislative Session is right around the corner. The WVCBP staff will be there to dissect the tough issues and bring balance to the discussion.
One topic that's likely to be on the agenda again this year, after being tabled in 2015, is the dangerous movement to pass a resolution calling for a Constitutional Convention. Here's a great explanation on why this is an awful idea.

Welcome, Dillon!
This week the WVCBP welcomed our spring intern, Dillon Neace, to our team. Dillon is a graduate student completing a Master's Degree in Public Administration from Marshall University where he also earned a Bachelor's Degree in Political Science in 2014.
During his undergraduate career, he was also a Frasure-Singleton intern at the West Virginia Legislature.
Dillon will be working on research and analysis of the governor's budget, set to be released next week, as well as helping with outreach and bill tracking during the 2016 Legislative Session.
To learn more about our fellowship and internship programs, go here.

Welcome, Saul!
Joining our WV EITC fellowship program from the southern part of the state is Saul Harlow. Saul is a senior at Concord University who will graduate this Spring with a degree in Political Science and a Pre-Law minor. He works with Concord's Student Government Association to improve the lives of his classmates and, in his spare time, enjoys playing percussion with the school's jazz band.
Have You Registered?
So many great events, so little time left to register!
Time is running out so why not get one more thing off your to-do list by registering today for the 2016 Budget Breakfast!