A recent outbreak at Princeton Health Care Center, a nursing home in Mercer County, highlights once again the ongoing need for vigilant COVID-19 testing and contact tracing. Both of these efforts can be funded by using some of the $1.25 billion West Virginia received as part of the CARES Act passed in March.
Congregate Settings Remain High Risk for Outbreaks and Community Spread
Naturally, shared living spaces are particularly susceptible to virus transmission, as has been evidenced in West Virginia. Our state's first series of COVID-19 outbreaks and community spread occurred within nursing homes early in the pandemic. This risk of transmission is further heightened in congregate settings when the environments do not allow for adequate social distancing measures, such as in incarceration facilities. For instance, the COVID-19 outbreak at Huttonsville Prison served as a clear example of just how swiftly the virus can spread through overcrowded prisons and jails. Indeed, these outbreaks threaten not only those confined within the facilities, but the communities where the facilities are located, as well.
In response to these outbreaks, Governor Justice mandated universal testing of all staff and residents in every nursing home in West Virginia and testing of all incarcerated persons and staff throughout the correctional system. The Princeton Health Care Center outbreak shows the importance of routine, periodic testing in all congregate facilities as people are coming in and out of these facilities daily.
Many Local Hospitals Lack Capacity to Adequately Respond to Community Outbreaks
Officials at the Princeton Health Care Center requested help from state and local officials both on and before July 7th, when they learned that an employee at the nursing home had tested positive. Mercer County was listed as having 57 positive cases of COVID-19 in the Department of Health and Human Resources (DHHR) report released July 7. As of August 3, less than one month later, the number of positive cases in the county had nearly tripled to 165.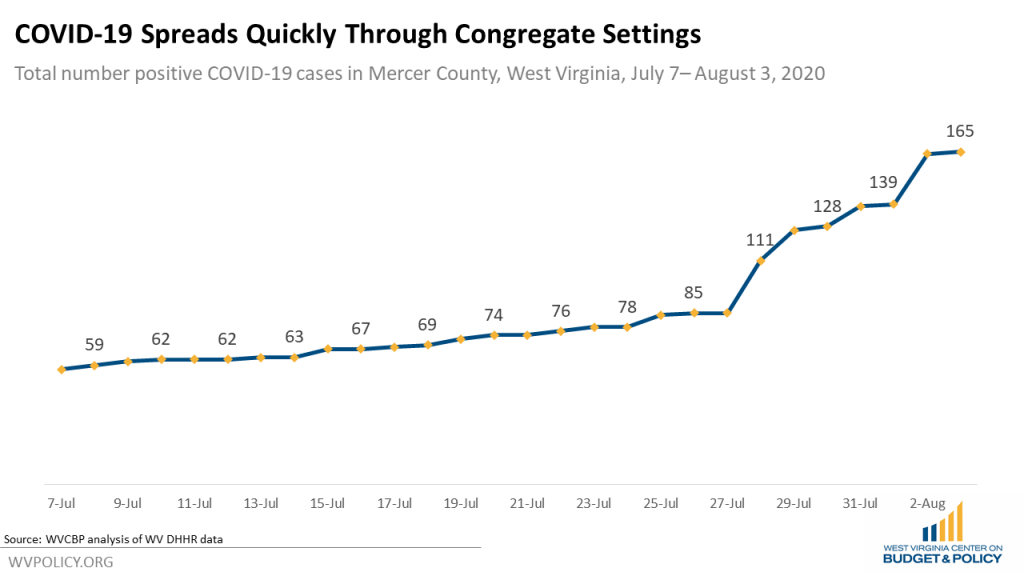 To provide further context, only 43 ICU beds are available in Mercer County and adjacent counties (including those in southwest Virginia). Thus, a rapid surge in COVID-19 cases requiring hospitalization could have proven to be catastrophic given the region's limited capacity to serve those with serious virus symptoms.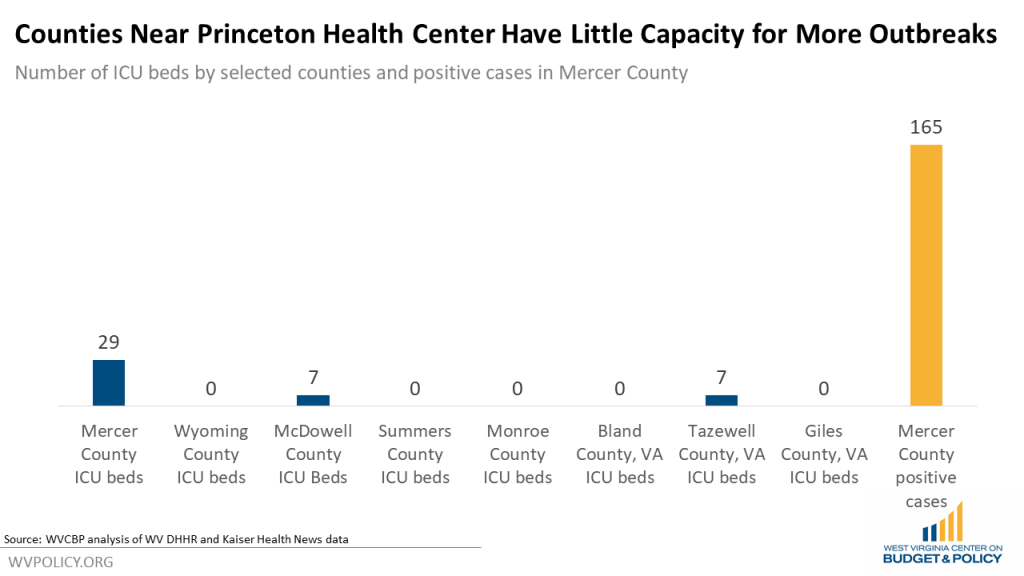 CARES Act Dollars Available to Fund Increased Testing and Contact Tracing
Regularly testing people living in congregate settings like nursing homes and correctional facilities is a key component to avoiding future outbreaks like those in Mercer County. Additionally, we should consider making sure well trained, well paid contact tracers are available to limit community spread. Rigorous testing combined with robust contact tracing has the potential to prevent further outbreaks and protect our rural communities already at higher risk of being harmed by COVID-19. Both measures can be paid for using a portion of the $1.25 billion allocated to West Virginia in the CARES Act.
Additional Measures Needed to Reduce Risk of Future Outbreaks
West Virginia is experiencing community spread at a level not seen in earlier months of the pandemic. What's more, our correctional facilities have once again surpassed maximum capacity with positive COVID-19 cases being confirmed at Southern Regional Jail (SRJ) as recently as August 5th.
In order to successfully relax community mitigation efforts like stay-at-home orders and other measures to reduce COVID-19 transmission, it is essential to have the capacity to rapidly test all symptomatic cases of COVID-19, identify and isolate all positive cases, and conduct contact tracing for all close contacts of each and every case. As such, West Virginia should spend CARES Act dollars on an aggressive testing and contact tracing campaign. Well paid, trained contact tracers safeguard us all and regular testing of congregate living facilities can protect those housed within them, as well as their surrounding communities, from the harms that result from a COVID-19 outbreak.
According to the National Academy of State Health Policy, West Virginia is one of only 16 states without specified funding for contact tracing. Several states, including Arkansas, Idaho, Kentucky, Missouri, Montana, South Carolina, and others have dedicated CARES Act funding specifically to contact tracing efforts.
The outbreak at Princeton Health Care Center shows us that that one round of testing is not adequate to prevent community spread and protect people in places where hospital capacity is limited. Robust, regular testing paired with contact tracing can ensure that West Virginians inside and outside our state's congregate facilities can remain safe and healthy. Further, a United States Treasury guidance updated in June affirms that both are appropriate uses of CARES Act funding. Prioritizing these important mitigation measures with CARES Act funds would be a wise path forward to ensuring that West Virginia isn't forced to undertake more drastic measures to stop the spread of COVID-19.