Legislature to Convene for Special Session
On Monday, the West Virginia legislature will convene for a special session to work on passing a state budget. From the outside, there appears to be little consensus with the governor calling for more revenue to help fill the budget gap and the House of Delegates pledging against any new taxes. During the regular session, the Senate called for a $1/pack increase in the state's tobacco tax, even higher than the amount proposed by the governor.
In the meantime, there is much uncertainty within state agencies. Here's more in the Charleston Gazette-Mail on how the impasse is affecting the state's Promise scholarship program.
We will keep you posted on how the special session proceeds.

Voting Extended!
It's not too late to vote for the Our Children Our Future issue ballot.
Choose from a selection of topics under three pillars.
Here are four WVCBP priorities we hope you will support:
#1: Fair Workplace – Legislation that repeals Right to Work, restores Prevailing Wage, enforces paid leave, and ensures equal pay for equal work.
#21: Tobacco Free WV – Banning tobacco use in public parks and creating a new cigarette tax which would pay for expanded tobacco cessation programs in WV.
#23: Encouraging Work in West Virginia – Encouraging Work and EITC: Create a state-level Earned Income Tax Credit would lift families out of poverty and incentivize work.
#25: Gas Up WV – Expanding the natural gas severance tax in WV
Coal Jobs Not Coming Back
Ahead of this week's primary election, West Virginia was in the national spotlight as voters headed to the polls. National Public Radio aired this story with comments from WVCBP Executive Director Ted Boettner on the future of the state's coal industry and how trends are unlikely to be reversed no matter how the elections turn out in November.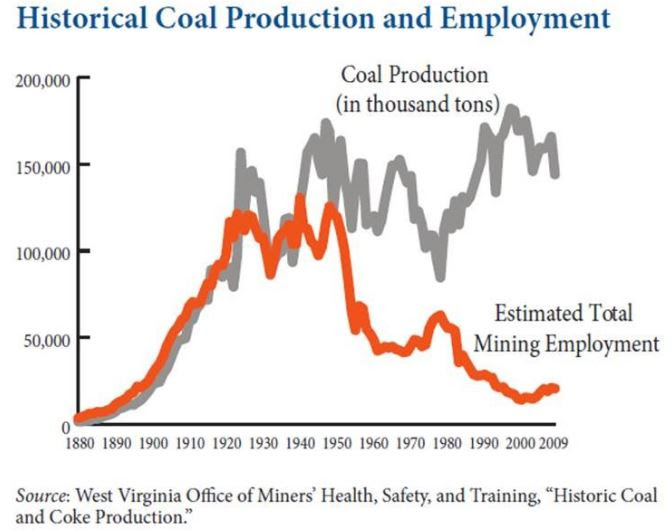 Google Bans Payday Lending Ads
Effective July 13, Google will ban ads for payday loans and other related products. This includes "loans where repayment is due within 60 days of the date of issue and with an interest rate of 36% or higher."
This great news comes out just in advance of an anticipated rule by the Consumer Financial Protection Bureau (CFPB) on the payday lending industry. The WVCBP is working with a national coalition to urge the CFPB to release a strong rule to protect consumers from this predatory form of lending. Such loans are illegal in West Virginia and other states, protecting almost 90 million consumers across the country.

Summer Policy Institute – Will You Sponsor?
The first-ever Summer Policy Institute is just around the corner. The first of its kind in West Virginia, this year's inaugural event will be a weekend immersion in policy issues for West Virginia's young people.
The program will involve presentations, panels, and workshops on a broad range of critical issues facing West Virginia, including budget and taxes, health care, poverty, economic development, education, criminal justice, race and gender, and others. In addition to WVCBP staff, participants will hear from and interact with several dozen of the state's top leaders from academia, politics, government, non-profits and business.
Will you be a sponsor? Donations to the Summer Policy Institute are tax deductible. Help us help a West Virginia student!