Budget Beat for June 7, 2013
Evidence Counts – the WVCBP blog
Income inequality and the decline of the middle class were the subject of Ted's blog post this week. To see the direction West Virginia has gone, look no further than the state's top employer, once Weirton Steel, now Wal-Mart. With the shift in employment comes lower wages which, in turn, mean more West Virginians must rely on federal support to make ends meet.
The nation's budget deficit is the smallest since 2008, largely due to spending cuts like those that are part of the sequester, and to the slowly recovering economy. Despite this economic growth, there is still a troubling jobs deficit, however, as Sean points out in his blog post.
Tens of Thousands Could Benefit from Medicaid Expansion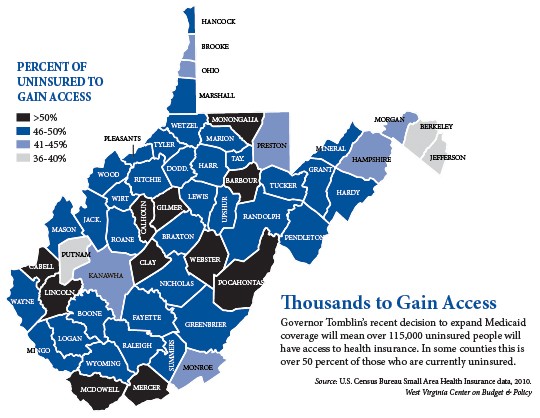 WVCBP in the News
The Patriot Coal ruling was a blow dealt to hard-working families and retirees. While the company's bankruptcy filing might get it off the hook to paying benefits, someone will pick up the tab – mostly likely taxpayers. This was discussed in a West Virginia Public News story that quoted Fiscal Policy Analyst Sean O'Leary.
June is Homeownership Month!
Celebrate Homeownership Month at Shawnee Park this Saturday, June 8. The Kanawha Institute for Social Research and Action (KISRA) will host the event which includes free credit reports and free food. For more information, visit www.kisra.org or call 304-768-1300.
Are Fiscal Notes Working?
There is growing concern that fiscal notes – the "price tags" attached to proposed legislation – are often inaccurate, incomplete, and subject to political bias. The WVCBP will present its preliminary research on the topic, along with the results of our survey of legislators, on Monday, July 8 from 1:30 to 3:00 PM at the WV State University Economic Development Center (1506 Kanawha Blvd West). Space is limited so please RSVP to info@wvpolicy.org.
House to Consider Reduction in SNAP (food stamp) Benefits
The House Agriculture Committee's 2013 version of the Farm Bill would reduce Supplemental Nutrition Assistance Program (SNAP) benefits by $21 billion over the next decade. The full House is expected to begin debate on the bill the week of June 17. Almost half of those who benefit from food stamps are children. Read more in this article from the Center on Budget and Policy Priorities. The Farm Bill also includes subsidies to big agricultural operations and expensive crop insurance benefits. Read this interesting post that explains who would be impacted under the latest version of the Farm Bill if it passes through Congress this summer.