The Latest from the Golden Dome
Several bills of interest are still under consideration as the 2016 West Virginia Legislative Session enters its final hours.
Much talk this session has surrounded how to tackle the huge gap in the state budget. While the Senate has passed its budget bill, it is far different from the one passed today by the House. So next week should be interesting as both chambers work to hammer out their differences. Here's more in Sean's blog post.
All revenue-increasing bills appear dead for the regular session including SB 555. This bill would have raised money for state highways by increasing DMV fees and the state's sales tax.
SB 6, requiring drug testing of welfare recipients passed the House this week, and has been signed by Governor Tomblin.
Today the House is discussing HCR 36 which would call for opening up the U.S. Constitution for the purpose of passing a Balanced Budget Amendment. With the session ending at midnight tomorrow, it is unclear if this resolution has time to pass and then makes its way through the Senate. We will let you know in our full recap of the session next Friday. Here's a Charleston Daily Mail editorial asking legislators to take time to study this important issue further.
SB 705, which would have cut severance taxes on coal and natural gas, also appears dead this session. It passed the Senate but was not taken up by the House Finance Committee. The bill would have cost the state about $159 million/year and local governments about $11.6 million/year.
Today, the Senate passed HB 4013 which would require voters to present an ID at the polls. The amended bill now goes back to the House. Three years ago today, we released West Virginia Photo Voter ID Law: An Expensive Solution Looking For a Problem which explains how this bill is more about voter suppression than addressing a nonexistent voter impersonation problem.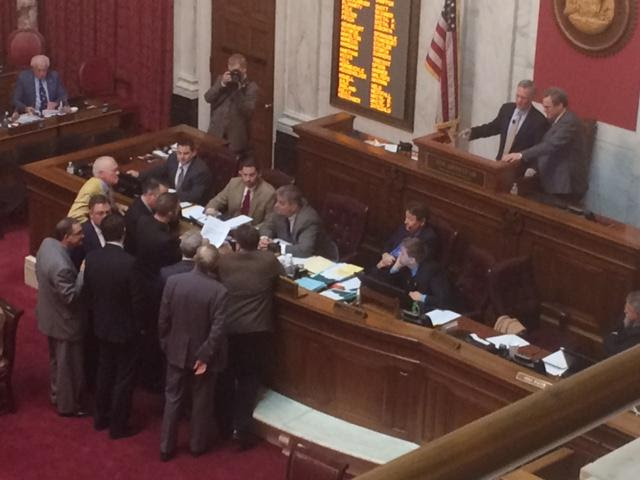 Delegates discuss amendment to Constitutional Convention resolution on West Virginia House Floor, March 11, 2016. Photo by Betty Rivard.
Spread the Word: Apply Now for SPI 2016!
Join us for the first-ever Summer Policy Institute this July at West Virginia Wesleyan College!
Applications are due April 1, 2016.
For more information, please call Tara at 304-720-8682 or go here.