Senator Joe Manchin has recently called for the budget reconciliation package currently being negotiated in Congress to be cut from $3.5 trillion to $1.5 trillion over 10 years.
The Build Back Better agenda, combining the Bipartisan Infrastructure Framework and the proposed $3.5 trillion budget reconciliation package, is estimated to support more than 4 million jobs annually, including over 17,000 jobs annually in West Virginia. Slashing the budget reconciliation package from $3.5 trillion to $1.5 trillion as proposed by Senator Manchin would mean nearly 2 million fewer jobs supported per year nationwide. In West Virginia, the number of jobs supported per year would fall from 17,290 to just 7,490, a reduction of 9,880 jobs per year.
In addition to severely compromising the recovery plan's value as macroeconomic insurance against the recovery waning in the coming years, scaling back the budget reconciliation package would also mean delivering significantly fewer tangible benefits to West Virginia families.
Read Sean's full blog post.
What is Meant by "Entitlement Mentality?"
Senator Joe Manchin has recently defended his desire to slash the budget reconciliation package by claiming that he doesn't want to create an "entitlement mentality" through offering all of the the robust social service provisions that may otherwise be included in the Build Back Better agenda. WVCBP executive director Kelly Allen published an op-ed this week arguing for the inclusion of these provisions as a means of enhancing the well-being of all West Virginians. Excerpt below:
Lately, Sen. Joe Manchin, D-W.Va., has raised concerns about an "entitlement mentality," insinuating that passing some of the provisions in the Build Back Better Act would create a society where people expect too much. I find this hard to reconcile with what I see every day: West Virginians making do with far too little.
Policy research and the experiences of West Virginians all come to the same conclusion: The investments proposed in the Build Back Better Act help families become more economically secure and better balance work and life's responsibilities.
Even better, they would drive historic reductions in child poverty, grow our economy, and increase the future health and well-being of kids. And, taken together, the Build Back Better Act and the Bipartisan Infrastructure Framework are expected to create 4 million jobs across the country, including important investments in the child care and home care workforces and in clean energy jobs that can ensure West Virginia workers are included in the economy of the future.
But we won't get to experience all these benefits of Build Back Better if it's dramatically scaled back or if key programs are stripped out of the bill to arbitrarily lower the cost. West Virginians' needs — and the well-being of our people — are too important to piecemeal together, as the care provisions work in tandem with one another, each addressing longstanding challenges.
Read Kelly's full op-ed here.
Read the WVCBP's statement urging Senator Manchin to support a Build Back Better recovery agenda that meets the needs of the moment here.
Expanded Child Tax Credit Succeeding in Aiding Families, Future of Enhanced Credit is Uncertain
The expanded Child Tax Credit included as a provision in the American Rescue Plan Act is performing as intended in providing financial relief to families across the country as the pandemic continues. Whether its expansion will be extended remains unclear as Congress continues to negotiate the next recovery package. A recent article, including insight from WVCBP policy outreach director Seth DiStefano, explores how the enhanced credit has been benefiting West Virginia families. Excerpt below:
The program has been a major benefit to nearly 350,000 children and their families in West Virginia alone, not only helping to alleviate financial strains but pulling thousands out of poverty. Joanna Vance, a Beckley mother of three, says the program has been a huge help in paying off several different expenses going to the needs of her family.
"Like normal families we still struggle with doctor bills, cars breaking down. The Child Tax Credit has just been a cushion for us to be able to do these things and not having to worry about saving up to do them, and to get them done when we needed it," Joanna says.
The expansion of the new program is still waiting for its renewal in Congress, a decision that could be costing to all of the children and their families if it's not extended.
"The expanded Child Tax Credit has cut child poverty in West Virginia and around the country in half," DiStefano adds. "That's what is at stake here, generational poverty is the biggest problem we have in West Virginia and the expanded Child Tax Credit is making progress to that problem like no other policy before."
Read the full article here.
Join Us at Smart Justice Advocacy Days!
The WVCBP is a proud member of the West Virginia Criminal Law Reform Coalition. In January 2021, the coalition hosted a virtual Criminal Justice Reform Summit to build knowledge and awareness of the myriad flaws and prejudices currently ingrained into West Virginia's criminal legal system. Now, we're hoping to translate that knowledge into action through the Smart Justice Advocacy Days event. We hope you join us.
To gear up and get organized to advocate for systemic changes to our state's criminal legal system, the coalition is hosting a series of three virtual learning sessions providing the lay of the land and diving into some issues we'd like to tackle during the 2022 legislative session. These webinars will be followed by an in-person citizen lobbying and story-telling training in Charleston on Sunday, December 5 to prepare participants for our Smart Justice Advocacy Day that will be held on Monday, December 6 at the State Capitol during legislative interims.
We welcome you to join us in any and all ways you are able! Please know that your inability to attend any one component of this event does not preclude you from participating in the convening's other pieces (all of which are free!). We would love to have you fighting alongside us in whatever way makes sense for you.
For more information, check out the event landing page and registration here, and follow the Facebook event here for ongoing updates and reminders.
We hope to see you there!
Reimagining Justice in West Virginia
Check out this opportunity from our partners at the American Friends Service Committee to participate in an incredible virtual conference on restorative justice in West Virginia. The conference will take place on Nov. 19 and 20. Keynote speakers include Howard Zehr, Kay Pranis, and Ash-Lee Henderson.  
Spaces are limited so register today!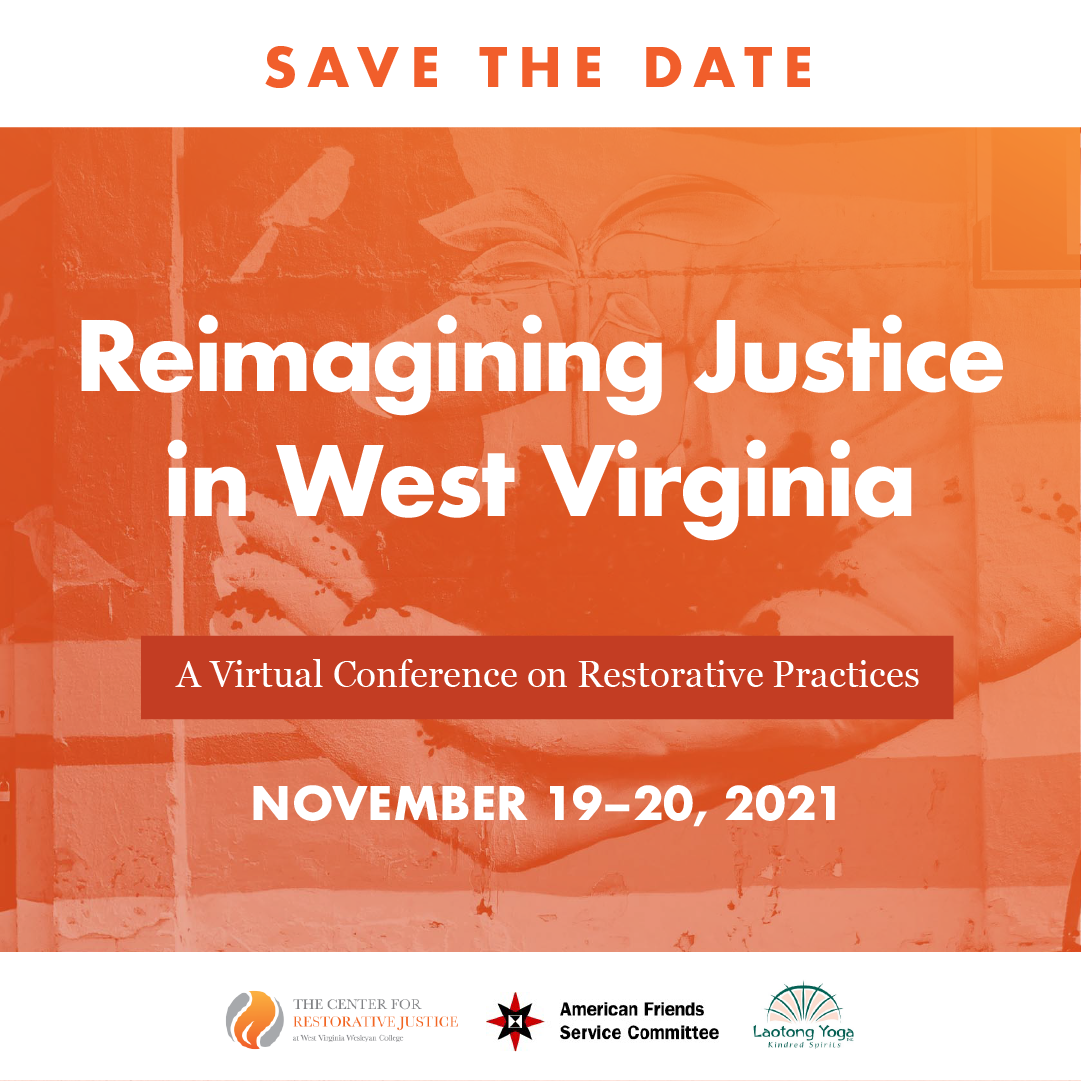 Register Today for the WVCBP's 2022 Budget Breakfast
Join us for our 9th annual Budget Breakfast!
Each year, the WVCBP holds this event to provide analysis of the Governor's proposed budget. You'll hear from our executive director, Kelly Allen, our senior policy analyst, Sean O'Leary, and our chosen keynote speaker, to be announced closer to the event.
Please find further event details below. You can purchase a ticket for the event here.
WHAT: WVCBP's 9th Annual Budget Breakfast
WHEN: January 21, 2022. Breakfast will be available starting at 7:30am. The WVCBP's analysis of the Governor's 2023 proposed budget will begin at 8am, followed by keynote speaker presentation and time for Q&A.
WHERE: Charleston Marriott Town Center (200 Lee Street East, Charleston, WV 25301)
WHO:
Kelly Allen, WVCBP executive director
Sean O'Leary, WVCBP senior policy analyst
Keynote Speaker (to be announced)
PLEASE NOTE: The cost of a single standard ticket is $50, but if you take advantage of our Early Bird Special (available to all who register by 12/31/21), you will receive $10 off.
We appreciate your support of the WVCBP and our work, and we hope to see you in January!
Take Back Our Health WV Student Policy Research Fellowship
Take Back Our Health WV! (TBOHWV!) is a multi-sector partnership of health advocates and researchers driven by a vision of a healthier West Virginia.
The Take Back Our Health WV Fellowship supports undergraduate and graduate students to contribute to policy research focused on improving access to healthy food, physical activity infrastructure, and safe drinking water for all. This fellowship opportunity grants individual students at institutions of higher education in West Virginia an award to advance policy and systems research and share their findings with TBOHWV partners, practitioners, and policy-makers. Students will also gain firsthand experience with public health policy and systems change by connecting with mentors and organizational partners. Undergraduate fellows will be awarded $500 and graduate fellows will receive an award of $1,000.
Find further details and fellowship application here.
Share Your Medicaid Experience with Us!
The WVCBP's Elevating the Medicaid Enrollment Experience (EMEE) Voices Project seeks to collect stories from West Virginians who have struggled to access Medicaid across the state. Being conducted in partnership with West Virginians for Affordable Health Care, EMEE Voices will gather insight to inform which Medicaid barriers are most pertinent to West Virginians, specifically people of color.
Do you have a Medicaid experience to share? We'd appreciate your insight. Just fill out the contact form on this webpage and we'll reach out to you soon. We look forward to learning from you!
You can watch WVCBP's health policy analyst Rhonda Rogombé and West Virginians for Affordable Health Care's Mariah Plante further break down the project and its goals in this FB Live.
Urge West Virginia's US Senators to Support the Build Back Better Agenda
Earlier this year, our federal policymakers sent money to families so people can pay their rent and put food on the table, helped school districts protect teachers' health and get kids back into the classroom, and boosted vaccine distribution—all of which will help accelerate our economy and address the immediate health and economic impacts of the pandemic.
Congress acted because we raised our voices together and demanded help. With short-term relief on the way, now Senator Manchin and Senator Capito need to look to our future and pass economic recovery legislation that ensures everyone can thrive, no matter what we look like or where we come from.
Our elected officials are negotiating recovery legislation now, so it's time to make yourself heard again. Tell them you want our government to support working families and invest in our economic recovery by making health care coverage more available and affordable, permanently expanding relief for struggling people, and ensuring children get the support they need to succeed.
Please join us in urging Senators Manchin and Capito to support the Build Back Better Agenda by sending them a letter here.