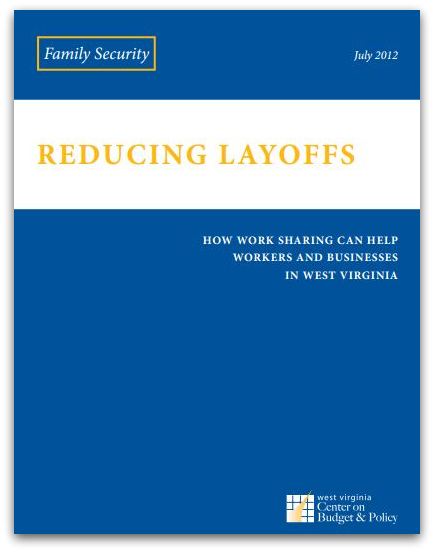 In times of economic uncertainty, instead of sending trained staff to the unemployment line, companies in 24 states and the District of Columbia can use work sharing. This voluntary program allows employers to use unemployment benefits to retain their workers and avert lay-offs. Work sharing could be particularly helpful to West Virginia's mining and construction industries which have both faced employment ups and downs during this past recession. Read
West Virginia's economy, similar to other states, experiences many ups and downs. The peaks and valleys of the state's economy as it moves through recessions and recoveries can be hard on the state's workers and businesses. As the economy slows, workers often lose their jobs and face hardships as they seek new employment. Once the economy begins to grow again, businesses often struggle to replace the experience and skills of the employees they lost during the bad times. This struggle can prolong the pain, making it more difficult to rise out of a recession.
The recent national recession was no different for West Virginia. The worst economic downturn since the Great Depression officially began in December 2007, although it took nearly a year for the recession's impact to be felt in West Virginia. The impact of the downturn on West Virginia was severe. Between September 2008 and February 2010, West Virginia lost approximately 25,300 jobs. For nearly a year and a half, West Virginia lost an average of 1,490 jobs a month.
Recovery from the recession has been slow. It took nearly two years for West Virginia to regain most of the jobs that it had lost during the recession. The gains have come slowly, with less than 1,000 jobs added per month on average.
The slow recovery and weak job growth have meant the sustained high unemployment for the state. Unemployment peaked at 8.5 percent, more than double its pre-recession rate. Since the end of the recession, West Virginia's unemployment rate has remained elevated, with more than 57,000 workers remaining unemployed.
While the recovery has dragged on, those who are unemployed are finding themselves without work for longer periods of time. The share of unemployed workers who have been without work for more than six months has grown from 19.7 percent in 2008 to 43.8 percent in 2011.
The effects of this long-term unemployment can have a dire impact on these workers' wellbeing and their futures. West Virginia's construction and manufacturing workers have been particularly affected by the recession and have yet to see a full recovery. More than 8,000 construction jobs were lost in the state during the recession, and fewer than 3,000 have come back. Manufacturing has fared even worse, losing 9,000 jobs, with no signs of recovery.
With the recovery remaining weak, a little-known policy has emerged to help businesses weather economic downturns and keep their workers employed. Work sharing (also known as short-time compensation) is an unemployment insurance benefit intended to keep job losses from happening in the first place, allowing businesses to retain their workforce during recessions and avert layoffs.
Work sharing gives businesses the option of reducing the hours and wages of their employees instead of laying them off. Workers with reduced wages and hours are then eligible for partial unemployment benefits to help make up the lost wages.
Work sharing benefits not only the employer and the employees, but the state as a whole. Work sharing deters job losses, reduces turnover and unemployment, helps workers maintain their wages, and reduces the effect of long-term unemployment.
Bureau of Labor Statistics, Current Employment Statistics, seasonally adjusted.
Ibid.
Bureau of Labor Statistics, Local Area Unemployment Statistics, seasonally adjusted.
Bureau of Labor Statistics, Labor Force Statistics from the Current Population Survey, unadjusted.
Bureau of Labor Statistics, CES.