West Virginia's unemployment rate in April 2011 was 8.8 percent, down from a high of 9.7 in December 2010, but still more than double its pre-recession levels. So while the state is doing slightly better, it still has plenty of room for improvement. But did the recession affect all areas of West Virginia's economy the same?
This chart shows seasonally adjusted total non-farm employment for West Virginia dating back to January 2008. As the chart shows, West Virginia experienced a solid year of job losses starting in September of 2008, as total non farm employment fell from 764,000 in September 2008 to 739,400 in September of 2009, a decline of 3.2%. Non farm employment remained stagnant for about five months, before starting to grow again in February 2010. Since February 2010, non farm employment has grown to 753,800, an increase of 1.9%.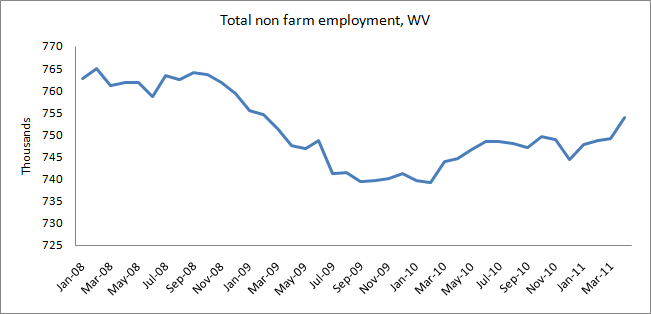 This next chart shows changes in employment by sector, first during the downturn from September 2008 to February 2010 and then during the upswing, from February 2010 up to April 2011. This can show us which sectors were hit the hardest during the downturn, and which sectors are making the most progress.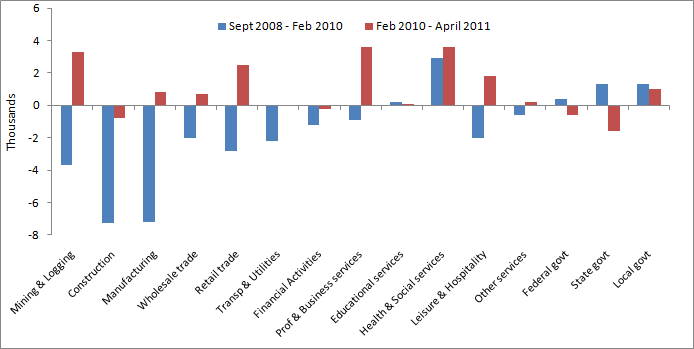 The chart shows that the mining, construction, and manufacturing sectors were hit particularly hard. The mining sector fell by 3,700, a decline of 11%, construction fell by 7,300 for a 18% decline, and manufacturing lost 7,200, a 13% decline. In contrast, the health and social services sector saw an increase of 2,900, good for a 3% increase during the downturn. The government sector also saw modest growth at all three levels.
Since non farm employment began to grow again in February 2010, mining, retail trade, and professional and business services have seen the biggest gains. The mining sector has grown by 3,300, an 11% increase, retail trade has added 2,500, a 3% increase, and professional and business services have added 3,600, a 6% increase. Health and social services continued to grow, adding 3,600 for a 3% increase.
On the other hand, construction continued to decline, losing an additional 800, while manufacturing's increase of 800 was minor compared to its loses of 7,200. And despite seeing minor growth during the downturn, federal and state government saw employment losses during the upswing. Growth remained stagnant across the rest of the economy.