The American Rescue Plan Act (ARPA) will allocate more than $1.355 billion in federal relief funds to the state of West Virginia to address the ongoing economic and health impacts of the pandemic. Recently, members of legislative leadership have called for a special session to fulfill the mandate set forth in House Bill 2014, which provides for legislative oversight for any sum of federal monies exceeding $150 million issued during a state of emergency. HB 2014 was introduced and passed largely because many lawmakers felt there was a lack of broad input on spending of the CARES Act's Coronavirus Relief Funds throughout the first year of the pandemic.

Legislative oversight and allocation of ARPA funds could be a positive force for West Virginia communities, but it must be combined with direct input from those most impacted by the pandemic-driven recession.
In fact, the U.S. Department of Treasury's interim final rule on the ARPA's Fiscal Recovery Funds explicitly encourages direct public input in allocation and priority of fund use. The Treasury "urges state, territorial, tribal, and local governments to engage their constituents and communities in developing plans to use these payments, given the scale of funding and its potential to catalyze broader recovery and rebuilding."

Thus far, the policy conversations on how to spend state ARPA dollars have been focused largely on broadband, roads, and water/sewer improvements. While these more traditional infrastructure projects undoubtedly add value to our communities, many elected officials and residents may not be aware that Fiscal Recovery Funds can be used to fund far broader projects, including supporting essential workers, directly addressing those most impacted by the pandemic, developing programs that address public health outcomes, and much more. More information on eligible expenditures can be found in our best practices fact sheet.
West Virginians are Still Struggling in the Wake of COVID-19
The focus on the aforementioned traditional infrastructure buckets fails to address the economic security of families and workers in West Virginia. ARPA provisions allow for spending that would immediately increase household incomes and provide access to affordable housing, and targeting dollars toward these types of programs at a time when many West Virginians are experiencing extreme economic precarity is worthy of consideration.

West Virginia is still down 33,000 jobs from February 2020 compared to April 2021 and recent data from the U.S. Census Pulse survey shows that West Virginia households with children are reporting markedly higher rates of food insecurity than was reported prior to the pandemic.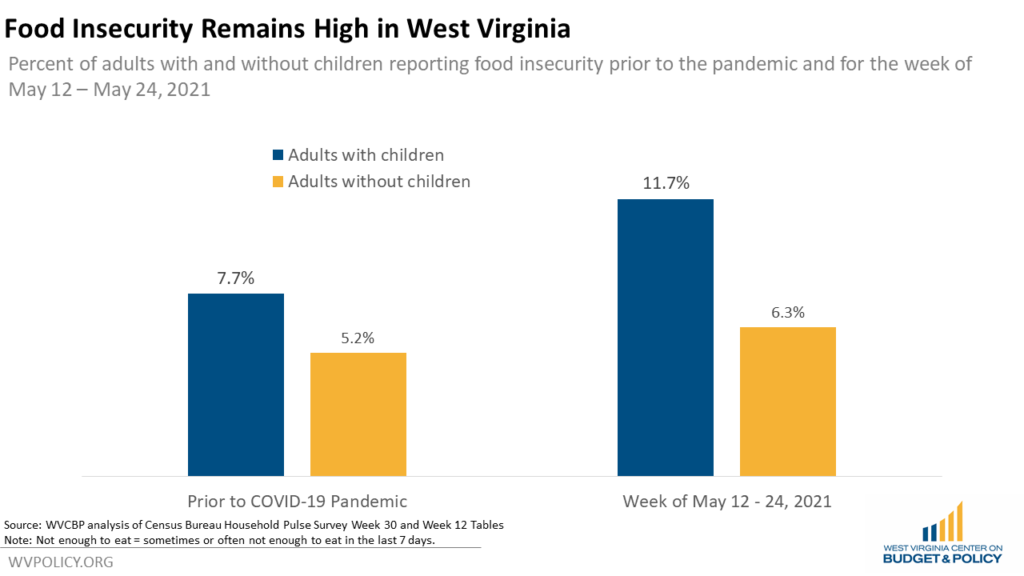 Deliberate ARPA Outreach by WV Legislature is Paramount to Post-Pandemic Success
Whether it is providing direct cash assistance to West Virginians still struggling with the pandemic-driven recession or rectifying the blatant racial disparities in COVID-19 testing and its aftermath for the health of Black communities, people-centered solutions only emerge when concerted efforts are made to work and talk with those who are most impacted.
To that end, it is critical that state lawmakers deliberately create the space necessary for their constituents to share what they most need to move forward in a post-pandemic world. While electronic platforms are a good start, it is important to recognize that socially distanced in-person meetings are possible and necessary to ensure that low-income individuals, people without internet access, and Black and brown communities are heard clearly before any special session to appropriate ARPA funds is called. 
Public input can be collected through many different mediums. Statewide surveys, listening forums, or an advisory commission with broad membership including business owners, non-profit leaders, community members, and others would all serve as good places to start.
West Virginia has the opportunity to learn from other states and its own local communities about how to effectively collect community input. For example, Montana created a positive model to collect public input to guide their CARES Act spending via both public comment and an advisory council. Montana's governor then used this feedback to prioritize spending for CARES Act dollars to leverage the most public benefit. 
Charleston, WV incorporated public forums in addition to receiving input electronically and via text during a recent effort to gain input from residents as to how the city's $36 million in ARPA funds would be spent.
During a recent presentation to the the Joint Standing Committee on Finance, Ann Urling, Deputy Chief of Staff to Governor Jim Justice, was very clear about the intent of ARPA funds. "We need to develop a plan to reduce disparities and ensure that we target those most in need rather than just make an expenditure," Urling said. "The overall plan needs to measure where we have reduced disparities, engaged underrepresented populations and targeted those most in need."
The people's branch of government, the Legislature, demanded greater say this legislative session over allocating federal funds. Now our state legislators have the responsibility to make sure that their constituents — with an emphasis on those who have struggled the most during the pandemic — are heard, and that their lived experiences are directly driving how ARPA funds are appropriated. A tangible commitment and plan for collecting robust public input prior to appropriating these funds must be the first step.