Evidence Counts – the WVCBP blog
Governor Tomblin has asked the Senate and House leadership to restore a small amount of the 7.5% in budget cuts requested in his FY 2014 budget. For more details on the governor's most recent proposal, read Sean's latest blog post.
This week HB 3072 passed out of the Senate Energy Committee. It does not look like the bill will make it out of Senate Finance which shows wisdom by Senate leadership. The bill would have provided a tax giveaway to coal in a year of budget cuts to higher education and other important programs. The stated purpose of the bill was to encourage coal production and create jobs but there is little evidence that it would do either. Read more in Ted's blog post.
Health and Economic Disparities in West Virginia
This week we teamed up with the Minority Health Advocacy Group to map where people of color and ethnic minorities live in West Virginia. In addition, we looked at the health and economic disparities between African American and white populations.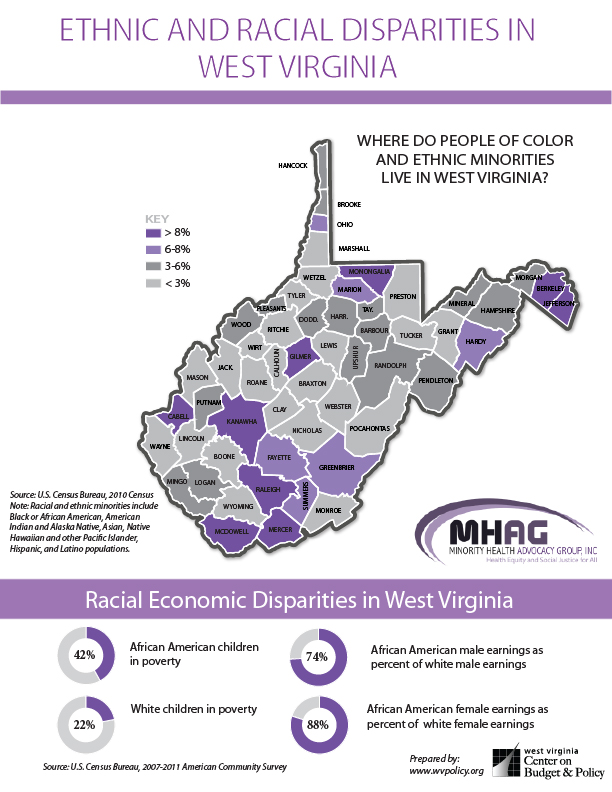 Broadband Policy Recommendations
This week the Central Appalachian Regional Network (CARN) released its report on broadband policy recommendations for West Virginia and surrounding states. The WVCBP was a contributor to this report.
Medicaid Expansion – Making the Case
On the heels of last weekend's Medicaid Expansion forum, we have posted a report from the American Friends Service Committee on our website this week. The report goes beyond making the financial case for expansion and gives real life examples of people whose lives have been impacted by the loss of health care coverage.
Appalachia's Bright Future Conference – April 19
Kentuckians for the Commonwealth is hosting a three-day conference next weekend on how to build a diverse and sustainable economy in eastern Kentucky and central Appalachia. The conference will feature information on the changing economy, lessons from other regions that have gone through transition, and examples of entrepreneurs and communities beginning to build for the future. Registration is available online.