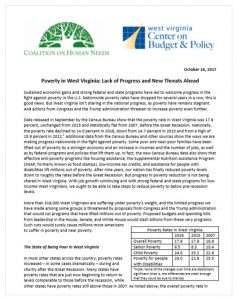 Sustained economic gains and strong federal and state programs have led to welcome progress in the nationwide fight against poverty over the last several years. This is good news. But West Virginia isn't sharing in the national progress, as poverty here remains stagnant.  And actions from Congress and the Trump administration threaten to increase poverty even further.
That's among the findings of 
Poverty in West Virginia: Lack of Progress and New Threats Ahead
, a new
report
 released today by the West Virginia Center on Budget and Policy and the Coalition on Human Needs (CHN).
West Virginia's poverty rate in 2016 was 17.9 percent, unchanged from 2015 and statistically flat from 2007, before the Great Recession, according to data released this September by the U.S. Census Bureau.  Nationally, the poverty rate declined to 14.0 percent in 2016, down from 14.7 percent in 2015 and from a high of 15.9 percent in 2012.