Budget Beat – August 2, 2013
Evidence Counts – Households Have Higher Debt than Federal Government
This fall Congress will need to raise the federal debt ceiling likely starting the inevitable comparison between government and household debt. Ted's blog post this week looks into why this analogy does not look at the full picture and how U.S. households are actually in more debt than the federal government.
Some Obamacare opponents continue to want the ACA repealed while providing few ideas on how to solve the problems of so many of us lacking access to health care. Brandon's blog post this week looks at this win-at-all-costs approach and the latest in threats, including shutting down the federal government, from the law's opponents.
In the News – Budget Deficit Was Avoidable
This week the Clarksburg Exponent Telegram took a look back at last year's state budget deficit, at least in part caused by tax cuts for coal and natural gas. It cited recommendations in a WVCBP report that could have helped the state avoid the shortfall. Read the full article here.
Today the Charleston Gazette reported on our issue brief, co-released with the Center on Budget and Policy Priorities, that impending cuts to SNAP benefits (see below) will affect nearly 1 in 5 West Virginians and reduce benefits for many already struggling to feed their families.
Cuts to Snap Coming
On November 1, everyone in West Virginia who participates in the Supplemental Nutrition Assistance Program (SNAP) will see cuts to their benefits. Formerly known as the Food Stamp program, SNAP assists nearly 1 in 5 people in West Virginia in putting food on the table. For more on these harmful cuts, read our Issue Brief released today.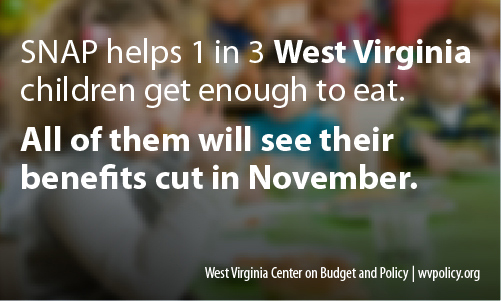 Understanding Obamacare
For help in understanding all the different predictions in what Obamacare will mean for health insurance premiums and more, check out Five Things to Know About Obamacare: A Guide for the Perplexed.