The Affordable Care Act (ACA) enrollment figures released yesterday have apparently taken some people by surprise (which is a bit mystifying to me considering the absolute media saturation about the poorly functioning healthcare.gov website for weeks). Enrollment numbers were low across most of the country, they were very low in West Virginia as well—only 174 people have selected a plan in the Marketplace.  Before people get all into their Chicken Little freakout mode, or opponents begin jumping up and down with glee squealing "I told you so!" like some 8 year old trying to get his little brother in trouble—here's a bit of advice, take a step back, take a deep breath, and really think about what these numbers mean.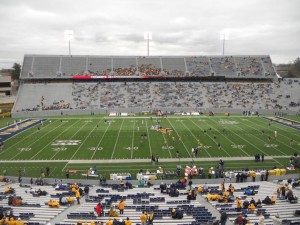 Oh no, no one's here! Let's all freak out!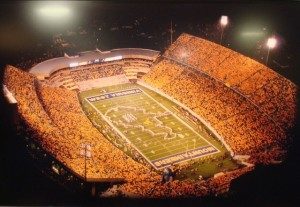 Waait a second!
In September before the Marketplaces even went live, Christine Ferguson, the Rhode Island insurance exchange director, compared early ACA enrollment to layaway, saying the "idea that people are going to do layaway purchasing three months out goes against the American way." Personally, I wouldn't and I'm far from the worst procrastinator that I know. I've also been to Wal-Mart late on Christmas Eve to see hundreds of people finishing (maybe even starting) their Christmas shopping!  Ms. Ferguson has a great point, but I think there's an even better metaphor.
Obamacare is a football game that has yet to kickoff, but we're still trying to guess how big the attendance will be hours before the game starts.  Judging the success or failure of Obamacare months before the insurance policies officially begin is like counting the people already in their seats at 9am for a noon kickoff.  It is insane to flip out (or celebrate) hours before gametime because there are only 174 people in the stands.
Here's what we do know, though. If Obamacare were Mountaineer Field, healthcare.gov is the Blue Lot, busting at the seams with tailgaters waiting to head to the gate once gametime nears.  In its first 24 hours, healthcare.gov had over 2.8 million unique visitors, that's more than Twitter had users in its first 2 years!
We also know that the ticket takers have been very disorganized and slow since the gates opened and only a few people that are in line to get in are able to do so at the moment, although there's word that they're already speeding things up.  Plus, you have until the end of the first quarter to get into the stadium, which is great for us procrastinating tailgaters who may want an extra hot dog or beer before heading into the game.
What we haven't even considered yet either is the 55,000 or so people in West Virginia who have already been enrolled in West Virginia Medicaid.  This alone will have reduced the number of uninsured West Virginians by almost 25 percent.  (I couldn't really figure out a way to include them in the football metaphor so let your imaginations run wild—one way or another, they'll be helping to fill up that stadium.)