With temporary federal funding to help families afford child care ending soon, US Senators Patty Murray and Tim Kaine have proposed an increase in child care funding for all states that would give West Virginia an additional $77 million annually, allowing it to serve some 4,200 more children and build on pandemic-initiated improvements to our child care system. Negotiations are reportedly underway in Congress over an economic package being considered for enactment this year, where Senator Joe Manchin's support will be critical to ensuring that increased child care funding like that in the Murray-Kaine proposal is part of any final agreement.
Around the country and in West Virginia, child care has been a major concern since the COVID-19 pandemic exacerbated longstanding issues of accessibility and affordability. The supply of quality, affordable child care in an area directly affects the size of the workforce and, by extension, the health of the economy. Child care responsibilities and other family obligations are among the most common reasons why women of prime working age (25-54) report not working.
COVID-19 federal relief packages provided critical resources that helped improve child care affordability for families while also increasing payments and reimbursements to help keep providers afloat during the pandemic. But those funds will soon be exhausted. At that point, West Virginia and other states will be forced to cut back on child care investments that families rely on in order to work and deal with rising costs — unless Congress acts. As we previously noted, child care is incredibly expensive for families —costing more than in-state college tuition in West Virginia — yet low-paying for child care providers, resulting in high turnover in the sector. This creates a strain on the broader economy because child care is so critical to parents' ability to work.
The Murray-Kaine proposal would tackle these challenges by investing an additional $12 billion annually into the Child Care and Development Block Grant (CCDBG), the nation's main child care program. Seventy-five percent of the new funds would support increasing access and quality and lowering costs for families, and the remaining 25 percent would go toward raising wages and expanding the number of child care slots by helping new providers open their doors and existing providers expand their classrooms. West Virginia's additional $77 million in annual CCDBG funds would allow the state to provide subsidized child care to thousands more children and families, raise wages for child care workers, and expand the supply of child care.
New investments in child care via CCDBG are incredibly important to West Virginia, which risks losing recent gains made with federal stimulus funds. In recent testimony to the state legislature's Joint Committee on Health, Department of Health and Human Resources (DHHR) Early Childhood Education officials highlighted the state's improvements in subsidy eligibility and provider reimbursement thanks to federal COVID stimulus funding but warned that federal action is needed to preserve these gains. 
Child care funding in the American Rescue Plan Act (ARPA) allowed the state to go from serving 11,000 children with subsidized child care monthly prior to the pandemic to serving 16,777 children in February 2022. But the ARPA funds expire in October 2023, and legislators on the committee warned that no new state funds would be available to continue serving those added families once that happens. The Murray-Kaine child care proposal would protect almost all of the subsidized child slots that were added due to COVID stimulus funding.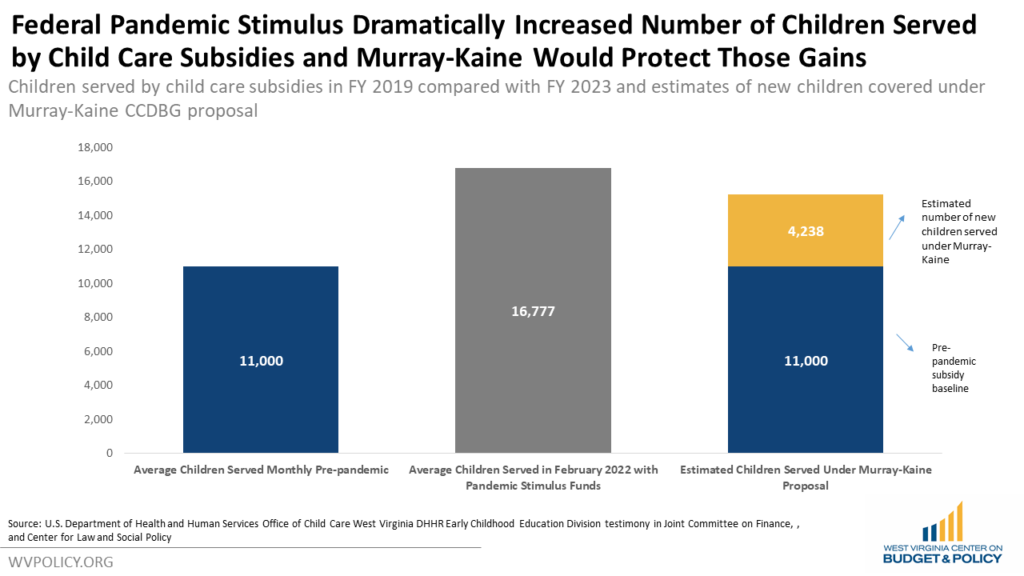 DHHR staff also testified that only about 25 percent of West Virginia households who are financially eligible for child care subsidies actually receive them. The challenge is that with current CCDBG funding, West Virginia is at the ceiling of how many subsidies it can provide. CCDBG is a block grant, meaning that the federal government sends West Virginia a fixed pot of money each year to spend. West Virginia then adds some state money as a required match, but when those state and federal funds are exhausted, the program is unable to serve anyone else. Since West Virginia lawmakers made clear that there would be no additional state money, the added federal money in the Murray-Kaine proposal — which wouldn't require a state match — is the only way to serve more families.
Expanding child care funding so more families can afford child care should be a high priority for Congress this year. And the only viable way it can do so is through an economic package, considered under special "reconciliation" rules, that both makes these investments and reduces the deficit. For West Virginia, the need could not be more clear. The Murray-Kaine investments in child care would help more parents work, expand our labor force and help our economy, raise wages for a critical profession, address rising costs for families, and work to ensure a brighter future for our children.