This blog post was authored by Teri Castle, the 2023 Criminal Legal Reform Summer Research Fellow for the West Virginia Center on Budget and Policy.
Seventeen years ago, I was being held in Western Regional Jail, waiting to be transferred to Lakin Correctional Center. I had just been convicted of first-degree murder and sentenced to a life sentence "with mercy."[1] During that time, my sister Linda brought Alantis, my daughter, to visit me. My little girl, only two and a half years old, walked into the visiting room, her eyes filled with excitement. We had a "contact visit," playing, talking, and laughing together. The hour flew by too quickly, and the moment came for them to leave. I hugged and kissed Alantis goodbye, but she clung to me, refusing to let go. Linda had to force her away from me. Tears streamed down both of our faces as they left.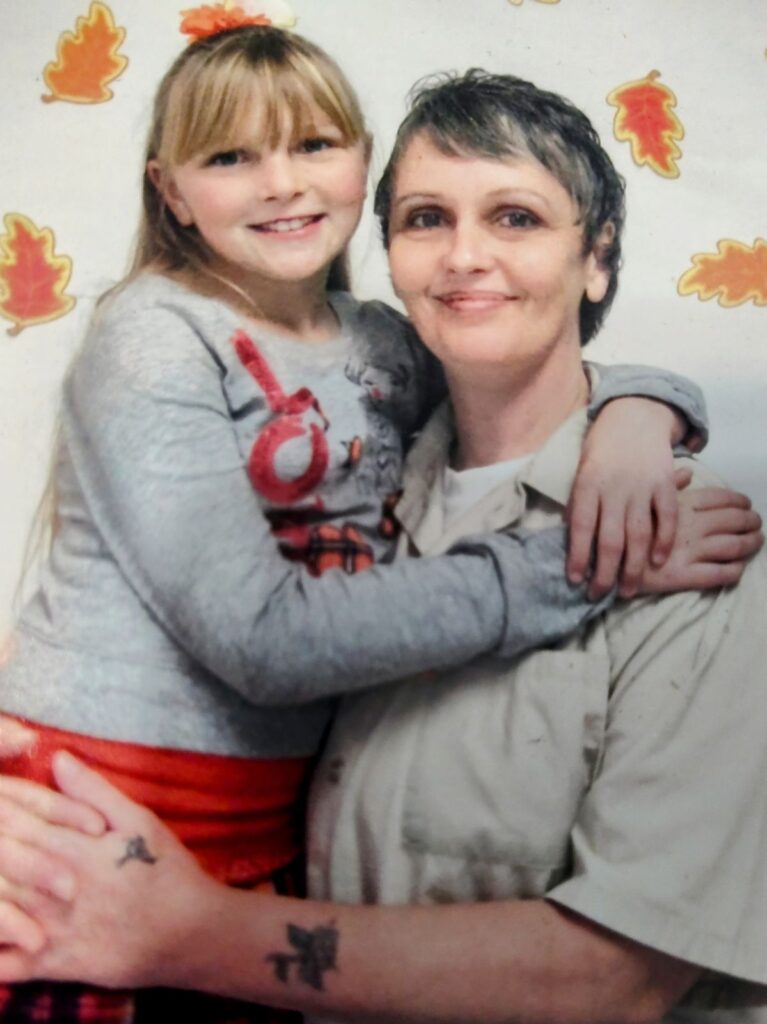 I quietly walked down the hall, into my cell, and contemplated suicide. I had allowed a relapse to take me away from my child, possibly for the rest of my life. I felt worthless and depressed. Lakin Correctional Center became my home shortly after that visit, and it would be nearly a year before I could see Alantis again.
When I entered Lakin, I found myself thrown into a world I could never have imagined. The noise level was unbelievable. The intake process was invasive. We were deloused. Every part of our bodies was checked for drugs and contraband. Then we were placed in the segregation unit until our classification process was complete. Each day, we were only allowed an hour in the dayroom, enough time to shower and make a phone call. Outside recreation depended on the Shift Commanders' discretion.
I had a lot of time to think about my life. Where had I gone wrong? When I became pregnant, I moved out to the country with my friend Gary, hoping to avoid drug use. For an entire year, I believed I had overcome my addiction. In April 2003, I welcomed Alantis into the world, and life was good.
Then Gary had a medical emergency and died right in front of me. Shortly after the funeral, I relapsed.
Sitting in Lakin Correctional Center, guilt overwhelmed me for both the crime I had committed and for letting myself and my daughter down. Alantis was left alone, as I was her only parent. Thankfully, my sister Linda decided to raise her in my absence.
During my early days in prison, that guilt manifested as anger. I despised myself, and my situation. I stayed in trouble due to my bad attitude. I spent a lot of time in segregation, which is being placed in a single cell for 23 hours a day. You are allowed out only for a shower, phone calls with lawyers, and one hour of recreation each day. Spending 30 or 60 days segregated can be challenging because you are left alone with your thoughts.
After several years on this path, I decided it was time for a change. I wanted to be in the general population so that I could be in Alantis' life, even if it was only through phone calls. l started therapy and signed up for trauma classes. I found new ways to deal with my guilt that didn't involve angry outbursts. A prison treatment program and the lessons of A Woman's Way Through the Twelve Steps helped me learn how to forgive myself and move forward.
Despite the physical separation, the bond with my daughter remained strong. We spoke on the phone almost every day. I loved hearing her voice, her laughter. We would talk about everything. She would tell me about her many pets: a bunny, a turtle, and a cat. She wanted to be a veterinarian when she grew up. I began writing her letters with questions about her pets, favorite colors, and favorite activities. We were becoming friends. She would always write back with questions for me. I wanted her to feel comfortable telling me anything and everything. I started making her arts and crafts. The bracelets were her favorite. The felt jewelry box I sent her to put them in was also a big hit.
Alantis wanted to come to see me, so Linda started bringing her to Lakin once a month as a reward for my good behavior. Those visits were precious. I remember when Barbie came out with the Nutcracker movie. Alantis came to visit me. She was so excited to show me the Nutcracker dance she had learned. She received a standing ovation from all the visitors. Even the correctional officer was smiling. It was a great day. Unfortunately, I didn't have any money on my books so I couldn't take a picture with her. My sister offered to pay, but that was against the prison's rules.
The 16 years I spent at Lakin Correctional Center were hard. I was finally granted parole in 2021. Alantis was 18. Since being released I have continued my sobriety, completed a bachelor's degree at Marshall University, and most importantly, I have been a role model to my daughter. I supported her as she obtained her TASK certificate and driver's license, and helped her enroll at Marshall University.
None of that would have been possible if I couldn't have maintained our relationship while I was incarcerated. I was fortunate to have the resources to pay for the phone calls, video chats, and arts and crafts. Video calls are a terrific–but expensive–way to stay connected with your children. When I was at Lakin, we paid $3.00 for each 15-minute video call.
A lot of families don't have the resources to support the children they are now raising, much less extra money to pay for travel or video calls. Children are especially harmed when a parent is incarcerated.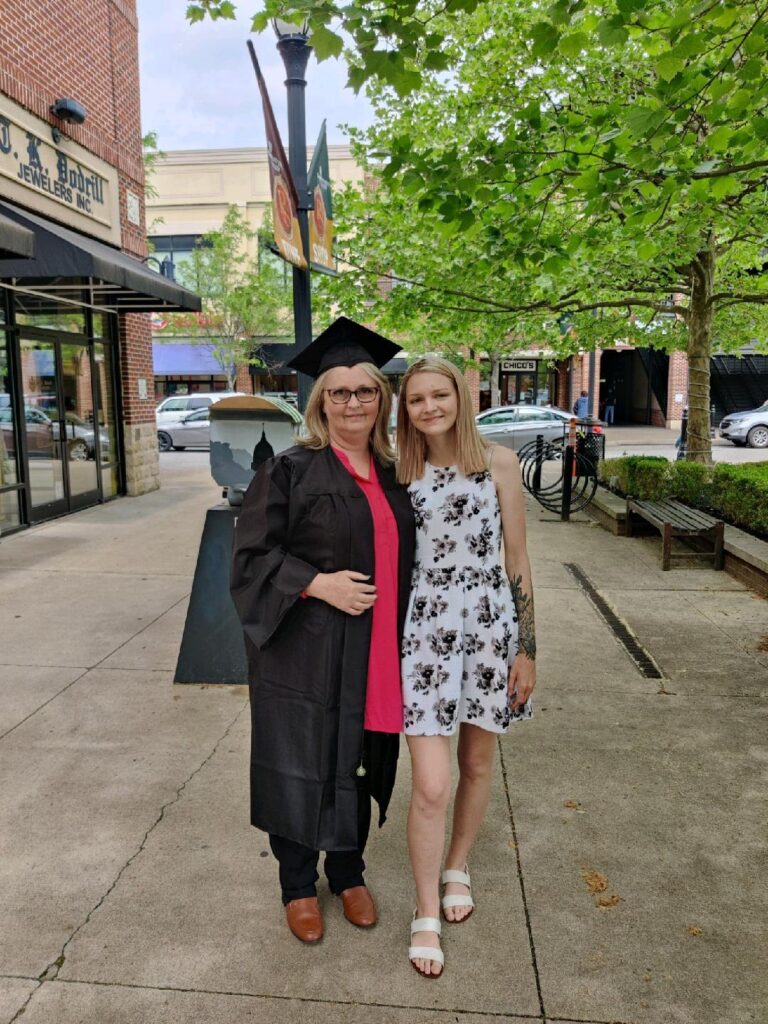 Approximately one in 10 West Virginia kids have had a parent incarcerated at some point in their childhood. The Centers for Disease Control considers parental incarceration to be a traumatic experience that has a devastating impact on a child's well-being. A parent behind bars is linked to illnesses like asthma, depression, and anxiety; acting out; economic hardship; and poorer physical and mental health in adulthood.
Keeping Families Together
There are a few ways that the Division of Corrections and Rehabilitation (DCR) can help families stay connected:
1. Provide free video chats every week (or free phone calls for people in segregation units). West Virginia can follow the lead of other states that have made prison calls free.
2. Reverse the 2017 DCR policy that banned original mail for people in prison. Because of this policy, when a person sends their loved one behind bars a photo or a birthday card, DCR does not give the resident the original. Instead, DCR copies letters and photos in black and white. Sometimes you can't see the words in the letters, or the faces in the photos. Other times letters are cut off on the edges, making them impossible to read.
3. Offer child-friendly and trauma-informed monthly visitation days, in addition to regular visitation hours. These visits would take place in a play-friendly space amongst other families, offer child-friendly activities and games, and allow parents and children to hold each other. Since photos are precious for families, DCR could help families remember the visit with free photos for the person incarcerated and their child. An Illinois women's prison invites residents' children and their caregivers for monthly visits in which families share hugs, crafts, and new memories.
West Virginia has an incarceration rate that is higher than any country in the world. The best family policy would be to ensure that fewer parents go to prison in the first place.
---
[1] Under a life sentence "with mercy," a person is eligible for release to parole supervision after serving a minimum of 15 years.