Budget Beat – August 23, 2013
Health Care Costs Rising, But Not As Quickly
Health care costs continue to rise but at a slower rate than in the past, this according to a new report by the Kaiser Family Foundation. In fact, annual increases in health care are at their lowest levels since the 1960s. Read more about why this changing trend is important and what it could mean to West Virginia's budget in Brandon's blog post.
Policy Workshops, PEIA Changes and Possible Future Fund
Ted joined lawmakers in Bismark, North Dakota this week where they are studying that state's Legacy Fund, passed with bipartisan support in 2010. Senate President Jeff Kessler hopes this fact-finding trip will build support for the West Virginia Future Fund in the upcoming legislative session. Read more in the Charleston Gazette and West Virginia Public Broadcasting, and coverage by WV MetroNews and the State Journal.
This week Governor Tomblin announced that he would seek federal approval to allow public employees to enroll their children in CHIP, a policy that, before the Affordable Care Act, was not permitted. This change could save the state and its employees tens of millions over the next decade as the Affordable Care Act gets into full swing. For more, check out the WVCBP issue brief released last week and today's stories in the Charleston Gazette and Clarksburg Exponent-Telegram.
In Beckley and Bridgeport this week, the Our Children Our Future campaign held policy workshops with dozens of organizations and hundreds of attendees participating. Ways to lift families and children out of poverty were discussed in both sessions. Coverage of the Beckley session is in the Beckley Register-Herald and the Charleston Daily Mail.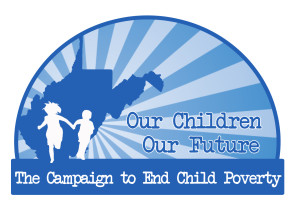 Education + Workforce = Strong Economy 
Want a stronger economy for West Virginia? Invest in education. According to a report released this week by the Economic Analysis and Research Network (EARN), a well-educated workforce is the best way to grow the state's economy while cutting business taxes promotes a race to the bottom that undermines a state's ability to invest in its workforce.