Earlier this month, a federal appeals court affirmed the decision of a US District Judge striking down the legality of Medicaid work reporting requirements in Arkansas. This is an important new development on top of federal district courts halting these programs in Kentucky and New Hampshire. While the court decision only applies to the injunction in Arkansas, it is likely to impact decision-makers in other states who are considering similar proposals and affirms the trend in states to back away from implementing them. A similar proposal has been introduced but not considered in West Virginia this legislative session (HB 4018). If passed and implemented, an estimated 46,000 West Virginians or more would likely lose Medicaid coverage, leading to hundreds of millions of federal Medicaid dollars lost and doubtlessly spurring expensive litigation for the state.
This month's court decision struck down Arkansas' 1115 Medicaid waiver called "Arkansas Works", which required adults on Medicaid to work a set number of hours or prove that they qualified for an exemption in order to get health benefits. The panel of judges on the DC Circuit unanimously ruled that the Centers for Medicaid and Medicare Services (CMS) had been "arbitrary and capricious" in allowing the Arkansas Works program to go into effect because work reporting requirements do not serve the primary purpose of Medicaid, which is to furnish health coverage for low-income people. In Arkansas in the short time the program was in effect, over 18,000 Arkansans, or 23 percent of those subject to the program, lost their health coverage. These coverage losses came despite researchers finding that more than 95 percent of those in the state who were targeted in the program were already working or met an exemption category, thus should have retained their Medicaid coverage.
Data in Arkansas makes clear that work reporting requirements sweep up more than just those who struggle to find work. Individuals who are exempt or who are already working also struggle to keep up with the onerous red tape and reporting requirements, either to prove their work hours or their exemption status. Research also shows that work reporting requirements do nothing to help people find work. That is because making health coverage contingent on work does nothing to address the barriers that chronically unemployed or underemployed people face, like lack of child care, no transportation, lack of job training or education affordability, or mental or physical health barriers.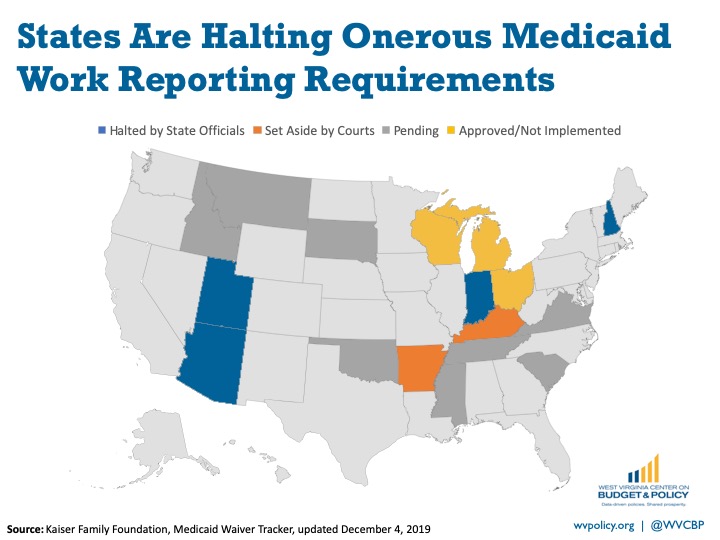 Following court decisions striking down these programs and massive coverage losses, states around the country are halting their plans to implement work reporting requirements. No state is currently operating a Medicaid work reporting requirement. West Virginia decision-makers would be well-advised to avoid similar proposals, which would lead to costly litigation and coverage losses.