The Centers for Medicare and Medicaid Services (CMS) announced the release of a bunch of Medicare data today, the biggest release in CMS history, in fact.  The data include information for nearly 900,000 distinct health care providers across the country who received over $77 billion in Medicare payments in 2012.  This is the second big step in Medicare transparency in the past year as this release comes on the heels of last May's release of the cost of the most common in-patient procedures at every hospital around the country.
What makes these data so interesting and potentially useful is that they include payment information broken down by individual physician and the services they provided. 
The Wall Street Journal has a neat user-friendly database of the top 200 providers in each state. Playing around with the data shows a few noteworthy trends in West Virginia.  For example, five of the 10 providers who received the most Medicare payments were ambulance service providers.  This was led by the Kanawha County Emergency Ambulance Authority, which received $6.3 million in Medicare payments. Of individual providers, we're able to see that the physician in West Virginia with the most Medicare payments was Dr. Craig Morgan, an ophthalmologist in Huntington who received almost $5 million in Medicare reimbursement.
Table 1: The 20 health care providers, by type, in West Virginia receiving the most in Medicare payments in 2012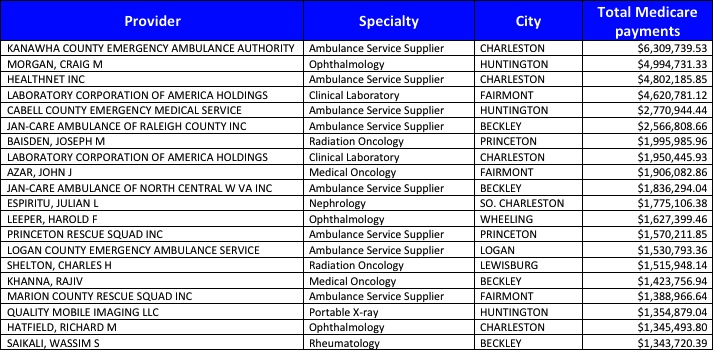 Ophthalmology and oncology are the two medical specialties receiving the most Medicare dollars in West Virginia, in line with national trends. Specialties that, as the Wall Street Journal notes, were singled out by the inspector general of the Department of Health and Human Services urging greater scrutiny of doctors receiving large Medicare payments. In all, fourteen physicians in West Virginia received more than $1 million in Medicare payments in 2012.
Table 2: These 20 physicians received the most in Medicare payments in West Virginia in 2012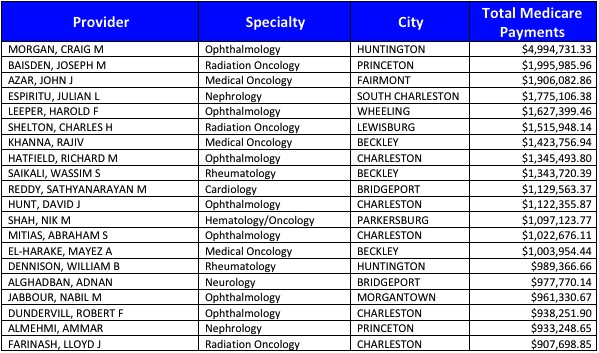 While it's important to recognize that this is simply raw data and there is no context of patients' diagnoses or reasons for treatment, it's a huge step forward in providing consumers (and researchers) more transparency. It should also help push physicians to reconsider low-value, high-cost procedures or to choose cheaper, generic alternatives instead of costlier brand name drugs.