Earlier this year, Centers for Medicare and Medicaid Services (CMS) Administrator Seema Verma and the Trump Administration began encouraging states to apply for "block grant" waivers for their Medicaid programs. These waivers would allow states to bypass federal standards and beneficiary protections in exchange for agreeing to caps on the federal Medicaid funding they receive. While we can see what's in it for the federal government (less federal dollars spent in states over time, less oversight to do), block grants would pose devastating threats to Medicaid beneficiaries and states' economies. Nonetheless, Tennessee unveiled its first-in-the-nation block grant Medicaid waiver proposal in September which, if approved, would give the state strong financial incentives to cut benefits and reduce their Medicaid rolls.
Block grant proposals fundamentally alter the funding structure and, ultimately, the nature of Medicaid as an entitlement program.  The Medicaid Act provides unlimited federal matching funds for all state spending under Medicaid's federal rules.  This incentivizes states to implement both Medicaid's mandatory and optional benefits. West Virginia has the second highest Federal Medical Assistance Percentages (FMAP) in the country, with the federal government kicking in 74.94 percent of Medicaid costs and the state paying the remaining 25.06 percent- a really good deal.
The open-ended nature of Medicaid is important for families, public health, and state economies. West Virginia's Department of Health and Human Resources (DHHR) stated in a 2019 report that, "Medicaid spending acts as a tremendous financial boon for the state." It cites studies finding that Medicaid spending generates economic activity within states by providing jobs, personal income, and state tax revenues.
The uncapped federal funding that comes with Medicaid is also key to helping states respond in times where need grows, like during recessions, natural disasters, and public health emergencies.
Capping Medicaid could take a number of forms, including a per capita cap, which pre-determines the amount of money allotted per person enrolled in Medicaid or a full block grant, where a state receives a limited, pre-budgeted amount of money from the federal government to run its entire Medicaid program. Block grants and other Medicaid caps set targets for federal spending by looking at factors like inflation and population growth, which are very distinct from and not reflective of the costs of health care spending or operating a Medicaid program.
In addition to very serious questions of the legalities of such a proposal, block grants are bad policy with potentially disastrous consequences. A 2018 Congressional Budget Office (CBO) report found that block grants would encourage states to restrict enrollment, limit benefits, decrease reimbursement rates to providers, if not all three.
One needs to look no further than Puerto Rico for an example of the fiscal and human impacts of block granting Medicaid. As a territory, Puerto Rico is treated differently than U.S. states and only receives a fixed block grant of funding each year for Medicaid costs. Because of this, Puerto Rico's Medicaid income eligibility limits are far below those of the states, so the program isn't available to many people who should be eligible. Puerto Rico is also unable to afford to cover the range of services provide in the states, so its Medicaid program excludes nursing home care, home health services, non-emergency medical transportation, and diagnostic and screening services for children. Payment rates to providers in Puerto Rico are also well below those of the states, which has led to a severe shortage of health care providers.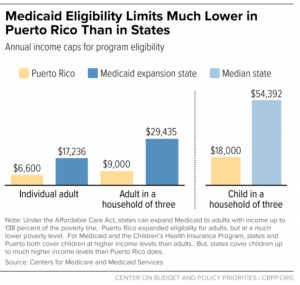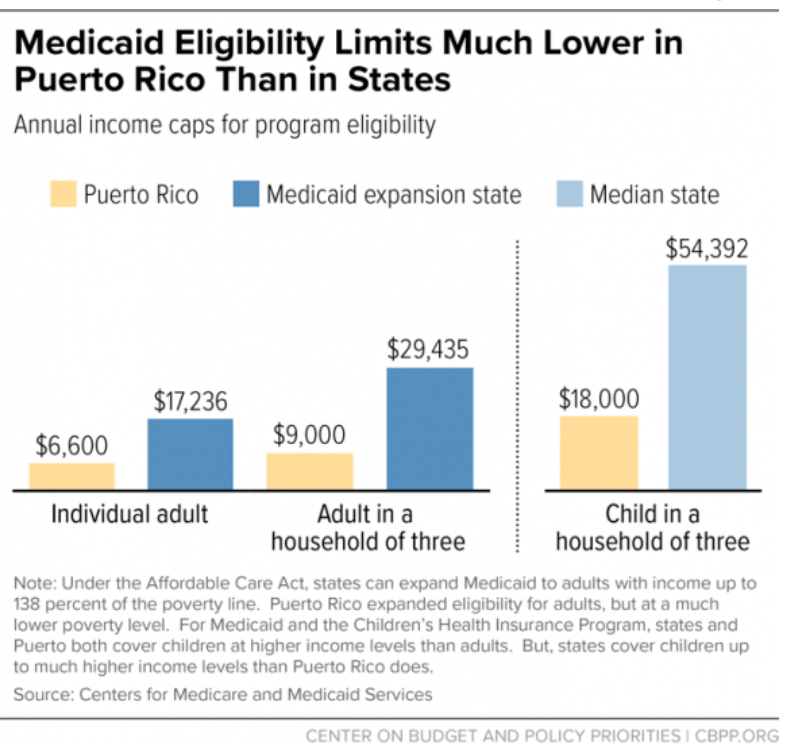 Inexplicably, a few states are considering block grants. Tennessee's proposal would cap the state's federal Medicaid funding for children, low-income parents, and people with disabilities, based on the state's projected costs of serving those populations. If medical costs were less than the block grant provided, Tennessee would split the remaining money with the federal government, giving the state a perverse incentive to reduce the number of Tennesseans enrolled or to limit benefits.
The proposal also seeks to give the state authority to spend the block grant funds on anything the state deems as improving health, so resources could be shifted away from health care delivery for Medicaid beneficiaries and to public health infrastructure or other costs that the state is currently footing. It would give Tennessee the authority to limit the "amount, duration, and scope" of core benefits that Medicaid provides without federal government oversight and without opportunity for public comment.
Even though Tennessee believes it has a guardrail in place because the proposal would bring in more federal dollars if enrollment numbers grow, the cap would be pegged to annual growth estimates rather than changes in medical costs, as is the current law and is a much better reflection of Medicaid program costs. This means that the block grant would cover less and less over time and would leave the state in a big jam if per-person health costs grew faster than expected. This could happen in a public health crisis (like the opioid crisis or hepatitis/HIV outbreaks) or due to medical treatment innovations resulting in costlier treatment.
We know what's in it for the federal government: less health care spending. A 2019 study looking at the potential impacts of Medicaid block grants on children found that nationally, block grants in Medicaid would reduce federal funding to states by $89 billion to $163 billion through 2029. In West Virginia, federal Medicaid spending would be reduced by $290 million to $670 million through FY 2029 (depending on the inflation measure used), or up to 15 percent of the federal Medicaid funding we receive.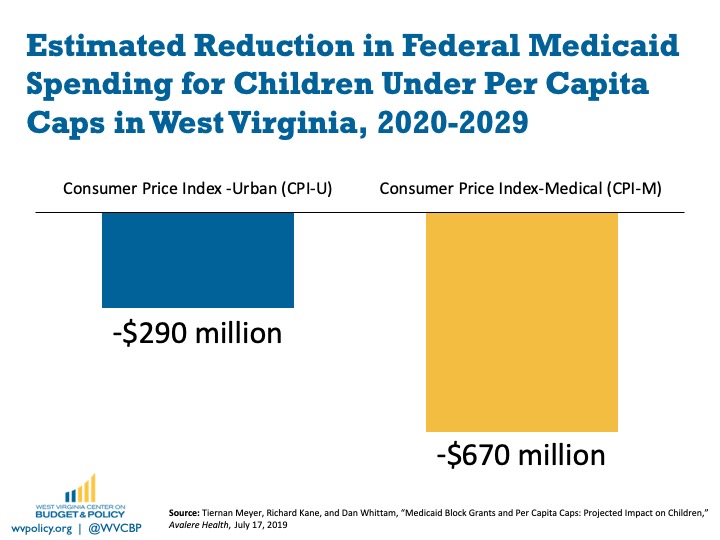 A recent economic analysis of Medicaid spending on West Virginia's economy by West Virginia University found that for every $29 million in federal Medicaid revenues, the state created 520 jobs. Applying these figures to the loss in federal Medicaid revenue from a block grant would mean the loss of an estimated 5,254 to 12,139 jobs in West Virginia taking into account the direct and indirect impact on our state's economy.
We can also foresee what would happen to enrollment in a Medicaid program with block grants by looking at what happened to Aid to Families with Dependent Children (AFDC) when it was changed from a guaranteed benefit to a block grant and renamed Temporary Aid to Needy Families (TANF). Turning the program into a fixed block grant gave the federal government an easy line-item to slash when budget cuts were needed. As a result, AFDC/TANF funding was chipped away year after year and, as a result, went from reaching a majority of families who met income guidelines (nearly 70 percent) in 1979 to just 17 percent of income-eligible West Virginia families in 2017.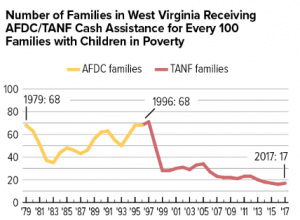 But what's in it for states? State policymakers considering a block grant need to consider some difficult questions. Will block grants hold up to legal challenges? How important are federal Medicaid funds to our state budget? What would having up to $670 million slashed from our state budget over ten years mean for health care services? What populations can be cut from Medicaid? What services can be slashed? Can providers take a pay cut?
Block grants shift all of the hard questions onto state policymakers. To borrow a phrase from Andy Schneider at the Georgetown Center for Children and Families, perhaps the answers to those questions will help explain why no state in 50 plus years of Medicaid has taken up a block grant.