Economic projections play an important role in the budget process in West Virginia. Each year, the West Virginia State Budget Office publishes the Executive Budget, which includes an economic forecast. The economic forecast projects employment numbers, population growth, the unemployment rate and many other important economic indicators for the next several years. These projections help estimate future revenues and can be used to set the state's budgetary priorities. The past few years the economic forecast has been made by Dr. George W. Hammond, the Associate Director of the Bureau of Business and Economic Research at West Virginia University.
Dr. Hammond isn't the only one making economic projections for West Virginia, plenty of other groups do as well. Moody's Analytics also makes similar projections. The following chart compares projected unemployment rates for West Virginia made by the BBER at WVU for the Executive Budget and those made by Moody's Analytics.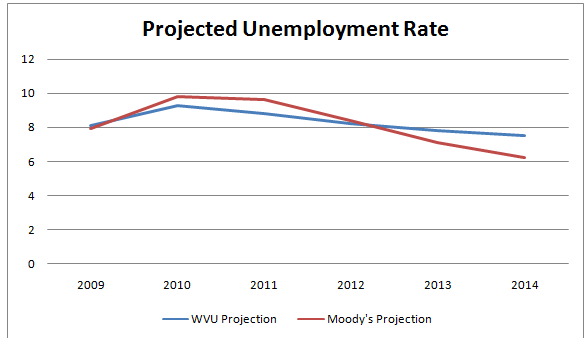 Source: FY 2011 WV Executive Budget and Moody's Analytics
As you can see, the two projections are a little different, but even small differences can have a big impact when we are deciding our state's future. And it also goes to show that even experts, using the same information, can disagree.
And even experts can get it wrong. This next chart shows the projections made by Dr. Hammond and the BBER in November of 2008 and again in November of 2009.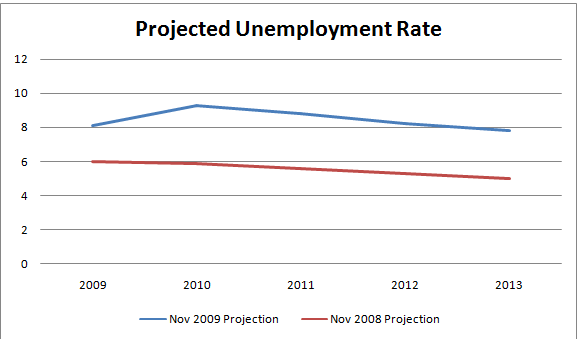 Source: FY 2011 WV Executive Budget and FY2010 WV Executive Budget
This time there is a pretty significant 2-3 point difference in the projections, even though it's the same people making the projections. It just goes to show that all attempts to predict the economic future should be taken with a grain of salt. Even as late as November 2008, as the financial system system came crashing down and the housing bubble had completely burst, WVU predicted that the state's unemployment rate would be below 6 percent, which is a far cry from 8.6% (July-2010).