July 30 marks the 55th anniversary of Medicaid. Medicaid is a powerhouse state-federal partnership, providing health coverage to over 560,000 West Virginians, bringing over $3 billion in federal health care funding into our state each year, and supporting hospitals and health care jobs all over the state. While always essential, Medicaid is especially effective during economic downturns and public health crises– both of which our state is experiencing right now.
Medicaid's joint financing structure makes it particularly responsive in these crises, because in addition to being a state expenditure, it is also the largest source of federal revenue in our state budget. As medical costs rise, Medicaid responds and federal payments automatically adjust upward via the federal match to cover the bulk of added health care costs. In addition to having an important economic impact, Medicaid will be critical to fighting the COVID-19 pandemic and to ensuring that the tens of thousands of West Virginians who have lost their jobs during the economic crisis are able to maintain access to regular and preventive care.
While Medicaid is already having an incredible impact in fighting the pandemic, there are ways to improve the program's effectiveness at both the state and federal levels.
Medicaid and the Next COVID Relief Package
Under federal legislation passed in March, the Families First Coronavirus Response Act (FFCRA), the federal match to state Medicaid programs known as the Federal Medical Assistance Percentage (FMAP), was increased by 6.2 percent for the length of the COVID-19 public health emergency declaration. As such, the length of the public health emergency, which must be renewed quarterly at the federal level, determines how much additional federal Medicaid funding is sent to our state to offset increased costs.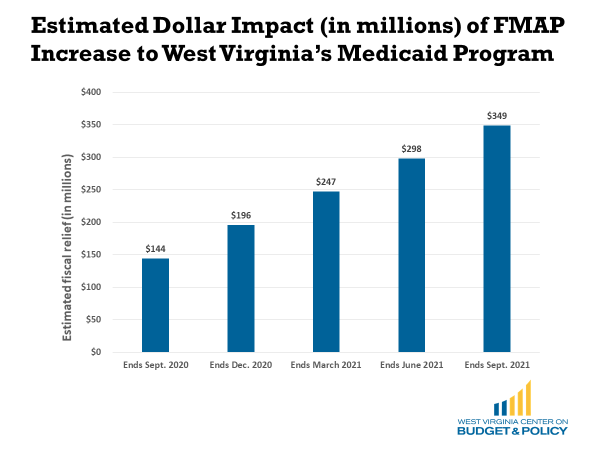 The increased FMAP contained in the FFCRA is expected to be insufficient to offsetting the expected increase in state Medicaid costs for two primary reasons. First, we know that the economic crisis and subsequent increased Medicaid enrollment will go on for some time after the public health emergency subsides. The Congressional Budget Office estimates that national unemployment will remain above 10 percent through 2020 and will still be twice what it was prior to the crisis at the end of 2021. Second, The FMAP increase in the FFCRA only applies to traditional Medicaid enrollees and not the Medicaid expansion population, which makes it less effective for state programs as most of the enrollment growth will be within the Medicaid expansion.
For those reasons, state and national advocates have been calling for an additional FMAP increase in the forthcoming COVID relief package that is larger, covers the Medicaid expansion population, and is tied to the economic recovery rather than the public health emergency.
Earlier this week the Senate GOP unveiled the HEALS Act, which unfortunately contains no additional Medicaid funding for states. This bill is not expected to be voted on, rather it is a starting point for negotiation. An additional FMAP increase in the next COVID relief package will be critical to helping states avoid Medicaid cuts right when the program is needed the most. Local and state organizations including the National Governors' Association, National Association of Counties, and National Conference of State Legislatures have all urged Congress to increase the FMAP in the next package.
Medicaid and State Administrative Policy
An estimated 130,000 West Virginians have lost employer-based health coverage since the crisis began and about two-thirds or 82,000 of them are eligible for Medicaid based on their household incomes. However, between March and June, Medicaid enrollment in West Virginia only increased by 23,544. There are several suspected reasons as to why more West Virginians have not yet signed up for Medicaid, though it is expected that many of them eventually will enroll as unemployment rates remain high. Some may be expecting to be called back to work fairly soon, and others are likely dealing with more urgent needs like applying for unemployment insurance benefits and making sure there is enough food on the table.
Regardless of the reason, as the COVID-19 pandemic continues to impact West Virginia, it is important to connect as many recently uninsured residents as possible with health coverage– both because of the pandemic itself and because of the many underlying medical conditions that our residents face. With the public health emergency, the state's health agency, the Department of Health and Human Resources (DHHR), has several additional tools available to increase both enrollment and accessibility of health care. The DHHR has already taken many steps to increase accessibility, including suspending eligibility redeterminations and increasing telehealth access.
A next step to improve health access could be to build on those improvements by bolstering outreach to recently laid off workers and by better coordinating with other state agencies and entities.
Each week, thousands of West Virginians apply for unemployment benefits through WorkForce WV. WorkForce could consider adding a link to the WV Medicaid application within the unemployment benefit application process or they could share contact information for new unemployment filers with the DHHR as Kentucky has done, resulting in the state having the largest Medicaid enrollment increase in the country.
The DHHR could also consider how to maximize presumptive eligibility across other agencies that are already reaching low-income families and displaced workers. Presumptive eligibility is a tool within the Medicaid Act allowing states to give expedited Medicaid approval to individuals through designated entities. West Virginia could expand who qualifies as a designated entity and allow Head Start, WIC, homeless shelters, prisons and jails, and schools to expedite Medicaid approval as they are working with individuals and families already.
Medicaid is a powerful and proven tool in health and economic crises and strengthening the program's efficiency at the federal and state levels can help aid the recovery for families and our state.