At this week's Lunch and Learn, Tara Holmes, our Summer Research Associate, presented the potential benefits to West Virginia if marijuana were to be legalized for medicinal and recreational use in the state.
Her research shows that legalizing marijuana for recreational use would bring in between $26 and $45 million a year in tax revenue from West Virginia residents alone. That number grows to $116 to $194 million when out-of-state visitors are included. Read Tara's presentation.
Special thanks goes out to the West Virginia Covenant House for hosting the Lunch and Learn program, taking place the second Wednesday of every month.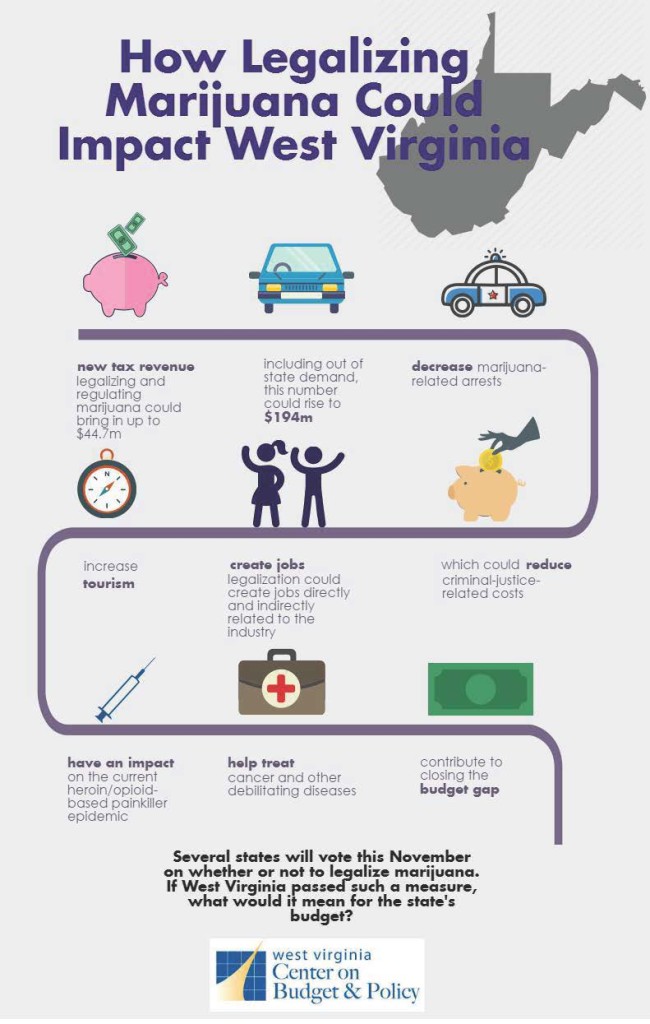 Report Card: How Are States Dealing with Marcellus Shale Drilling?
The Multi-State Shale Research Collaborative has released its report card that evaluates the current policies of Ohio, Pennsylvania, and West Virginia in a range of policy areas. It compares policies across the three states that address the social and economic issues that unconventional drilling delivers to the communities in which it occurs. Read full report.
This scorecard informs policy-makers about the strengths and weaknesses of their respective policies. The three states can enhance their overall prosperity, and that of shale gas communities, by improving their grades – adopting policies that better mitigate the unanticipated negative impacts of unconventional gas drilling and that take better advantage of new economic activity and revenue generated by natural gas extraction.

Free Hug Friday
The weeks ending June and beginning in July have taken a toll on my heart, my spirit. From the onset of fiscal disarray in our state government to raging storms leaving my fellow West Virginians without homes, to the onslaught of violence plaguing our nation and global citizens; I felt the need to share a little love. We are facing uncertainty and with that comes fear, it was time for me to take to the streets and get out into my community to give a little love in the form of Free Hug Friday.
My friends Alexandra Gallo and Julie Warden along with Mary Mo (from Cali here to help with flood efforts) and Stacy Kay, spent an hour walking around Charleston's Downtown giving free hugs. If you have not given a stranger a hug, try it out. The smiles, the warmth, the joy and understanding it created filled the dark spots that were looming. We can get through all of this together if we approach each task, no matter how daunting, with a full heart and understanding.
Words from your hippie wonk,
Tara Martinez
Join Us for the First Evening of the 2016 Summer Policy Institute
The Inaugural 2016 Summer Policy Institute (SPI) will be held July 29-31, 2016 at West Virginia Wesleyan College in Buckhannon.
Students from across West Virginia will be a part of this first-ever event.
The first evening of 2016 Summer Policy Institute is free and open to the public! Plan to join us on July 29 at the Virginia Thomas Center for the Performing Arts!
6:30PM: Panel discussion – Moving to an Intervention and Prevention Model for Better Youth Outcomes. Panelists include Stephanie Bond with the Division of Juvenile Services; Eli Baumwell with the WV chapter of the American Civil Liberties Union; Kathy Szafran, President and CEO of Crittenton Services; Cindy Largent-Hill with the WV Supreme Court; Trudi Blaylock with PSI-Med; and Jason Nicholas with the WV Public Defenders' office (invited: WV DHHR). The panel will be moderated by Circuit Court Judge Joanna Tabit. The panel will discuss how West Virginia can move more toward an intervention and prevention model instead of an institutional model when dealing with adverse youth experiences.
9:00PM: Screening of the film Paper Tigers, an intimate look into the lives of selected students at Lincoln High School, an alternative school that specializes in educating traumatized youth. Set amidst the rural community of Walla Walla, WV, the film intimately examines the inspiring promise of Trauma Informed Communities, a movement that is showing great promise in healing youth struggling with the dark legacy of Adverse Childhood Experiences (ACES).
Email info@wvpolicy.org for more information!

The Racial Wealth Divide
Please join Martinsburg Renew and Friends for a friendly, peaceful and open discussion on racial inequality in West Virginia, what it is, why it matters, and what we can do about it.
St. Joseph's Catholic Church, Lackey Hall
July 28 2016, 6:00 to 8:30 p.m.
225 S. Queen Street, Martinsburg, WV
Contact Debbie at 540-535-5145, or DeborahMM@aol.com to register.
Free and open to ALL – Let's start the discussion. Come, Learn, Understand, Share, Unite