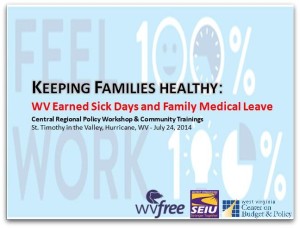 On July 24, 2014, the West Virginia Center on Budget and Policy, West Virginia FREE and the Service Employees International Union presented "Keeping Families Healthy: West Virginia Earned Sick Days and Family Medical Leave" at the Our Children Our Future Policy Workshop in Hurricane, WV. View the full presentation.
Everybody Needs Time Off from Work and 227,000 West Virginia Workers Lack Access to Paid Sick Days:
Caring for a sick child, an elderly parent, or ourselves, all of us sometimes need time off from work.
But many workers in West Virginia don't have any source of income when they must take time off for their own health or to care for their family.