July's tax collections continued a concerning trend of declining revenues, even before the 2023 tax cuts have been fully implemented. July's collections came in 12 percent, or $46 million, below last July's revenues, barely exceeding fairly modest revenue estimates and creating significant doubt about the current and future availability of revenue to pay for a myriad of needs and funding shortages across West Virginia's public services.
While July's collections exceeded the revenue estimate by $7.7 million, that revenue estimate was set 14 percent below the previous July's actual collections. July revenues came in $46 million below July 2022's tax collections, a 12.1 percent decline. Adjusting for inflation, this July saw the lowest tax collections of any July in six years.
Given a growing reliance on fewer (and smaller) sources of revenue, legislators have essentially locked the state into flat—or more accurately declining– budgets for the foreseeable future. Even before tax cuts have been fully phased in, the state is barely meeting modest revenue estimates, leaving little or no money for increasing appropriations to existing programs or funding new needs. And because of the triggers built into the 2023 tax legislation, all revenue growth above the baseline will automatically be diverted to additional tax cuts rather than budget needs, of which there are already plenty.
While the crisis is already here, it could get much worse. Public services that rely on state funding are experiencing shortfalls and crises in a myriad of areas, including funding crises across our volunteer fire departments, Emergency Medical Services providers, and the state's land grant university; vacancies in our schools and correctional facilities; and coming child care provider funding cliffs, among other things. Already passed GOP priorities including the Hope Scholarship and aides in K-3 classrooms will see their costs grow as they are implemented and expanded. The big question is where will the money to pay for these things come from?
You can find Kelly and Sean's full blog post here.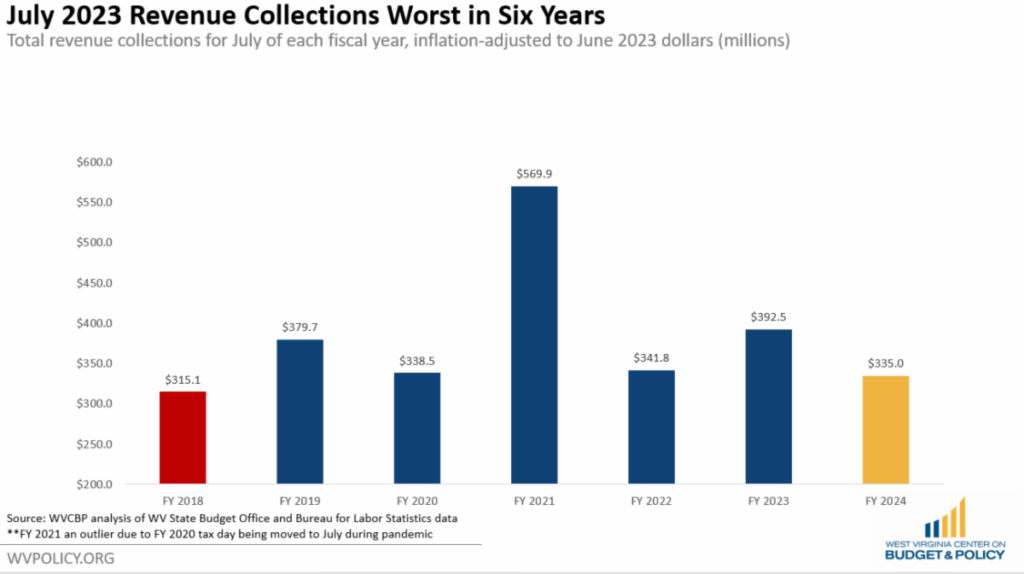 Eighth Annual Summer Policy Institute Held at Fairmont State University
After three years of a virtual convening due to the COVID-19 pandemic, the Summer Policy Institute returned to an in-person format held at Fairmont State University the last weekend of July. SPI is an annual convening hosted by the West Virginia Center on Budget and Policy and our partners at the American Friends Service Committee. Below, two members of our SPI team share their perspectives on the convenings.
Last month a group of 32 West Virginians gathered at Fairmont State University to learn, network, and develop policy pitches addressing some of the most significant issues facing our state as part of the eighth annual Summer Policy Institute. After three years of virtual SPI, our team was pleased to welcome participants back in-person to learn more about working with data, navigating different levers of power, sharing their own stories, and developing strategies for building teams through community outreach. As it has for the past five years, SPI culminated with issue-based teams delivering policy pitches that they developed over the course of the weekend with supports from policy experts and community advocates.
In addition to the return to a face-to-face program after three years meeting virtually, this year's SPI looked a bit different than previous years. In the past, our programming has largely focused on giving participants tools for how to pursue statewide policy change, and teams were asked to focus on developing a particular policy solution that they might take to the state legislature. This year, working under our "People-Powered Policy" theme, teams instead were asked to identify policy problems and to develop potential organizing and outreach plans geared toward addressing the issue at one of several levels of government. This new approach allowed us to focus more attention on building a framework for groups to pursue grassroots organizing strategies that pay particular attention to involving people who are most impacted by systemic inequities.
One of the joys of getting to work on SPI over the years has been getting to see the powerful pitches teams of people from different walks of life who didn't previously know each other put together over the course of just two and a half days. All attendees will have the opportunity to apply for mini-grant funding to continue their community engagement and advocacy work in an effort to build the team needed to make their policies a reality. We look forward to seeing how these teams mobilize their ideas in the year to come!
Read the full post here.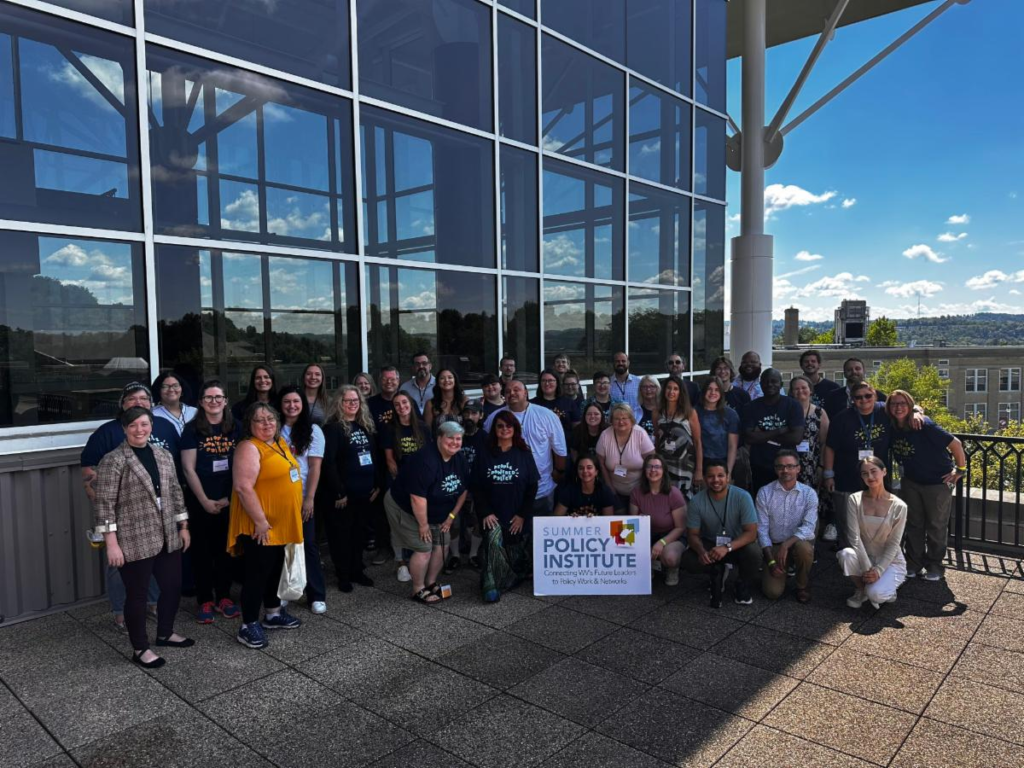 Save the Date: Leading for Justice Criminal Law Reform Coalition Conference November 10-12, 2023
In 2002, West Virginia taxpayers spent $84 million on prisons. In 2022, West Virginia taxpayers spent $223.8 million on prisons. Imagine a state where we have an extra $139 million and don't choose to spend it on caging our neighbors.
Join us on November 10-12, 2023, in Wheeling, WV for the annual Leading for Justice Criminal Law Reform Conference. We welcome participants with lived experience, as well as their families. Conference registration will open at the end of August. In the meantime, contact our Criminal Legal Policy Analyst, Sara Whitaker, swhitaker@wvpolicy.org, to learn more.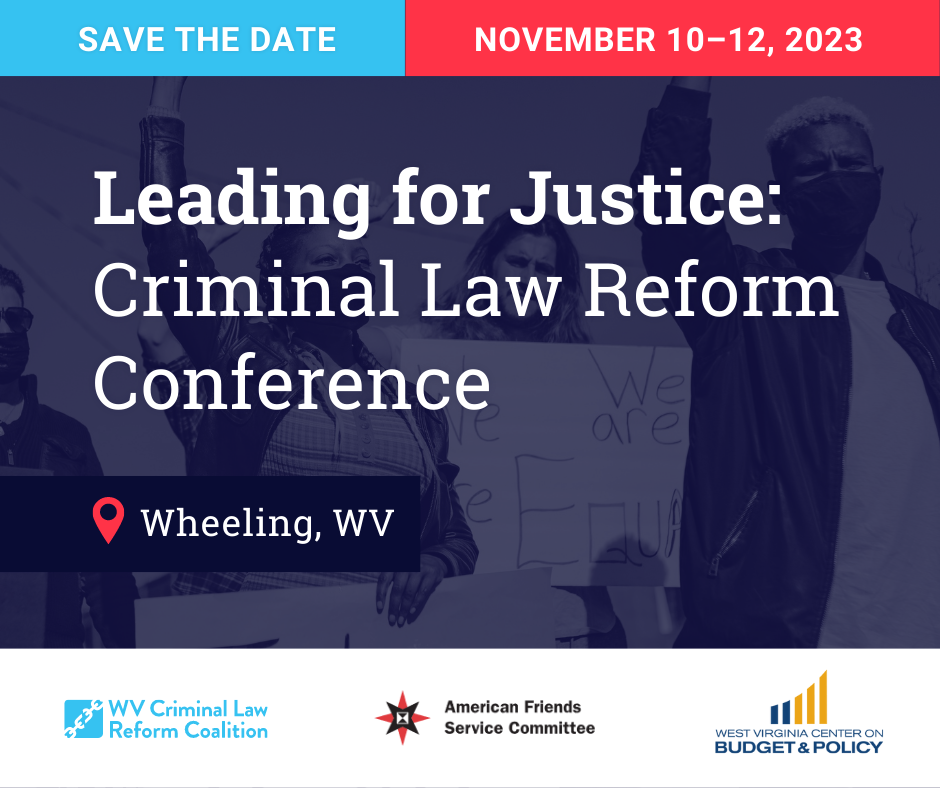 What We're Reading: How to Help America's Kids: Give Their Parents Cash
More states are stepping up to pass Child Tax Credits on a bipartisan basis. Twelve states have child tax credits with an additional 14 states, including West Virginia, introducing them since 2019.
When federal lawmakers expanded the child tax credit (CTC) in 2021 as part of President Joe Biden's pandemic relief program, some 35 million parents across the US began receiving hundreds of dollars monthly.
With the expanded credit, nonworking and extremely poor families were eligible for the credit's full value for the first time since its passage in 1997, and the federal government increased the value of the subsidy itself — up to $3,600 per child. Almost 3 million children were lifted out of poverty as a result, and families used the funds to help them afford gas, food, and school expenses.
While gridlock and partisanship hobbled Congress from expanding this consequential cash-assistance program, state governments have since used the success of the federal experiment to push forward their own versions of the subsidy. All told, since the expanded federal CTC expired, 11 states have passed or expanded their own child tax credits available to families earning $0, or what policy wonks refer to as "refundable." The subsidies range from up to $180 per child (in Massachusetts) to $1,750 per child (in Minnesota).
The new child tax credits have passed in states that currently hold Democratic majorities, but the policies have been markedly less polarized on the state level compared to Congress. An analysis of the new laws from the Jain Family Institute, a progressive think tank, found that, on average, 40 percent of Republican state senators and 30 percent of Republican state representatives have voted in favor of fully refundable child tax credits. In Montana, it was the state's Republican governor, Greg Gianforte, who proposed a new $1,200 child tax credit for every kid under age 6, and it was Democrats there who helped sink the idea's passage.
Read the full article from Vox here.
An Interview with One of our Policy Heroes!
In January, Danni Dineen stood in front of a group of criminal law reform advocates and pitched a policy to change the way courts address bench warrants. These warrants, which bring 1 out of every 8 people to jail, have been driving West Virginia's jail population, despite declining crime rates and criminal charges. Danni shared her own story of being arrested on a bench warrant and not getting a bond for 124 days. It was during those four months behind bars, that she gave birth to her daughter, with her body shackled to a bed and only a jail guard present to cut her umbilical cord.
Danni's story lit a fire in the audience, who turned their attention to a legislative solution. Two months later, Governor Jim Justice signed Senate Bill 633, which will ensure that every person arrested on a bench warrant have a hearing within 5 days. Danni's courage to share her trauma means that other mothers may be spared the same harm she faced.
Danni's passion is on display every day in her work as the City of Charleston's Quick Response Team coordinator. She walks alongside people who are struggling with substance use disorder, mental illness, housing challenges, and the stress of incarceration. Join us in appreciating our first Policy Hero, Danni Dineen.
Below is an interview with Danni.
Hometown: Farmington, ME
Title and Organization: Quick Response Team (QRT) Coordinator for the City of Charleston's Coordinated Addiction Response Effort (CARE) Office
What brings you to this work? "Lived experience as a justice impacted individual in long-term recovery!"
What advice would you give to lawmakers/decision makers about the issues you work on? "Please put personal beliefs to the side and listen to the experts, the ones who have lived and been affected by the system."
A person you admire in this work and why? Stephanie Stout, Region 2 Coordinator, Office of Drug Control Policy.
"She literally saved my life and restored my faith. I first met Steph at the local Harm Reduction program where she treated me with kindness and compassion despite the fact that I was a heroin addict. One of the times I was released from Eastern Regional Jail desperate and alone she was the person there who got me into long term treatment facility. Then again after I gave birth in state's custody, she picked me up from the jail. No matter how many times I stumbled she never gave up on me. Stephanie taught me that I DO have a voice and empowered me to use it to advocate for the folks who aren't being heard!"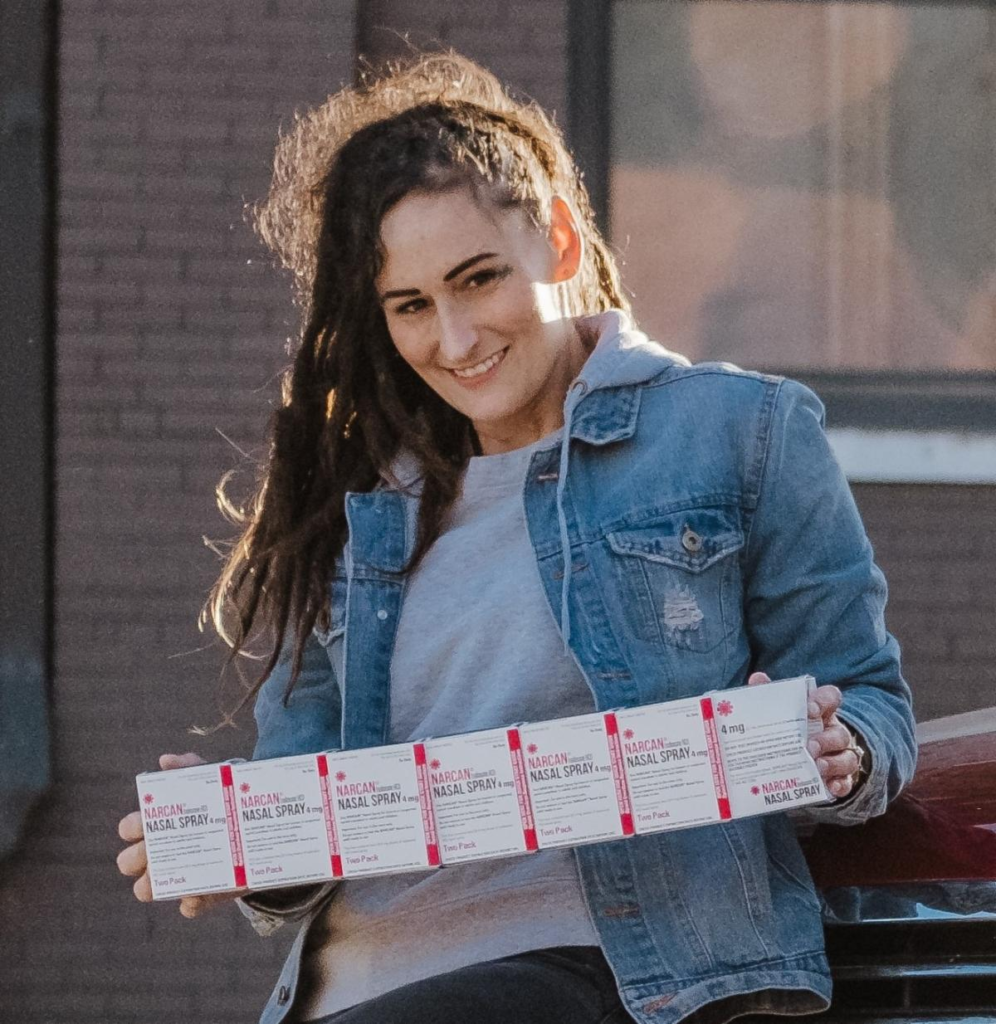 Share Your Medicaid Experience with Us!
The WVCBP's Elevating the Medicaid Enrollment Experience (EMEE) Voices Project seeks to collect stories from West Virginians who have struggled to access Medicaid across the state. Being conducted in partnership with West Virginians for Affordable Health Care, EMEE Voices will gather insight to inform which Medicaid barriers are most pertinent to West Virginians, specifically people of color.
Do you have a Medicaid experience to share? We'd appreciate your insight. Just fill out the contact form on this webpage and we'll reach out to you soon. We look forward to learning from you!
You can watch WVCBP's health policy analyst Rhonda Rogombé and West Virginians for Affordable Health Care's Mariah Plante further break down the project and its goals in this FB Live.