Supporting a Movement
This week WVCBP staff met up with sister organizations from across the country at the annual State Fiscal Impact Conference in Baltimore.
The opening event of the conference was "Support a Movement: Black Lives Matter and State Fiscal Policy." The session focused on the role of public policy in creating and sustaining the conditions which continue to limit opportunity for communities of color.
Panelists included Christopher Brown, Director for Financial Security with PolicyLink; Jessica Pierce, National Co-Chair with the Black Youth Project 100, Felicia Pulliam, Development Director with FOCUS St. Louis and Melech Thomas, Minister and Community Activist. The discussion was moderated by WVCBP Executive Director Ted Boettner.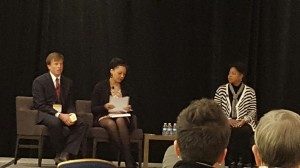 Ted Boettner, Jessica Pierce and Felicia Pulliam
Nick Johnson (Senior Vice President for State Fiscal Policy at the Center on Budget and Policy Priorities),Ted Boettner, Jessica Pierce, Felicia Pulliam, Melech Thomas and Christopher Brown
Why Are So Many West Virginians Out of the Workforce?
West Virginia's low level of labor force participation is one of the state's greatest economic challenges. Improving the state's participation rate greatly depends on improving the state's economy by creating more opportunity for its workers. Policies that help workers stay on the job, and stay healthy, will not only improve the state's labor force participation rate but also its economy. Check out the 2015 State of Working West Virginia for all the details.

Introducing the State Earned Income Tax Coalition and New Interactive Website
Join us as we launch the new Invest in Working Families Coalition and its new website!
When: November 16, 2015 12:00 pm
Where: Governor's Press Conference Room (off the Secretary of State's office)
Why: See how your county would benefit from a West Virginia EITC
A state EITC would make it easier for lower-paid workers to make ends meet and afford basic necessities like childcare and transportation. With families with very low wages, the credit increases with every dollar earned, which encourages them to work more hours. That additional experience in the workforce can lead to higher pay and better opportunities, helping to put their family on a better path.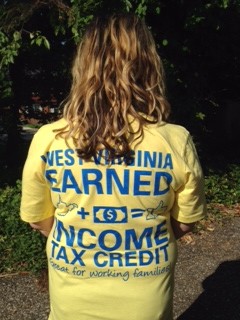 Early Bird Discount for the Third Annual Budget Breakfast – January 19, 2016
Take advantage of the early bird discount for this year's Budget Breakfast by registering today!
We are pleased to announce this year's keynote speaker will be Alexandra Forter Sirota, Director of the North Carolina Budget and Tax Center, presenting, "Tax Cuts Poor Strategy for Shared Prosperity: Lessons from North Carolina."
The event will kick-off with Ted's annual preview of the governor's upcoming budget. Join us on January 19 at the Charleston Marriott Town Center!