According to data released today by the U.S. Census Bureau, the number of West Virginians covered by an employer-sponsored health insurance plan has dropped significantly since 2000.  In that year, over 63 percent of all West Virginians had insurance provided through an employer compared to less than 56 percent in 2012, a drop of over 43,000 West Virginians.  Even though employer-sponsored insurance has declined, the total number of state residents with health insurance has stayed about the same over this period thanks in large part to Medicaid making up the difference for those losing job-based coverage (Figure 1).  Meanwhile, the total number of uninsured West Virginians is expected to plummet over the next few years as the Affordable Care Act (ACA) is fully implemented.
Figure 1: Job Based Health Coverage Declining as Overall Insurance Rate Stays Steady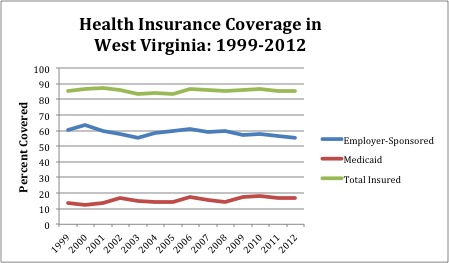 Source: WVCBP analysis of U.S. Census Bureau data
Nearly 15 percent of the state's residents, or around 266,000 people, lack any type of health coverage, according to the Census Bureau data.  With the trend of fewer employers choosing to offer insurance, the number of uninsured in West Virginia would likely be set to rise if it weren't for the ACA which begins in 2014.
Two major provisions of the ACA are expected to increase coverage in the Mountain State.  First, over 91,000 West Virginians are expected to gain health insurance coverage through the state's decision to accept federal funds to expand Medicaid.
And, starting in just a couple of weeks on October 1st, state residents who can't get affordable health insurance through their jobs but earn too much to qualify for Medicaid can sign up for coverage for 2014 through the state's new health insurance exchange, called the Marketplace.  Most of the people in West Virginia who purchase health insurance through the Marketplace will be eligible for new federal subsidies, or discounts, to reduce their monthly premiums.  Over 100,000 West Virginians are expected to gain coverage through the Marketplace.
By 2016, only 76,000 West Virginians are expected to remain uninsured, or about 4.2% of the state population, less than a third the rate of uninsured today. 
The Census Bureau will release additional data this Thursday with more detailed information on West Virginia so stay tuned for in-depth analysis from the WVCBP.