Open enrollment for 2023 Affordable Care Act (ACA) Marketplace coverage begins today, November 1. The Marketplace has been a critical feature of our health care system since its introduction in 2014. It provides quality health coverage for families who are not eligible for employer-sponsored coverage, Medicare, or Medicaid.
The ongoing public health emergency triggered by COVID-19 has made the program more important than ever. 2022 was a record-breaking year, with over 14.5 million people enrolling nationally—including over 23,000 West Virginians. The American Rescue Plan Act allowed several flexibilities within the Marketplace that helped make the 2021 enrollment cycle the biggest ever, including enhanced subsidies that made plans more affordable. This progress and additional developments will work together to make this year even more successful and ensure West Virginia's wellness.
Increased Premium Tax Credits
West Virginians who obtain their health coverage through the ACA's Marketplace will continue to be eligible for increased financial assistance resulting in lower premiums and out-of-pocket costs via increased premium tax credits. The Inflation Reduction Act's passage continued these increased tax credits, or subsidies, through 2025, improving health coverage affordability for all West Virginians with Marketplace coverage.
Under the ACA, a household's income determines the financial help they receive to make health coverage more affordable. Families receive assistance through a subsidy that ensures that their health insurance premium does not exceed a threshold percentage of their income. The higher the income, the higher the cap. Before increased subsidies, lower-income families had lower subsidies and subsequently higher monthly premiums for health coverage. Meanwhile, higher-income families–those making more than 400 percent of the federal poverty level (FPL)–were not eligible for financial assistance.
Now, with the enhanced subsidies, families making up to 150 percent FPL (roughly $27,500 for a family of two) are eligible for no-cost plans, while those making over 400 percent FPL will also see relief. In West Virginia, about 4,000 families had zero-premium coverage last year. In practice, these new subsidies could mean that health coverage on the Marketplace will be more affordable for families than ever before.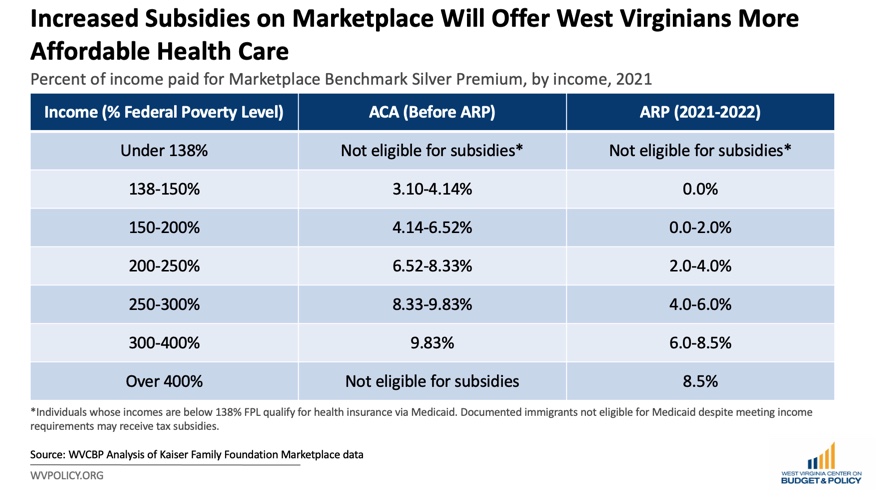 Ensuring that West Virginians can access affordable health coverage is good for families and our economy.
The Family Glitch Fix
This year, the federal government finalized a rule that will make it easier for family members of someone with employer coverage to calculate an affordable employee coverage offer accurately. Previously, if a person was eligible for health insurance through their job, but it became unaffordable to add their family members to the employer plan, their family members were considered ineligible for subsidies on the Marketplace. The glitch essentially locked out otherwise qualified folks by pegging their eligibility to an affordable single-person plan rather than the unaffordable family plans. Now that the federal government has addressed this problem, an estimated one million more families will be eligible nationwide, including low-paid workers, small-business employees, service industry workers, and children.
Smooth Re-enrollment
The Marketplace has also improved in other ways to make re-enrollment easier. For example, providers can no longer prevent people from enrolling because of past-due premiums. Further, the site will also accept self-attestations rather than requiring individuals to provide proof that they do not have affordable employer-based health insurance.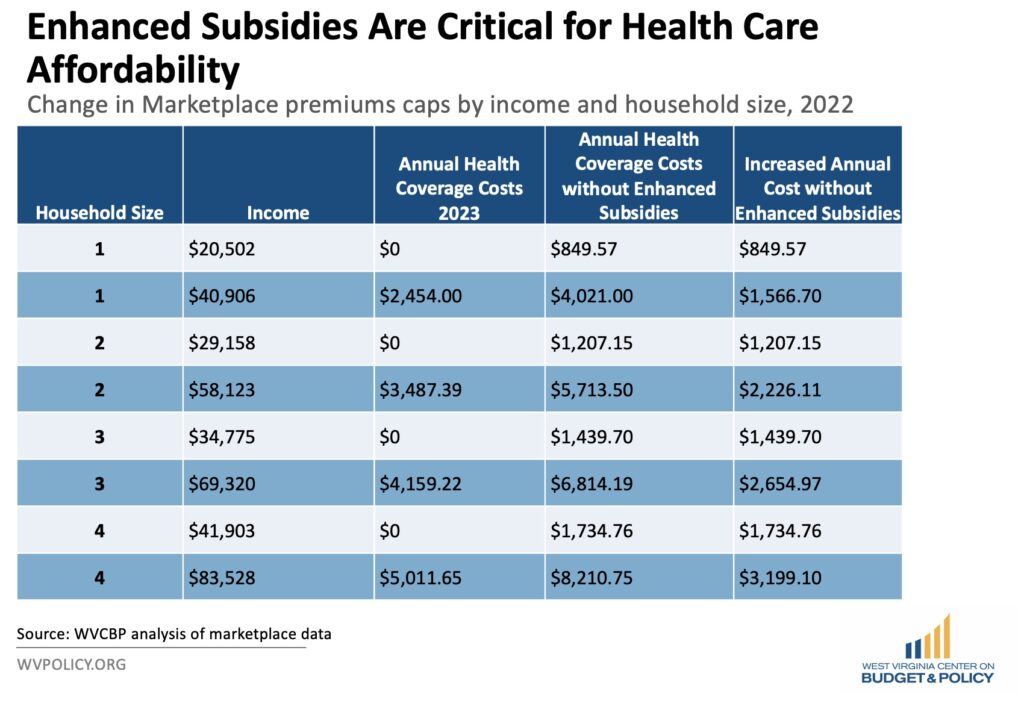 Families who enrolled last year may have already received a letter indicating the cost of their health care plan for 2023. However, because they have not yet updated their information on healthcare.gov, the letter only includes the sticker price of the plan with their 2022 subsidy–not what families should actually expect to pay in 2023. This phenomenon is one that experts call "sticker shock"–and without further investigation, it may deter qualified folks from enrolling because they believe their insurance has become unaffordable overnight. Families that have experienced this should log into their accounts; once they verify their income, they should have premiums that reflect their income level. They can also make sure that their plan suits their current health care needs.
These new provisions mean that coverage will be more affordable for West Virginians this year. Folks without insurance should review the website or contact an ACA Navigator to discuss coverage options and help them enroll.
Open enrollment is a crucial time, not only for new and existing enrollees but for all West Virginians. The COVID-19 pandemic showed communities across the country the importance of preserving public health and created several opportunities to help do so. By making health insurance more affordable and accessible, West Virginia will reduce the number of people without insurance and create a healthier state.
If you are uninsured or anticipate enrolling or re-enrolling in a Marketplace plan, online and over-the-phone help is available here. Additionally, a list of local ACA Navigators and more is available here.