Today's Charleston Gazette noted that the State Advisory Council of Students is planning to petition Governor Tomblin over proposed budget cuts to the state's higher education system. The students are concerned that any state cuts would result in higher tuition, making college less affordable for many students, and pushing more students into debt.
However, even without the proposed cuts, the state has already significantly divested in higher education, and the costs of a college degree have already greatly shifted onto students and their families.
State appropriations for higher education have dropped 10 percent from 2002 to 2011, from $574.8 million to $516.1 million, after adjusting for inflation.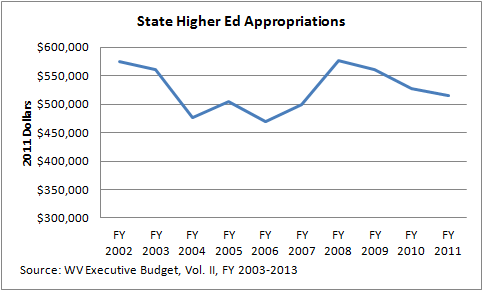 But while appropriations have dropped, enrollment has grown 26 percent from 2002 to 2011, from 65,848 FTE enrollees, to 82,911.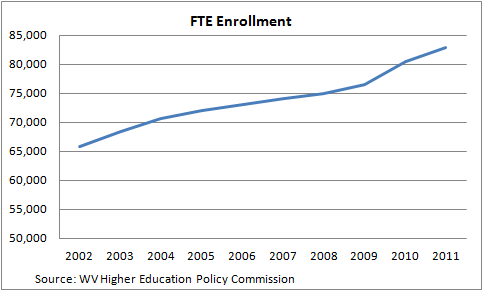 So while in 2002, the state appropriated $8,730 per FTE enrollee, in 2011 only $6,224 was appropriated, after adjusting for inflation, a decrease of 29%.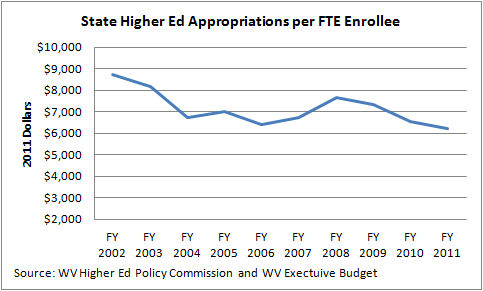 And, while state support falls, the cost of tuition has soared. The average in-state tuition at a public West Virginia college rose from $3,522 in 2002 to $5,147 in 2011, after adjusting for inflation, an increase of 46%.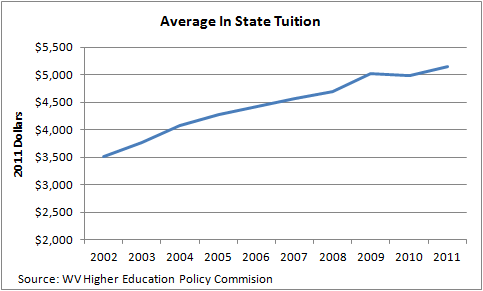 The cost of room and board has also grown across the state, in some cases rising by double-digit percentages  in less than five years.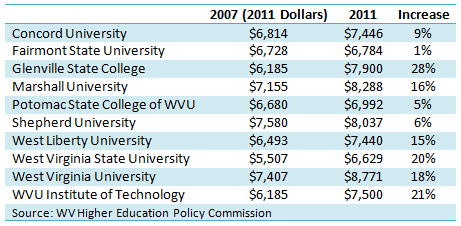 And as a result of the disinvestment by the state and rising costs, the debt burden for West Virginia students has grown, rising by an inflation adjusted $5,700 between 2003 and 2010, an increase of 24%.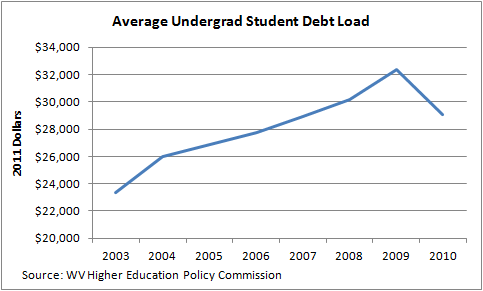 So even without the proposed cuts to higher education, rising tuition and other costs, combined with falling support from the state, have hurt West Virginia's future. Piling on more cuts will do even more damage, and instead of looking at higher education as a target for budget cuts, we should renew our commitment to higher education, and recognize the consequences of its neglect.