by Chris Nyden
On Tuesday, the West Virginia Higher Education Policy Commission (HEPC) approved an increase in average tuition for West Virginia public college students from $5,687 to $6,067. These increases were partly a result of a $30 million budget cut to higher education in the FY 2014 budget. This is just the second time the budget for higher education has been cut in West Virginia over the past five years, but it represents a national trend where many states have looked to slash spending under harder economic conditions.
This divestment from higher education not only increases costs for students, providing another barrier to attending college, but it also decreases the quality and competitiveness of the degrees at public institutions. This is because governmental budget cuts are a challenge to public higher education not present in the private system. Many of the tuition increases at public schools have been a result of declining state revenues, while tuition increases at private schools typically go toward more services for students.
In fact, over the past three decades, undergraduate tuition at private four-year colleges has increased by 3.5 percent more than the rate inflation on average, compared to 4.4 percent at public four-year colleges. Meanwhile, spending on instruction for students has increased by only 0.75% annually at public schools since 1987 and 1.67% at private schools.
Since 2000, tuition at public colleges in West Virginia has doubled, meanwhile there has not been a similar increase at private institutions. As the chart below shows, tuition at West Virginia public four-year colleges has increased as a share of private tuition since 2000, following a national trend.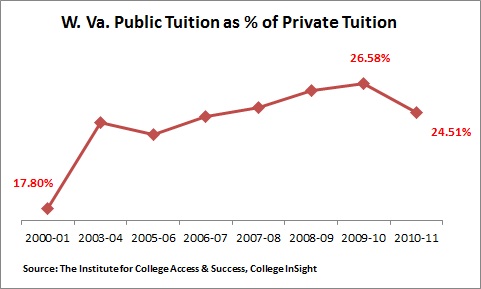 So how does this affect students in public colleges?
One of the main effects of losses in revenue is a change in faculty. Because budget cuts make future cash flows unclear and destabilize universities' financial outlooks, colleges are forced to pay their professors less (or give them a heavier teaching load), provide fewer faculty positions, or provide fewer tenure-track positions if they want to prevent shocks to tuition rates. As a result, many colleges are hiring more part-time faculty or non-tenure-track professors. This might not seem like a big problem, as these professors can teach large groups of students and cost colleges less. However, hiring more of these professors leads to decreases in retention and graduation rates among undergraduates. With fewer faculty as intimately involved and interested in their field, as more research-oriented professors are guided into graduate teaching jobs, students also become less interested. In addition, faculty with heavier teaching loads will have less time to give each student adequate individual instruction.
Private institutions also have a better ability to hold onto their best professors. There are substantial gaps in wages between professors at public and private colleges, with the average professor at a public college making over $29,000 less than their private college counterparts. These higher salaries give private institutions the ability to attract better professors.
Proponents of private education may argue that this is a phenomenon just now occurring at public colleges, but has been the precedent market forces set long ago at private colleges. Private colleges have traditionally offered fewer tenured positions and used more part-time faculty. But this is why public higher education is so important. It gives young people the opportunity to receive a high-quality education without as much of a cost barrier as many private colleges.
Budget cuts to higher education are not only pricing students out of a college education, they're resulting in an inferior product for many West Virginia students.