West Virginia has long faced significant health-related challenges, many of which could have been meaningfully addressed by bills introduced during the 2023 legislative session. While a couple of positive health-focused bills were passed by the legislature this year, unfortunately lawmakers focused much of their attention on health-related policies based on fear—not facts.
Two bills that aim to improve health outcomes in the state passed this legislative session, but one has yet to be signed into law. SB 577, which awaits the Governor's signature, addresses insulin costs for West Virginians with private insurance, lowering copay caps for a 30-day supply from $100 to $35. Meanwhile, the Governor has already signed SB 89 into law. This bill sets higher treatment standards for victims of sexual assault in hospitals. It requires hospitals to have a qualified sexual assault nurse examiner on staff. A transfer agreement with another hospital is needed if they do not have this staff. It also codifies time frames for submitting test kits to local law enforcement and storage protocol. As a whole, the legislation addresses barriers that negatively impact crucial care for people who have experienced sexual assault and is a positive step forward.
Several additional bills (including HB 3274, SB 269, SB 479, SB 489, and HB 3014) sought to improve health outcomes in the Mountain State, but did not pass.
SB 268 significantly changed PEIA benefits to address the program's rising costs. A positive provision raises inpatient hospital reimbursement to 110 percent of Medicare rates to keep the provider network intact. Through this legislation, lawmakers also sought to address PEIA solvency by shifting costs further onto employees via two main provisions—enacting a firm 80/20 employer-employee benefit split, which will increase employee premiums by an estimated 26 percent in July, and raising insurance costs for employees' spouses who have another offer of health coverage. While lawmakers paired these health coverage cost increases with a public employee pay raise, some workers will still experience negative financial impacts overall. It remains to be seen how these benefit changes will exacerbate public agency vacancies across the state.
Unfortunately, several harmful bills were passed this session. The most egregious of these bills is HB 2007, limiting gender-affirming care for transgender youth. West Virginia is home to more transgender youth per capita than any other state. Many need health care that aligns their body with their gender, which studies have shown improves their mental health and life outcomes. This health care includes hormone replacement therapy and medication that pauses puberty, the latter being reversible. Despite wide support from medical and transgender communities to protect these therapies, the state passed a law banning access to them, except for those at risk of self-harm or suicide. These risk factors can develop because of untreated gender dysphoria. The bill also prohibits gender-affirming surgery for minors. Notably, there is no evidence that West Virginia children undergo—or have ever undergone—these surgeries. HB 2007 creates unnecessary barriers to critical care and disparages the state's queer community. This bill was one of several targeting transgender and queer West Virginians, following concerning national trends.
HB 2006 split the Department of Health and Human Resources (DHHR) into three separate agencies. Lawmakers did so without outlining associated costs, fully addressing how the move may impact interactions between bureaus within the agency, and showing how the action would address the core issues DHHR faces. The timing is particularly concerning: the end of the Medicaid continuous coverage provision related to the public health emergency is coming this spring, and the staff-strapped agency will have to reevaluate hundreds of thousands of West Virginians' eligibility for Medicaid and other programs. Undertaking the agency split amid this additional work could disrupt communication between bureaus that must work together to return the agency to pre-pandemic regulations smoothly.
Overall, the session heavily focused on health-related issues. Still, except for a couple of positive pieces of legislation, it is unclear how the health priorities of lawmakers will actually improve health outcomes in the Mountain State.
Read Rhonda's full blog post.

Medicaid Public Health Emergency Unwinding Webinar
After three years of increased flexibility under pandemic provisions, Medicaid's public health emergency ends April 1, meaning the state will begin to roll people off of Medicaid if they're deemed ineligible.
What does this change mean for enrollees? What do folks need to know to maintain access to coverage? How can you help?
We'll answer these questions and more at our upcoming webinar. Join us next Tuesday, March 28 at 6pm.
Learn more and RSVP here.
For additional context and resources, see these recent articles:
Amid Restructuring and Software Troubles, DHHR Now Has to Verify Medicaid Eligibility for 600,000 Users
The WVCBP seeks to learn how the changes to Medicaid impact people in real-time. The Center will conduct surveys and interviews, go through the renewal process alongside selected individuals, and pay them for their time. Providers and health care advocates are also encouraged to share their perspectives. To participate, please follow this link, email Rhonda Rogombe, or text or call her at (304)-873-6222. She looks forward to hearing from you!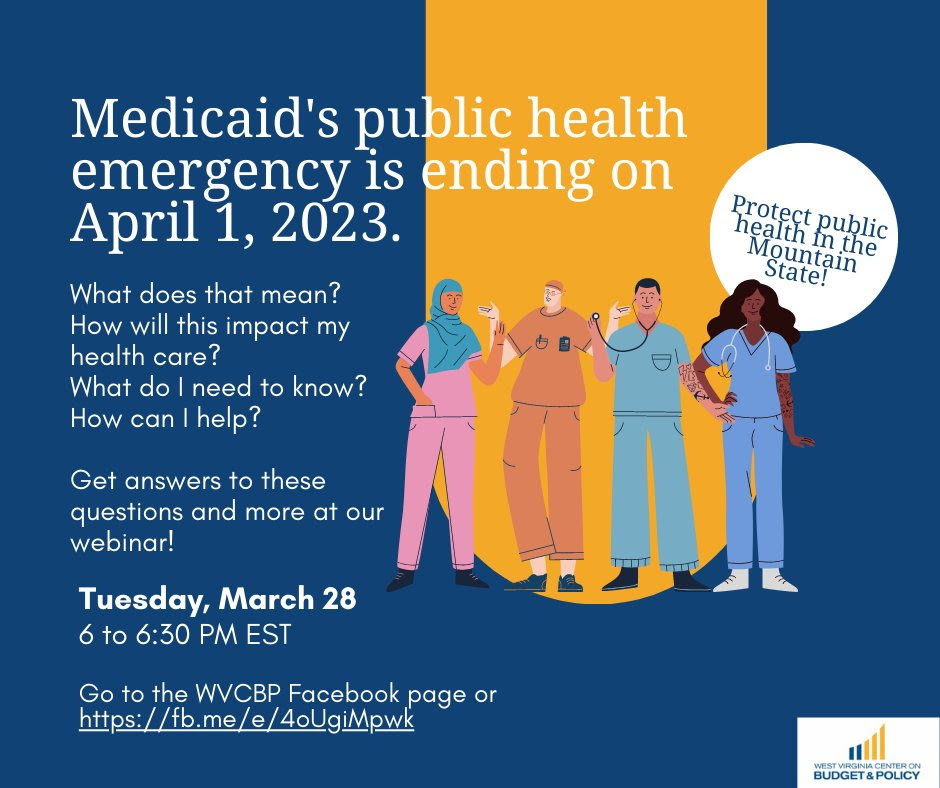 Budget Fails to Address Pressing Needs, PEIA "Fix" Creates Hardship for Policyholders
Last Friday, Governor Justice signed four bills into law, including the budget bill (HB 2024) and a bill related to PEIA premium cost sharing and reimbursement rates (SB 268). The flat budget neglects many of the state's ongoing and pressing needs, while an element of the so-called PEIA "fix" creates increased financial hardship for policyholders. A recent article, including comment from the WVCBP, provides further details. Excerpt below:
The state budget, a pay raise for government employees and a fix for the Public Employees Insurance Agency were among four bills signed into law Friday by West Virginia Gov. Jim Justice.
The budget presented in House Bill 2024 totals $4.874 billion and includes 34 surplus appropriations, Justice said.
The budget bill also sets aside $400 million in a Personal Income Tax Reserve Fund to offset a personal income tax reduction, "just in case we get upside down and get in a bunch of trouble," Justice said.
West Virginia Center on Budget & Policy Executive Director Kelly Allen expressed concern Friday that the flat budget fails to address many ongoing problems, while bolstering a tax reduction that would see the state's wealthiest citizens receiving the largest returns. The Center on Budget & Policy is an independent, nonpartisan research organization with the goal of supporting informed public dialogue and policy in West Virginia.
"The general revenue budget signed today is more than $500 million less than 2019's, after adjusting for inflation," Allen said. "This session's prioritization of income tax cuts meant many budget needs had to go unaddressed — leaving no room to increase funding for higher education and PEIA to offset rising costs, or to address crisis-level correctional vacancies and child care affordability."
Allen added, "While most families will see meager benefits from the tax cut package, all will feel the impact of less investment in education, PEIA and infrastructure."
The concern over PEIA grew when, prior to the legislative session, Wheeling Hospital issued a statement saying it would no longer accept PEIA due to low reimbursement rates, sparking worry among lawmakers that other providers could follow suit.
In addition, the agency hasn't seen a premium increase in years (despite the 80/20 ratio being set in statute) and faces a $376 million shortfall, according to a five-year outlook released last year.
Senate Bill 268, signed by Justice on Friday, returns the employer-employee premium cost share to 80/20 and sets the reimbursement rate for providers at 110% of the Medicaid rate.
"We absolutely now have what … is as close to a permanent fix for PEIA that we haven't had in the past," Justice said.
Some, including the unions representing the state's public employees, are concerned that the "fix" will create a hardship for policyholders, who will have to adjust to a rapid and significant premium spike.
Additionally, the spouses of public employees will now have to buy into the coverage plan at an out-of-pocket cost of $147, if they have insurance options through their own employer. There also is concern about a study included in the bill that will look at alternative ways of providing coverage to non-state employees.
Read the full article.

Applications for Summer Policy Institute 2023 are Live!
The Summer Policy Institute brings together highly qualified traditional and non-traditional undergraduate students, graduate students, and policy-curious people of all ages to build policy knowledge, leadership skills, and networks.
SPI attendees participate in interactive sessions where they learn the ins and outs of policy change through a research and data lens, as well as crucial skills rooted in community engagement and grassroots mobilization. Attendees will meet West Virginia leaders from government, non-profit advocacy, and grassroots organizing spaces to build relationships and networks.
Throughout the convening, participants work in small teams to identify and develop policy proposals to shape the future they want to see in the Mountain State, culminating in team "policy pitches" to community leaders. Sessions will equip participants to focus on defining the problem as an essential first step before progressing to proposing solutions.
After three years of virtual SPI, we're excited to announce that we will be returning to an in-person format for SPI 2023! The event will take place at Fairmont State University from July 28-30.
There is no cost to attend, and students can work with professors to receive course credit. It is required that participants attend all sessions during the three-day convening.
To apply, please complete this Google Form and submit your brief letter of interest to summerpolicyinstitute@gmail.com. The application deadline is May 1.
For more information, please see our event landing page.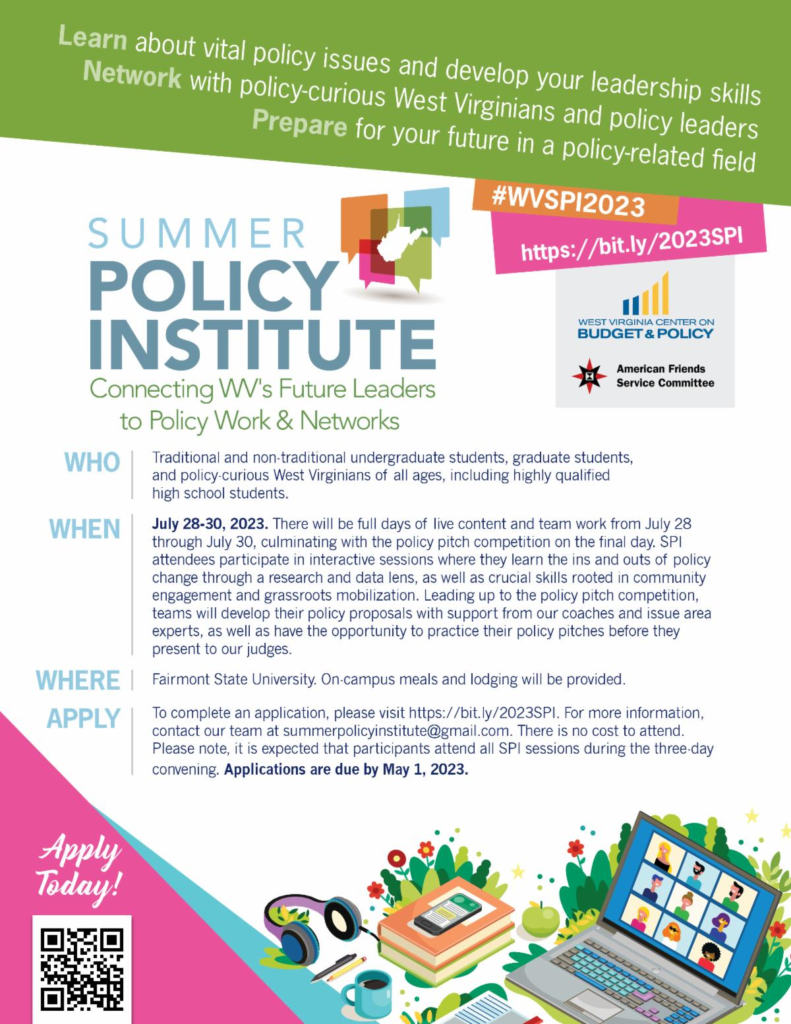 Share Your Medicaid Experience with Us!
The WVCBP's Elevating the Medicaid Enrollment Experience (EMEE) Voices Project seeks to collect stories from West Virginians who have struggled to access Medicaid across the state. Being conducted in partnership with West Virginians for Affordable Health Care, EMEE Voices will gather insight to inform which Medicaid barriers are most pertinent to West Virginians, specifically people of color.
Do you have a Medicaid experience to share? We'd appreciate your insight. Just fill out the contact form on this webpage and we'll reach out to you soon. We look forward to learning from you!
You can watch WVCBP's health policy analyst Rhonda Rogombé and West Virginians for Affordable Health Care's Mariah Plante further break down the project and its goals in this FB Live.