The governor's proposed FY 2021 budget has officially been released, with very little in changes from the FY 2020 budget.
With revenues stagnating, there is very little in new spending initiatives in the governor's proposed budget, while relying on some one-time budget maneuvers to avoid deep spending cuts.
Overall, the proposed FY 2021 base budget (spending from the general revenue and lottery funds) totals $5.02 billion, a decrease of about $74 million from the FY 2020 base budget.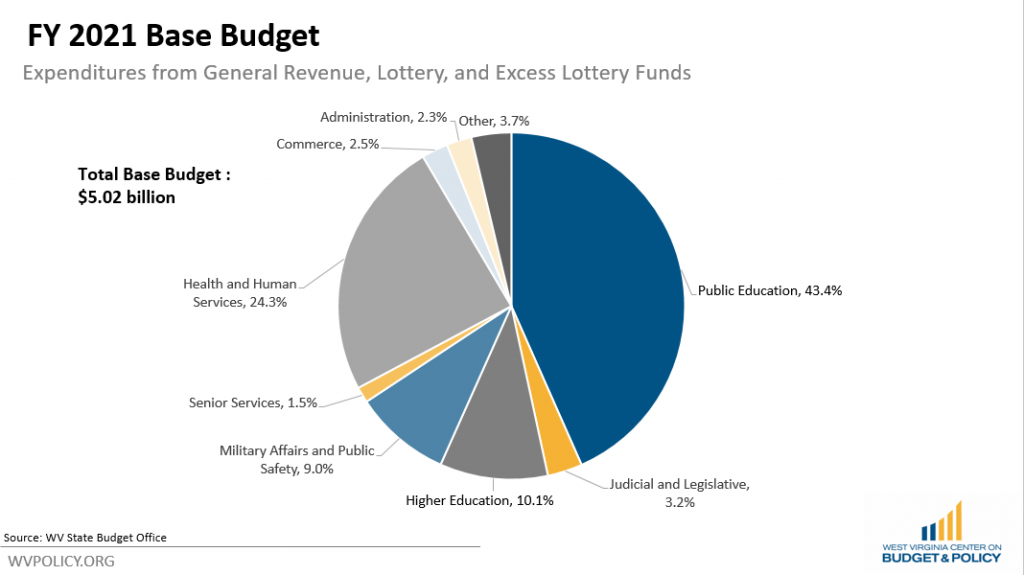 Most of the changes to the FY 2021 budget come from Medicaid. According to the governor, the Medicaid program has accrued a balance of $309 million due to declining enrollment and realized cost savings. The governor is proposing putting $150 million of that balance into Medicaid reserve fund, to help with potential future Medicaid shortfalls. For the FY 2021 budget, the general revenue spending on Medicaid medical services is cut by $176 million from FY 2020's level, with some of the savings being redirected to Intellectual and Developmental Disabilities waiver program, with an additional $19.7 million to eliminate the program's 1,060 person wait list.
Another area of the budget with notable changes is in the Division of Health. Funding for Child Protective Services case workers is increased by $19.8 million, and $7.0 million added for the state's Children's Health Insurance Program.
On the education front, the state's share of the school aid formula increases by $37 million in the FY2021, which includes a $33.6 million increase the formula and a $3.4 million decrease in the local share. The Communities in Schools program also sees a major funding increase, from $400,000 in FY 2020 to $4.9 million in FY 2021.
Other areas of the budget see virtually no changes. Higher Education funding is unchanged from FY 2020, while the Department of Commerce sees a $7 million increase for the Division of Tourism.
On the revenue side, poor revenue growth continues to plague the state. Total general revenue is projected to decline by $108.6 million in FY 2021, with severance taxes leading the decline. Severance taxes are projected to fall to $253.8 million in FY 2021, $106.4 million below FY 2020, and $208.7 million below FY 2019.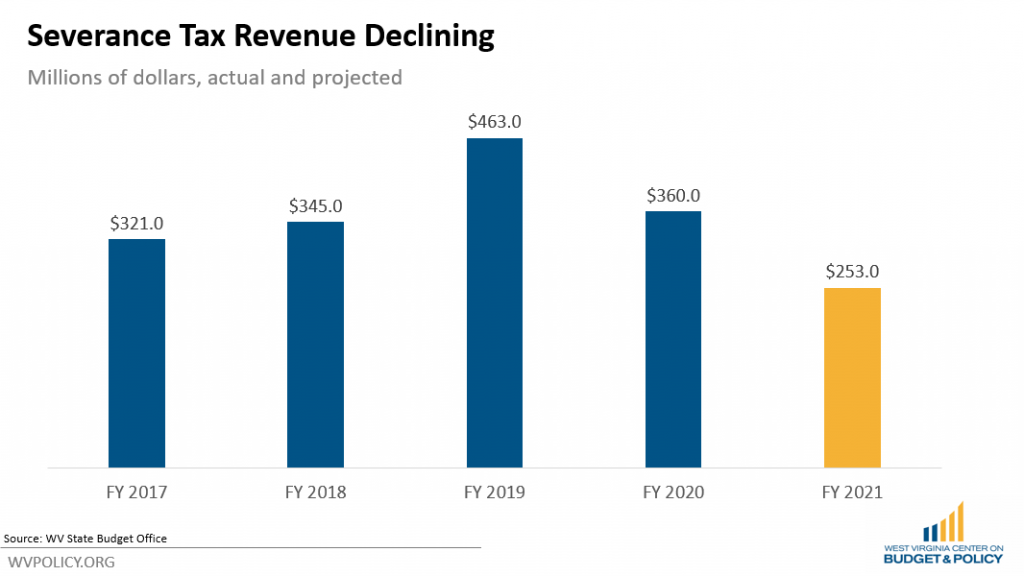 While severance taxes are sharply declining, other revenue sources are also struggling. Sales tax revenue is projected increase by only 2.3%, and personal income tax revenue by only 0.09%. Corporate income taxes are projected to increase by 5.8% in 2021, but are down 27% from FY 2019.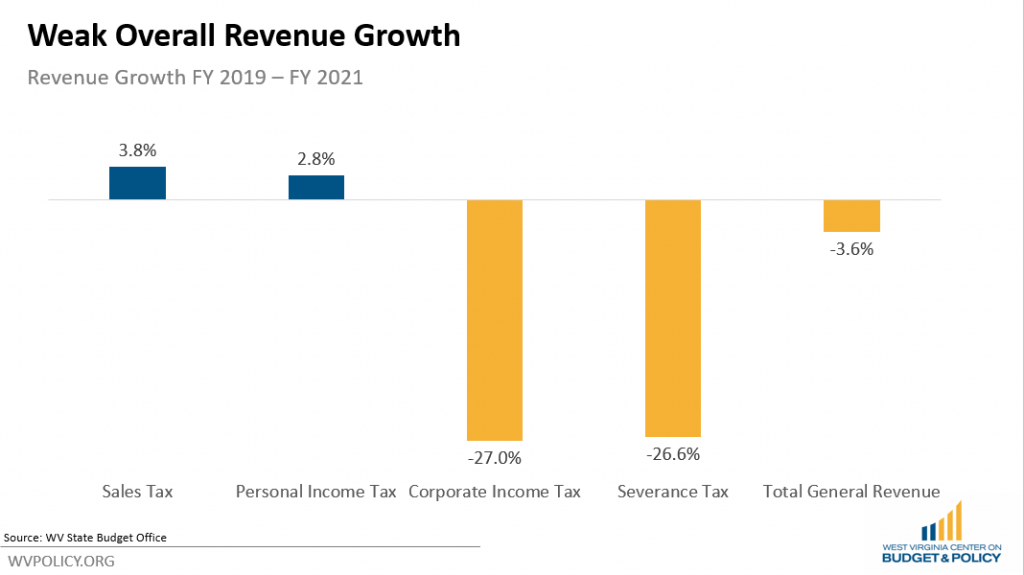 The FY 2021 budget's Six Year Plan shows the state's revenue problems continuing. While the budget is projected to balance for FY 20201, the state is facing $170 million budget gap in FY 2022, a $158 million gap in FY 2023, a $171 million gap in FY 2024, and a $164 million gap in FY 2025. The cumulative $663 million budget gap occurs despite no new spending on higher education, declining state spending on the school aid formula, and $157 million in new spending for Medicaid over that time frame.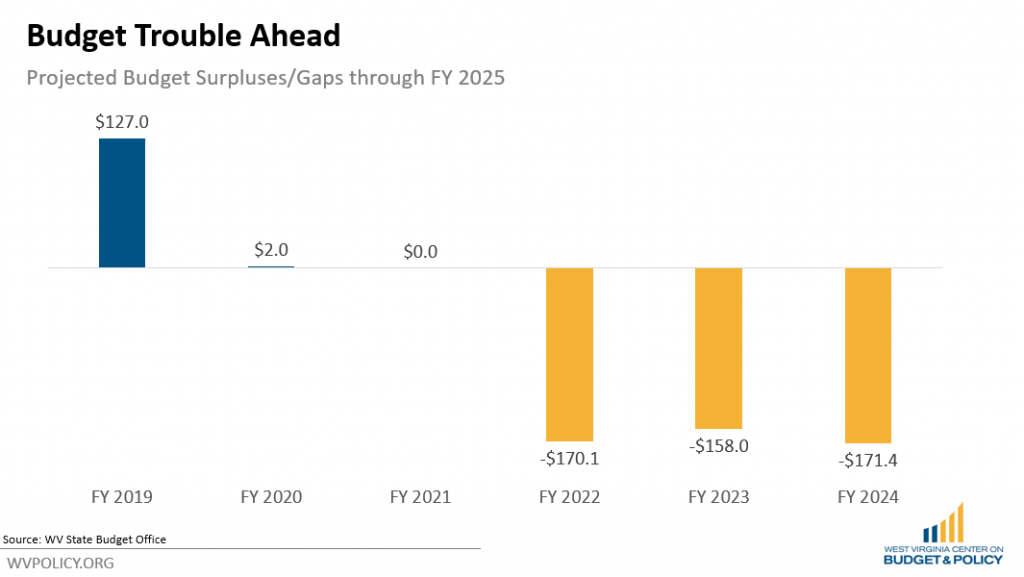 Keep an eye out, a more in-depth analysis of the budget will be released in the upcoming weeks and at the Annual WVCBP Budget Breakfast on January 15th.