West Virginia's local health departments have served as the cornerstone of public health initiatives for decades. Providing services such as immunization, family planning, harm reduction, environmental and food inspections, and much more, local health departments deliver a holistic approach to ensuring health and wellness for West Virginia residents across the state. They have been crucial to the state's response to the enduring pandemic, contributing significantly to the nearly 400,000 tests administered in West Virginia in the last 30 days alone, which they provide for free.
But their ability to positively contribute to West Virginians' health outcomes is causally related to their funding and staffing capacity. Over the past decade, state funding cuts have eroded local health departments' ability to serve their respective communities and respond to public health emergencies, such as the COVID-19 pandemic. And as a state with some of the country's worst health outcomes — including high rates of heart disease and opioid overdose — there is no justification for the dramatic reductions in public health expenditures experienced over the past decade. 
Despite the legislation requiring funding for four full-time employees, half of the state's local health departments do not meet this standard. Indeed, several departments have just one full-time and one part-time administrative staff member. Between fiscal years 2010 and 2021, public health spending decreased by nearly 30 percent from 20 million to 14.2 million inflation-adjusted dollars.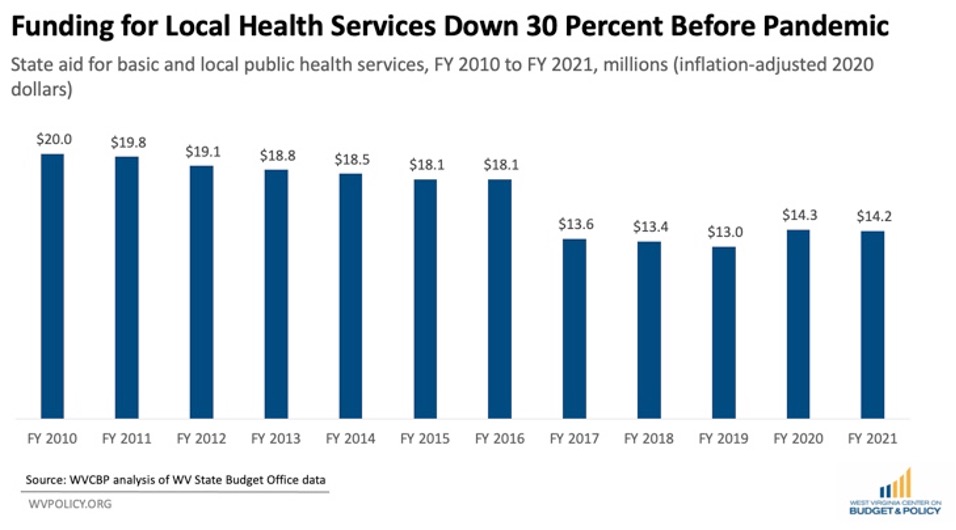 In Logan County alone, the loss of funding equaled an estimated $74,000 over this period. Monongalia County experienced an approximate $190,000 reduction. More broadly, these cuts have resulted in the loss of over 250 full-time public health jobs across the state between 2007 and 2019, a 29 percent reduction in the state's public health workforce.
Before the pandemic, Trust for America's Health ranked West Virginia "low" for emergency preparedness. While 39 states maintained or increased public health expenditures between 2018 and 2019, West Virginia decreased spending, contributing to this low rank. This status reflects sentiments from public health officials concerned about their abilities to provide robust services—especially as 30 percent of epidemiology positions in the state were vacant just before the start of the pandemic. These budget cuts left the state shorthanded for the ongoing public health crisis.
Funding and subsequent staffing cuts have hurt local health departments' pandemic response, but it has also impacted their ability to perform routine services. Many departments have found themselves performing beyond capacity, forcing them to limit or temporarily cut specific services to focus on the pandemic. Of course, this pattern hurts overall public health outcomes, especially for low-income residents with limited options. For example, in Jefferson County, testing for sexually transmitted infections has been discontinued until further notice.
It is more imperative than ever that West Virginia prioritize public health, not only through this pandemic but beyond it. Austerity measures taken before the pandemic have burdened public health officials and diminished the state's capacity to ensure wellness during this crisis.
As we work to emerge from the pandemic, we must strengthen our state and local capacity for providing important public services. Instead of giving handouts to corporations and wealthy individuals in the upcoming legislative session, lawmakers must recommit to investing in critical public health infrastructure like our public health departments who prevent diseases, promote health and wellness, and protect all West Virginians.
---