In order for West Virginia to successfully address food insecurity during the response to COVID-19 and throughout the economic fallout of the pandemic, Congress should immediately increase the maximum SNAP allotment by 15% for all SNAP households.
While the House of Representatives' recently introduced HEROES Act includes this increase in food assistance, it stops short of tying it to tangible improvements in economic conditions, opting instead for a cutoff date of September 2021. Ensuring that families have the support they need to address basic needs such as food throughout the duration of the economic crisis caused by COVID-19 will support our overwhelmed food banks and provide a steady and stabilizing infusion of federal dollars into the economy.
West Virginia families rely on the Supplemental Nutrition Assistance Program (SNAP)
In fiscal year 2019, SNAP reached 1 in 6 West Virginians, the overwhelming majority of whom were poor. Compared to national averages, West Virginia sees higher participation rates for the elderly and disabled. SNAP was also responsible for keeping 67,000 West Virginians out of poverty, including 27,000 children from 2013-2016.
Since the onset of the public health emergency, total West Virginia SNAP enrollment has increased by 13,319 households, further showing that SNAP is a critical household support during times of economic crisis. In the month of April alone, SNAP was responsible for over $33 million dollars in federal spending at West Virginia grocers and retailers. With an estimated economic impact of $1.70 per every dollar spent, this amounts to $56 million dollars in economic activity.
A 15% increase in maximum SNAP benefits would translate to an average of $24 dollars per month in additional food assistance for West Virginia households. A 15% increase would have brought in more than $5 million dollars in additional federal food assistance and economic activity to the state in the month of April.
Economists widely agree that increasing federal food assistance is one of the most effective ways to stimulate economic activity during times of recession. 80 percent of SNAP households will spend all of their food assistance dollars within the first two weeks of receiving them, and states can distribute increases in benefits almost immediately. This provides an economic stabilizing effect for both families and economies struggling with sharp increases in unemployment.
Food banks alone cannot meet increased need in West Virginia
As part of the Families First Coronavirus Response Act, Congress provided states nearly 400 million dollars in funding for The Emergency Food Assistance Program (TEFAP). TEFAP is a federal program run through the U.S. Department of Agriculture (USDA) that purchases a variety of foods and makes those foods available to food banks throughout states for distribution to soup kitchens and food pantries that directly serve the public.
West Virginia's share of the March TEFAP allotment was $2.7 million dollars. However, this appropriation will be inadequate compared to the increase in demand on West Virginia's charitable food system created by the unprecedented unemployment the state has seen in recent weeks. Since Governor Jim Justice's state of emergency declaration, more than 137,000 West Virginians have filed for unemployment.
The drastic increase in unemployment claims filed since the governor's shutdown order has put significant strain on our state's food pantries and soup kitchens. Manna Meal, which serves 365 days a year in downtown Charleston, has seen more than an 80% increase in meals served since January.
This amounts to nearly a 200 percent increase in year over year costs, and Manna Meal is only one out of 73 food pantries/hot meal programs in Kanawha County, WV. According to WV Foodlink, there are approximately 560 combined food pantries and hot meal programs throughout West Virginia.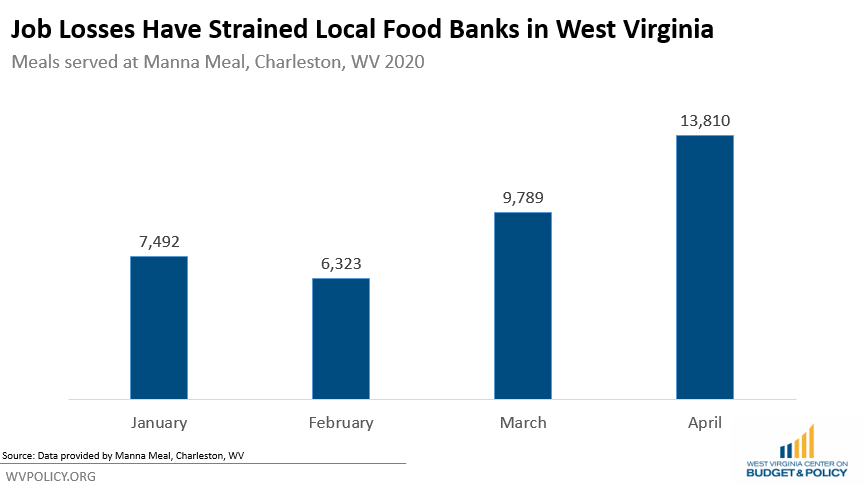 Recent, temporary increases in SNAP have shown impact locally
During the winter months, the Pocahontas County Family Outreach and Education Center typically supports 200 families per month with additional food to help them make ends meet. During March, shortly after the local ski resort and major employer was forced to close do to COVID-19, their demand nearly doubled.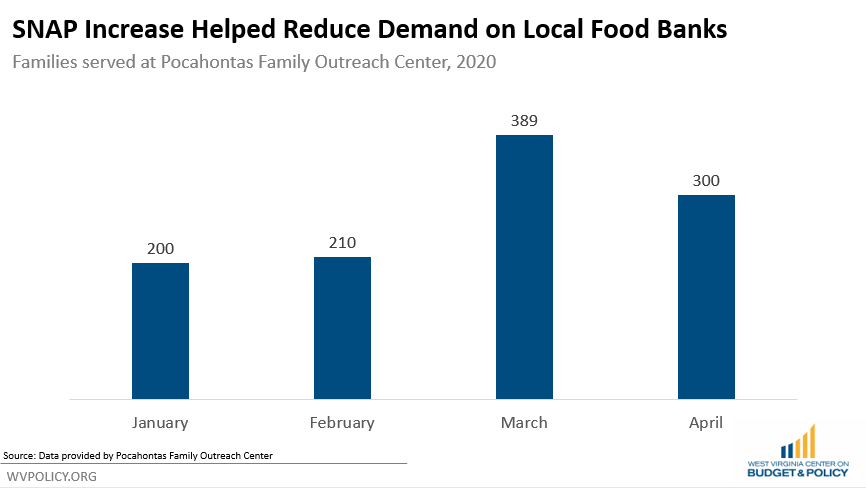 This spike in demand was partially mitigated by the increases to SNAP. As part of the Families First Coronavirus Response Act passed in March, Congress allowed states to automatically issue the maximum in household SNAP benefits for the months of April and May. While April visits to the food pantry at the Pocahontas County Family Outreach Center were still nearly twice as high as January and February, staff at the center specifically cited their clients receiving the current maximum SNAP benefit as lessening demand from March.

However, that boost in SNAP was temporary and did not include an overall increase in the maximum monthly benefit for SNAP households. SNAP is a critical and irreplaceable partner in the fight against food insecurity. For each meal a food pantry provides, SNAP provides nine. West Virginia's food pantries and soup kitchens cannot, by themselves, sufficiently address the food security needs of our people in the wake of COVID-19, nor should they have to.
Congress must act now to boost SNAP benefits for the duration of the economic downturn
Making sure our friends and neighbors don't go hungry, especially during an economic crisis caused by a pandemic, is our collective responsibility. Congress should act accordingly and increase the maximum monthly SNAP benefit by 15 percent throughout the duration of the economic downturn. The HEROES Act, recently made public by House Leadership is a positive first step in addressing the food and family security needs of West Virginians through this and other provisions such as extending unemployment and bolstering Medicaid. However, the initiatives such as a 15 percent increase in the maximum monthly SNAP benefit need to be tied to tangible improvements in economic conditions to ensure we are doing the most we can for struggling families and workers displaced because of the COVID-19 pandemic.