West Virginia ended Fiscal Year (FY) 2022 with revenues coming in at $1.3 billion above estimates. And while that surplus is largely a mirage built on low revenue estimates, unexpectedly high energy prices, and unprecedented amounts of federal aid and budget support, it does present an opportunity to make much-needed investments in the people of West Virginia while addressing longstanding needs.
Unfortunately, both the governor and legislative leadership are using the surplus to argue once again for inequitable and permanent tax cuts despite the surplus being a one-time source of money. Governor Justice has again proposed an ineffective income tax cut that would largely benefit the wealthy, while Senate leadership continues to call for an ineffective property tax cut that would largely benefit out of state businesses; both proposals would deprive the state of resources to address real needs and make needed investments, while failing to have a significant impact on the vast majority of West Virginia households. Considering half of the total surplus has already gone to corporate and business interests, it is time for lawmakers to prioritize our state's families.
Our newest blog post outlines five proposals West Virginia lawmakers should consider to support workers and families, all of which could be funded by the state's remaining $515 million revenue surplus from FY 2022. The proposals include:
Investing in PEIA to avoid enrollee cost increases;
Providing an additional 10,000 children with subsidized child care;
Enacting a paid family and medical leave program for all workers;
Investing in workforce development; and
Giving all children a one-time $250 tax credit.
Read the full blog post.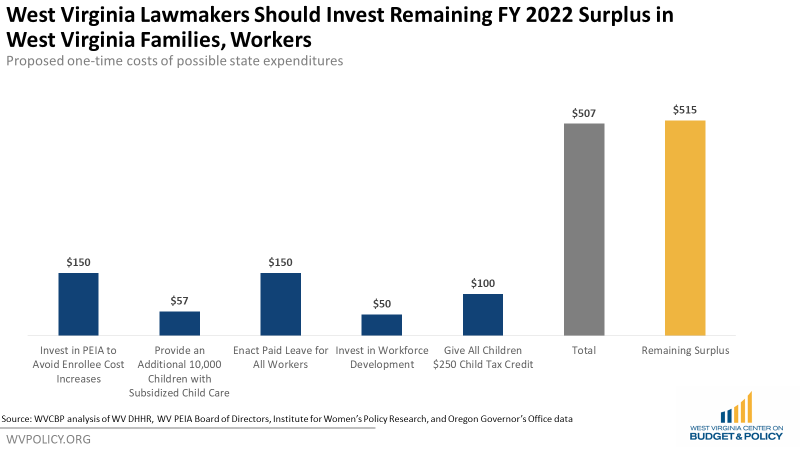 Gov. Justice Proposes Personal Income Tax Cut that Would Overwhelmingly Benefit the Wealthy
Last week, Gov. Justice announced that he will call a special session later this month for lawmakers to consider a proposed 10 percent reduction to the state personal income tax. Despite the governor's claim that this tax cut would "bring prosperity to our state for generations," income tax cuts inherently benefit the wealthiest households. While the exact details have yet to be revealed, if the cut is structured evenly across all tax rates, the wealthiest 20 percent of our state's households would receive a staggering 70 percent of the tax cut. Meanwhile, the poorest 20 percent of households would save on average just $7 annually. What's more, cutting the personal income tax would deprive the state of crucial revenue needed to fund the state programs and services that benefit us all.
Gov. Justice touted the Fiscal Year 2022 revenue surplus in his announcement to argue that West Virginia could afford his proposed tax cut. But it's critical to note that much of this "surplus" only exists due to the influx of federal pandemic aid and artificially low revenue estimates. In fact, Gov. Justice's own administration officials have spent this year urging caution given unpredictable economic factors impacting our revenues. If they have more certainty about our fiscal outlook now, they should produce an updated six-year outlook and revise their revenue estimates in order to give the public and legislators more accurate information.
Regardless of the fact that the recent revenue surplus is largely a mere facade of state fiscal strength rather than an accurate representation, using a one-time revenue surplus to justify a permanent tax cut is unsustainable and fiscally irresponsible. Instead of funding a tax reduction that largely benefits West Virginia's wealthiest, any surplus revenue should be used to address the state's real and pressing needs, such as the looming PEIA and Medicaid shortfalls.
The WVCBP will be at special session later this month to urge rejection of the governor's proposal.
Learn more about how cuts to the personal income tax cut disproportionately benefit the wealthy in this blog post.
Learn more about Gov. Justice's proposed tax cut in this recent article.
In addition to the governor's proposed income tax cut, West Virginia Senate leadership has expressed interest in cutting personal property taxes. You can learn more about the competing interests in this article.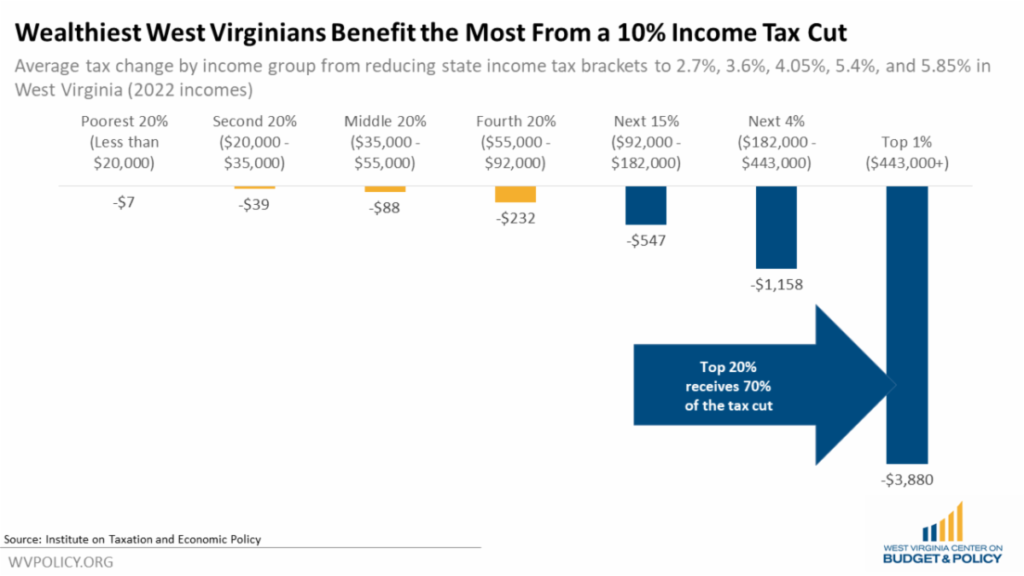 New Child Tax Credit Proposal Revealed, Includes Strengths and Weaknesses
Beginning in July 2021, most households with children had received monthly enhanced Child Tax Credit (CTC) payments of $250- 300 per child. However, the enhanced CTC included in the American Rescue Plan Act (ARPA) was temporary and expired at the end of 2021.
The impact on children and families since the expiration of the enhanced CTC has been severe. Between Dec. 2021 and Jan. 2022, there was a staggering 41 percent increase in child poverty nationwide due to the loss of the monthly payments. And as inflation continues to exacerbate family financial hardship, the need to make a robust CTC permanent is as urgent as ever.
Recently, a new proposal to expand the CTC was announced by Senator Mitt Romney. While we are excited to see bipartisan interest in enhancing the credit and while the proposal does improve some elements of the current law, it also has serious shortcomings – primarily, it does not make the full credit available to the lowest-income families (a notable divergence from the now-expired enhanced CTC that was included in the ARPA). Further, it proposes problematic offsets that would prove detrimental to low-income families.
A blog post from our colleagues at the Center on Budget and Policy Priorities provides further insight into the proposal's pros and cons. You can read it here.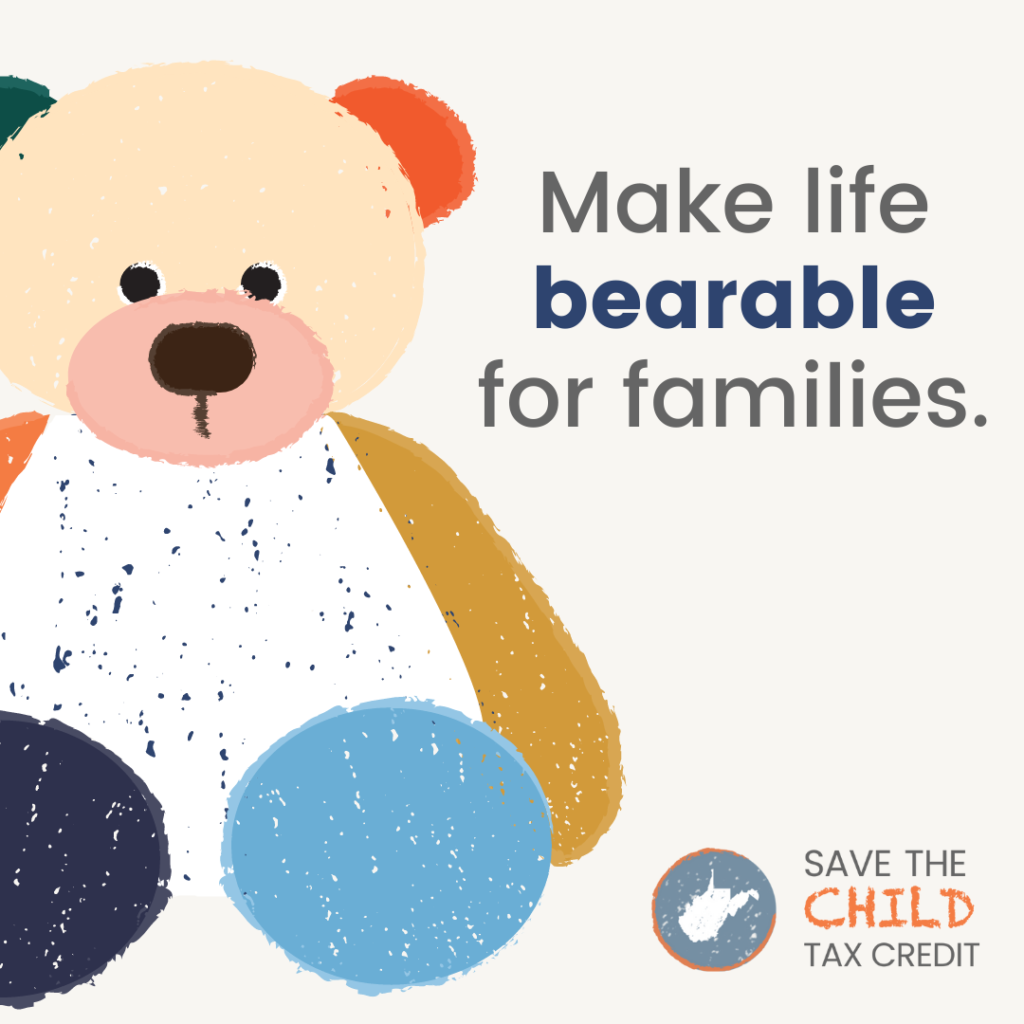 Impacts of Rising Insulin Costs Survey
The costs of insulin continue to rise while income wages remain stagnant, exacerbating pressure on individuals and families to skip or ration insulin doses in order to make ends meet.
You can help us in our fight to urge Congress to take action! If you or your family is being impacted by insulin costs or rationing, please consider completing our survey and aiding us in our advocacy– we appreciate your time and insight.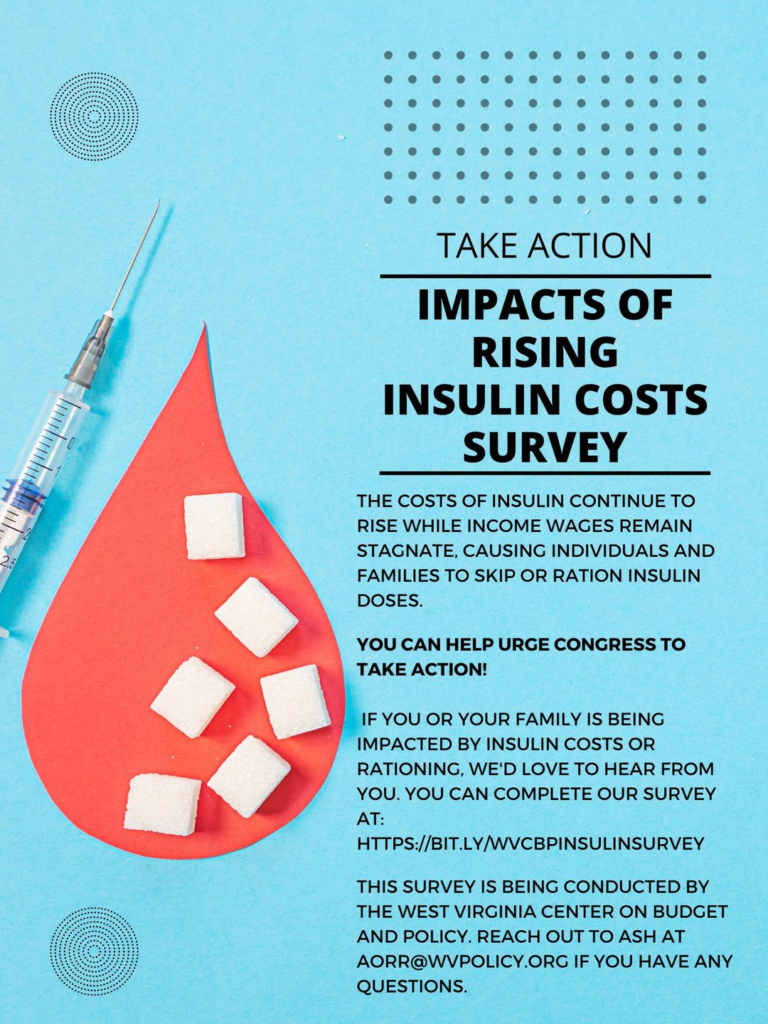 Share Your Medicaid Experience with Us!
The WVCBP's Elevating the Medicaid Enrollment Experience (EMEE) Voices Project seeks to collect stories from West Virginians who have struggled to access Medicaid across the state. Being conducted in partnership with West Virginians for Affordable Health Care, EMEE Voices will gather insight to inform which Medicaid barriers are most pertinent to West Virginians, specifically people of color.
Do you have a Medicaid experience to share? We'd appreciate your insight. Just fill out the contact form on this webpage and we'll reach out to you soon. We look forward to learning from you!
You can watch WVCBP's health policy analyst Rhonda Rogombé and West Virginians for Affordable Health Care's Mariah Plante further break down the project and its goals in this FB Live.