It's almost Halloween, a spooky time of year with ghosts, witches, zombies, and unemployment claims data. If you love being scared, check out these bone-chilling charts featuring some ghastly trends on West Virginia's economic recovery during COVID-19. But be warned, these blood-curdling bars and spine-tingling lines are not for the squeamish.
West Virginia lost 93,900 jobs in March and April, and as of September, has gained back only 53,700 of them. But that's not the scariest part. Most of those gains occurred in May and June, with the recovery stalling as the summer ended. West Virginia has gained only 4,100 jobs since July, including a loss of 3,000 jobs in September. But even scarier, West Virginia was losing jobs before the pandemic hit. The state lost 17,700 jobs from August 2018 to February 2020.
Read Sean's full blog post.
Food For All Summit More Important Than Ever as Hunger Persists
While the COVID-19 pandemic has had devastating consequences for many elements of the West Virginia economy, one of the most startling effects has been increased rates of food insecurity throughout the state, especially in households with children.
This year, the third annual Food For All Summit will take a closer look at the cracks in our food access systems that have been made even more apparent as COVID-19 continues to harm our communities.
This free Summit will run from Monday, Nov. 16 through Friday, Nov. 20.
Read Seth's full blog post detailing the Summit here.
Find the Summit webpage here.
Register for the Summit here.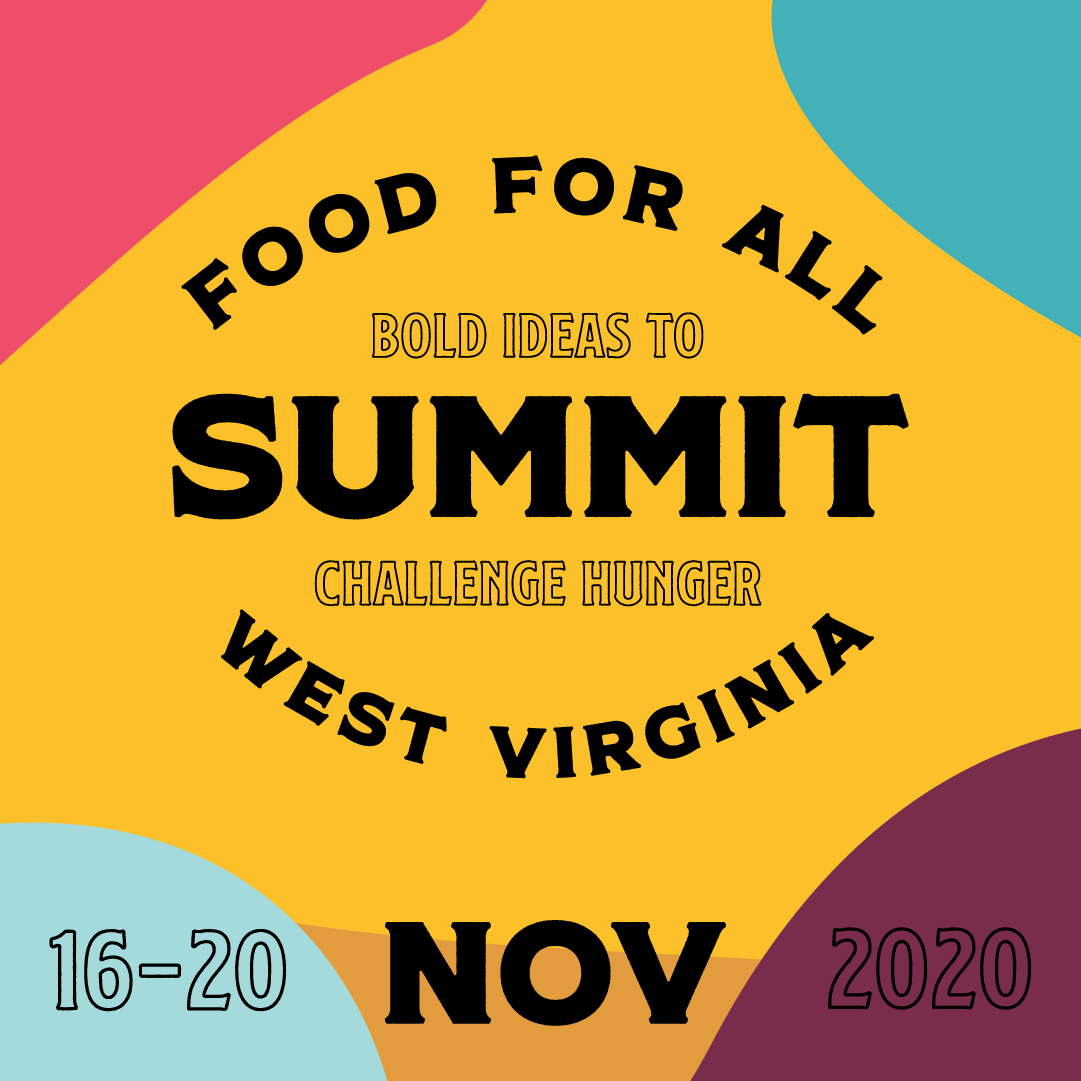 Have You or Your Family Been Enrolled in West Virginia Medicaid in the Last Five Years?
Last week, our blog post explored how West Virginia Medicaid enrollment continues to rise even as unemployment claims level out.
In the effort to better advocate for improved Medicaid administrative policy, the WVCBP is soliciting feedback from West Virginians who have been enrolled in Medicaid in the last five years. If you or your family members fit this description, we invite you to please complete our survey.
We appreciate your time, thought, and willingness to help us improve the Medicaid experience for West Virginians.
ReImagine Appalachia Releases New White Papers and Hosts Roundtable on Civilian Conservation Corps
Earlier this year, the ReImagine Appalachia coalition released a policy blueprint to create a vibrant region for all people, whether they are white, Black, Brown, or Indigenous. The blueprint envisions an Appalachia where everyone is paid enough to support themselves and their family, future generations can put down roots, and everyone has clean air to breathe and water to drink.
Last week, the coalition released findings from the Political Economy Research Institute's (PERI) economic and job impact analysis of their blueprint. The PERI study shows that if it is implemented, the ReImagine blueprint could provide good jobs for hundreds of thousands of Appalachians every year for the next 10 years.
This week, the ReImagine released a trio of white papers providing details on needed infrastructure investments in broadband, modernizing the region's manufacturing sector, and reviving the Civilian Conservation Corps and promoting regenerative agriculture. Read the reports here.
The coalition also hosted a virtual roundtable with Senator Casey of Pennsylvania to discuss the importance of reviving the Civilian Conservation Corps. The conversation detailed the environmental benefits of this program as well as the importance of providing pathways to good jobs. Find the recording here.
WV Has No Immediate Plans to Distribute Stimulus Checks to Incarcerated People Despite Confirmed Eligibility
The $1,200 stimulus checks included in March's CARES Act provisions had been denied to incarcerated folks for months, but a federal judge recently ruled that those incarcerated are in fact eligible to receive these payments.
Despite this ruling, the West Virginia Division of Corrections and Rehabilitation stated that it has no immediate plan to distribute the stimulus checks to people incarcerated, claiming they are awaiting further guidance.
In a Mountain State Spotlight article covering this development, numerous legal authorities weighed in expressing that to delay these payments is unwarranted and could potentially evolve into a legal problem for the state.
Other folks interviewed in the piece, including WVCBP's policy outreach director Seth DiStefano, called attention to how critical these stimulus checks are for folks inside. Seth is quoted saying that these payments would make "a world of difference," as the money could go toward paying for any number of items, from commissary products to phone calls with loved ones to the costs of reintegration into mainstream society upon release.
From Loree Stark of the ACLU of WV:
"The ruling reaffirmed what we've known all along — that incarcerated people are entitled to CARES Act payments. The state of WV should distribute CARES Act funds to recipients as soon as they are received at its correctional facilities."
Read the full piece here.
Find more info on how to file for the stimulus check in our entry below.
Potential Tax Breaks for Oil and Gas May Force Cuts to Public Services
Former WVCBP executive director Ted Boettner broke down the oil and gas industries' push for millions in tax cuts in a recent Beckley Register-Herald op-ed.
From the piece:
"While West Virginians are dealing with the Covid-19 pandemic and trying to figure out if their kids can attend school, the oil and gas industry is working with the West Virginia State Tax Department to cut its property taxes by as much as $62 million per year. Last month, the state tax department released a draft rule change on how oil and gas personal property is appraised and taxed. The proposed rule mirrors the wishes of the oil and gas industry and, if implemented, would force either cuts in local government services (e.g. public safety and schools) or shift more of the tax responsibilities onto residents and other businesses.
"According to the WV Property Tax Department, the proposed changes could lower local oil and gas property tax collections 'by approximately 50 percent.' In Tax Year 2019, West Virginia's local governments collected an estimated $123 million in oil and gas property taxes, suggesting that local government would lose an estimated $62 million. The counties where horizontal fracking wells produce gas and oil will be the most heavily impacted, taking a hit of $54 million."
WVCBP estimates that the proposed changes would also cost the state an additional $13 million under the State School Aid formula.
Read the full-op ed here.
Rosemary Documentary Available Now
This past summer, WVCBP board member Rosemary Ketchum became the first openly transgender person to be elected to public office in West Virginia.
We're excited to share that Rosemary's story is being spotlighted through a West Virginia Public Broadcasting documentary following her campaign and election to Wheeling City Council.
Rosemary works as a tireless and empathetic advocate for West Virginians. WVCBP is lucky to have her as a source of guidance for our work and we are delighted that she's being celebrated in the way she deserves.
You can find the documentary here.
2020 Summit on Race Matters in West Virginia: Nov. 5 Education and Employment Session
This summit seeks to "discuss race in a comprehensive, collaborative, and compassionate manner designed to build the Beloved Community in West Virginia." It kicked off to an incredible start in August, and we encourage you to keep engaging in this conversation and join us for the next session, which focuses on education and employment and features professor, author, and commentator Michael Eric Dyson as keynote speaker.
This free event will take place on Thursday, Nov. 5 at 4pm ET.
Register here.
Beyond Bars Summit: A Dialogue on Mass Incarceration in West Virginia
Mass incarceration of adults cost West Virginia over $314 million in 2019. The collateral consequences impact our communities, families, and economy.
Please join us on Thursday, Nov. 12 for a virtual summit to hear from experts, participate in dialogue, and discuss solutions to mass incarceration in our state.
Summit Schedule:
3 p.m. Dwayne Betts, author of Felon
4 p.m. Breakout sessions led by West Virginia experts
5 p.m. Piper Kerman, author of Orange is the New Black
Register here.
You May Still be Eligible to File for Your Stimulus Payment, Filing Deadline Extended to Nov. 21
Did you know that millions of eligible people could miss out on their Economic Impact Payments (EIP) – commonly called "stimulus checks" – because they have to file an online form with the IRS to get it? While most people get their payments automatically after filing a tax return (or based on participation in certain federally administered programs), this group of "non-filers" must take additional action to get their money (worth $1,200 for adults and $500 for qualifying children).
An estimated 115,000 West Virginia residents did not receive their EIP automatically from the IRS, translating to $112 million in lost potential payments. Don't leave money sitting on the table — if you are eligible, file for your EIP before the Oct. 30 deadline for online claims and Nov. 21 deadline for paper claims.
Please note, per a federal judge's recent ruling, incarcerated folks are eligible to receive the stimulus check. You can find a helpful list of FAQs about obtaining the payment for incarcerated people here.
Learn more about general eligibility and file for your EIP here.
Important 2020 Election Dates
Make your voice heard and remember to vote in this November's 2020 General Election! Important dates to keep in mind below.
Register for WVCBP's 2021 Budget Breakfast
Join us for our 8th annual Budget Breakfast!
Due to COVID-19 considerations, this year's event will be held virtually via Zoom.
WVCBP's analysis of the Governor's 2022 proposed budget will start at 8:00am, followed by keynote speaker presentation and time for Q&A.
While attendees are welcome to join the webinar at no cost, we hope you will consider supporting the WVCBP's work and contributing to our annual fundraiser by donating the usual cost of an in-person ticket ($40 before the end of year or $50 beginning Jan. 1, 2021).
Register here.
We hope to see you there!