Yesterday evening, the Obama administration made a surprise announcement that it would be delaying the employer mandate, a key provision of the Affordable Care Act, for one year.  The rule, originally slated to take effect January 1st of 2014, requires employers with 50 or more employees to provide health insurance coverage to their workers or face a penalty.
Many conservative pundits and politicians have jumped on this claiming that it is proof that the ACA isn't working while the official response from Washington is that the administration is responding to the business industry's request for additional time to understand and implement the complex requirements effectively.
Putting politics aside, the most important question for us is how this impacts West Virginia.
First, it must be noted that delaying the large employer mandate does not delay or eliminate the individual mandate that all people have health insurance.  There is also no indication that the health insurance exchanges will be delayed either, meaning they are still expected to roll out on October 1st of this year when enrollment begins.
Therefore, this announcement only impacts employers with more than 50 employees.  According to the North American Industry Classification System (NAICS), only about 5 percent of the employers in the state have 50 or more employees in 2011. (Figure 1)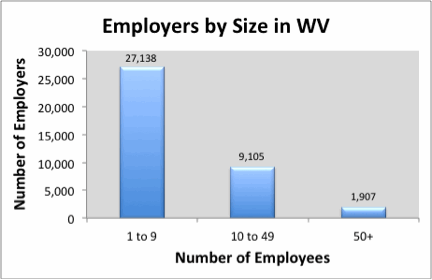 Most employers of this size already offer health coverage to their employees.  According to the Kaiser Family Foundation, 94.8% of private employers in West Virginia with over 50 employees offered health insurance to their workers in 2011. Based on the above figures, this means there are around 100 employers of this size across the state directly impacted by this delay.
Employers that currently offer health insurance could potentially withdraw coverage in 2014 and push their employees to the individual insurance exchanges without facing a penalty.  However, it's hard to imagine that happening with the mandate and penalties picking back up in 2015, not to mention the myriad of negative consequences a large employer could expect by reducing employee benefits.
Essentially what this all means is that the impact of this delay in West Virginia will likely be minimal.  The 100 or so businesses that would have been directly impacted by the mandate will have an additional year to strategize without worrying about penalties, while their workers will now be able to seek coverage on the individual exchange in 2014, possibly benefiting from tax credits to do so.