The 2021 West Virginia legislative session ended last month, and now that the majority of the bills have been signed by the governor or passed into law without his signature, we can take stock of how criminal justice policies fared at the Capitol. Our newest blog post provides a recap of criminal justice bills that were introduced and debated during the 2021 session. You can find all of the bills explored in the blog in the list below.
Harmful Legislation That Failed to Pass:
– Rewriting the Criminal Code (HB 2017)
– Extended Supervision for Certain Drug Offenders (HB 2257)
Positive Steps Forward:
– Juvenile Restorative Justice Programs (HB 2094)
– Powers and Duties of the Parole Board (HB 3078)
– Challenging Faulty Forensic Evidence (HB 2888)
– Authorizing the DCR to establish a Reentry and Transitional Housing Program (HB 3304)
What We Wished Had Passed:
– HB 2552 would have removed the one-time limit on expungement of certain convictions.
– HB 3174 would have required the DCR to provide free feminine hygiene products in correctional facilities.
– HB 3163 would have ended solitary confinement for juveniles.
– HB 2864 would have restored voting rights for people on probation and parole.
– Despite the high cost of regional jail incarceration and the fact the jails have been filled beyond capacity for eight of the last 11 years, no committee took up legislation that would have reduced the jail population.
– HB 2419 was a modest bail reform bill passed during the 2020 session, but the pretrial population has hardly changed since it went into effect last June. Legislators should have improved upon the bill this year by mandating data collection and reporting for pretrial decisions.
Read Quenton's full blog post.
Deadline to Apply for 2021 Virtual Summer Policy Institute Extended Until June 1
WVCBP's Summer Policy Institute (SPI) is an annual event for college students, graduate students, and high school youth interested in bettering West Virginia through policy change. SPI brings together highly qualified traditional and non-traditional applicants to build policy knowledge, leadership skills, and networks.

Attendees participate in interactive sessions where they learn the basics of data, policy, and state government and build their organizing and advocacy skills. Throughout the convening, attendees work in small groups to identify and develop policy proposals to shape the future they want to see in West Virginia, culminating in team "policy pitches" to state legislators and policy professionals. Many SPI attendees have gone on to continue advocating for their policy idea and to hold internships with West Virginia non-profits and in state government.
Applications for SPI are being considered through June 1. Further details and link to apply
here.
Paid Leave Works for WV Virtual Launch and Story Collection Effort
This past Monday, a broad coalition of stakeholders launched Paid Leave Works for WV, a statewide advocacy campaign in support of comprehensive Paid Family and Medical Leave (PFML). The virtual launch included a panel of West Virginians directly impacted by the need for paid leave and a short update on how the proposed PFML policy in President Biden's American Families Plan will impact families and businesses in the Mountain State.
If you couldn't tune in to this week's launch, you can review the recording here.
Paid Leave Works for WV is focused on advocating for a robust paid family and medical leave policy that ensures no one has to choose between their job and caring for themselves or a loved one. The WVCBP is a proud member of this new coalition.
To stay up to date on the coalition's work, follow them on Facebook, Twitter, and Instagram.
And one last thing — we're looking to collect stories from across the Mountain State! If you and your family have benefited from paid leave or have struggled due to lack of access to paid leave, please share your story and help us advocate to make this policy available for all West Virginians. We encourage you to share the form with relevant friends and family members, too!
President Biden's Recovery Package Represents the Transformative Policy West Virginia Needs
In his joint address to Congress last week, President Biden outlined his American Families Plan and how it will work to benefit our nation's children, families, and workers as we emerge from the pandemic.
The President's recovery proposals in both the American Jobs Plan and American Families Plan represent a ground-breaking agenda and include many important policies to create a more equitable economy, including critical extensions of the Child Tax Credit (CTC) and the Earned Income Tax Credit (EITC), permanent paid family and medical leave, enhancements to our child care system and nutrition infrastructure, and improvements to education affordability.
WVCBP's policy outreach director Seth DiStefano was recently featured on Inside West Virginia Politics to discuss just how impactful the expansions of the CTC and EITC will be for West Virginia families and working folks. You can view the segment here.
The President's recovery proposal represents a transformative vision that would increase economic stability for hundreds of thousands of West Virginians, invest in long-neglected programs and projects that families need, and ensure a more equitable future.
In a recent West Virginia MetroNews article, WVCBP executive director Kelly Allen is quoted saying, "We can't afford not to make the investments in the American Jobs and Families Plans, particularly in West Virginia where we are facing years of disinvestment in infrastructure and our families." You can read the full article here.
West Virginia would see outsized benefits from the recovery plan and our congressional delegation should support this full package which will advance opportunity in our state for many years to come.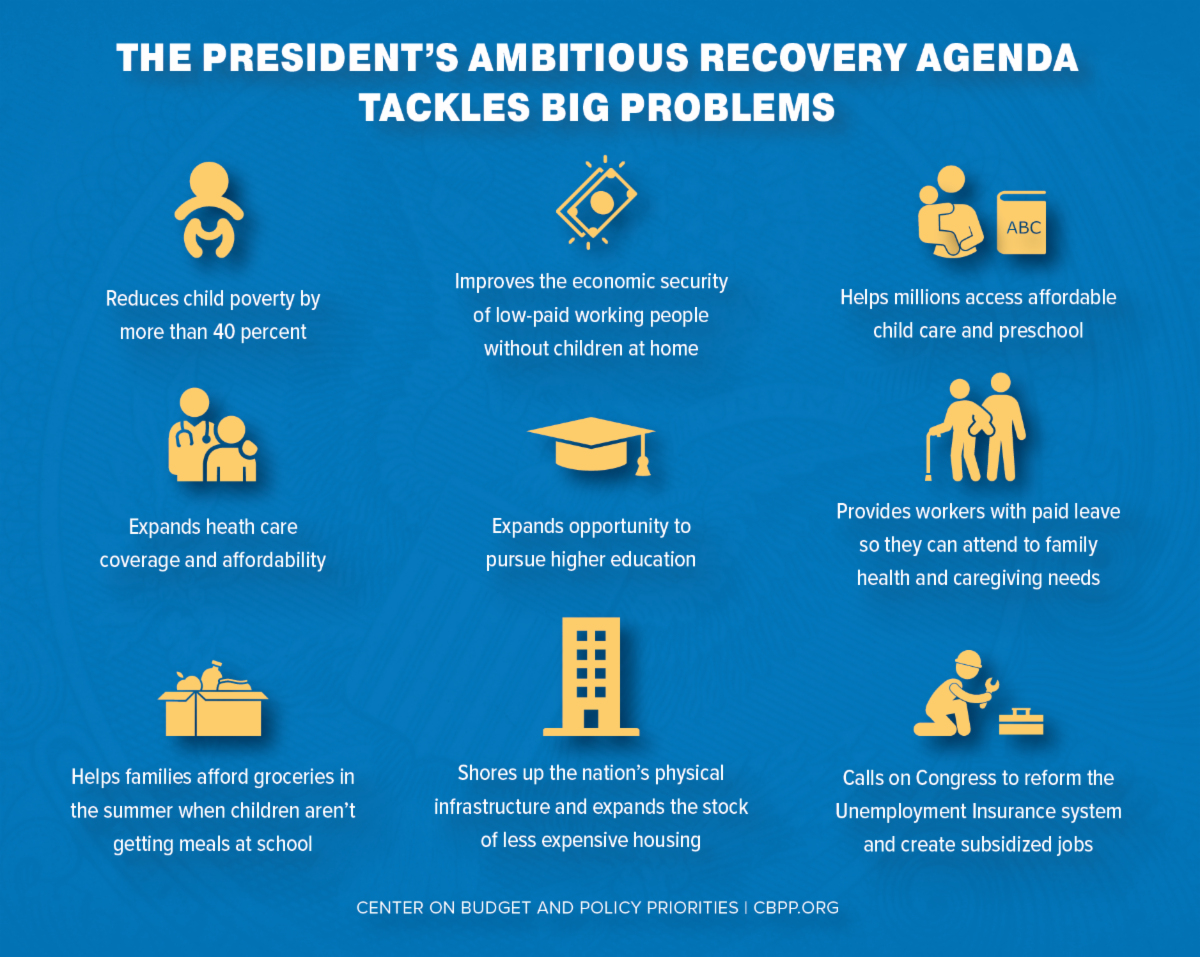 Huntington, Cabell County at the Forefront of Legal Battle Against Opioid Distributors
With overdose deaths surging in West Virginia, this past Monday saw the beginning of what is expected to be a lengthy trial between drug distribution companies and the communities they stand accused of harming. A recent Huntington Herald-Dispatch article from last week provides the details. Excerpt below:
Cabell County and the city of Huntington are set to go to trial Monday against drug distributors they accuse of helping to fuel the area's drug epidemic.
At stake is up to $500 million or $1.25 billion to help local communities deal with the damages from the opioid abuse epidemic.
Cabell County's lawsuit was filed in March 2017, with Huntington following. It alleges AmerisourceBergen Drug Co., Cardinal Health Inc. and McKesson Corp. — the "Big Three" — hold some responsibility for the drug crisis after more than 80 million doses of opioid medication was sent to the area in an eight-year period.
The cases, initially filed by Huntington native Paul T. Farrell Jr., seek damages and reimbursement for costs associated with past and future efforts to eliminate the hazard. The wholesalers had a duty to monitor, detect, investigate, refuse and report suspicious orders of prescription opiates originating from Cabell County and failed to do so, it said. The duty is outlined under the Controlled Substances Act of 1970.
More than 2,000 other similar cases have been filed since, but the West Virginia governments are at the forefront of the battle and the first to see trial.
Read the full article here.
In a recent report, WVCBP estimated that the total economic damage caused by the drug crisis in West Virginia amounted to about $11.3 billion in 2019 alone. Find the full report here.
Hundreds of Millions of Federal Aid Dollars Heading to WV, How do YOU Think it Can be Best Spent?
In the next several weeks, the first of $677 million will be distributed to county and city governments throughout West Virginia. The goal of this money is to support local efforts to recover from the widespread devastation caused by the COVID-19 pandemic, but how the money is spent will largely be up to the local government in question. With your help, we can create a list of priorities that center the needs of those most impacted, and a group of folks to advocate for the aid that is most needed.
We want to hear from YOU.
How do you think your local government could spend this funding? What areas of your city have suffered the most from the pandemic? What kinds of investments will help your community long term? Let us know by filling out this survey.
There are no wrong answers, and please share this survey with anyone whose input you'd like to see considered. We appreciate your thought and time!