A few weeks ago we began raising alarms about the likelihood of a sharp increase in the number of uninsured West Virginians. Over the past eight weeks, 143,000 West Virginians have filed unemployment claims due to job loss and, as we know, most working Americans get their health coverage through their employer. That means that in addition to losing their job and main source of income, many workers also lost their health insurance.
Updated estimates utilizing new unemployment numbers show that just over 100,000 West Virginians have likely lost their health insurance during the COVID crisis- over 65,000 who are estimated to have directly lost their coverage due to job loss and another 35,000 people likely to have lost coverage as dependents on employer-sponsored plans. To put these numbers in context, there were 108,000 total uninsured West Virginians in 2018.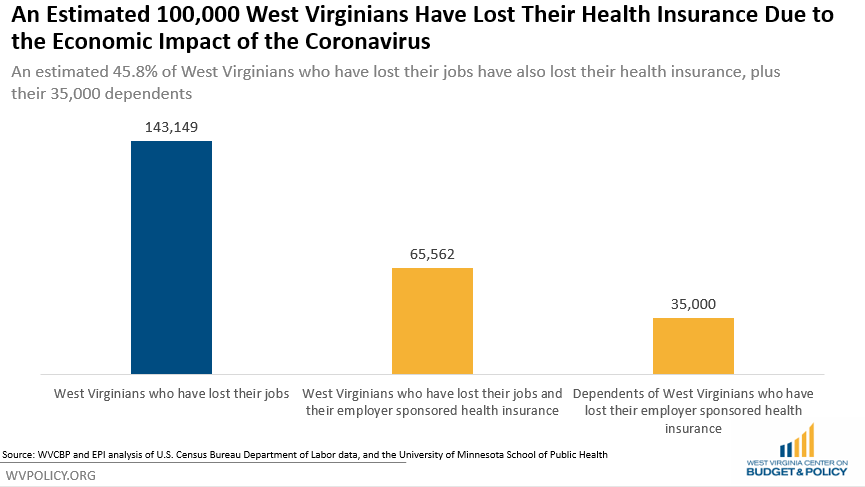 As federal lawmakers consider the next piece of COVID-19 response legislation, they must keep in mind that state Medicaid programs will likely see drastic increases in Medicaid enrollment due to the economic crisis and wide-ranging job losses. West Virginia saw an increase of 11,000 individuals enrolled in Medicaid in April, with many more recently uninsured residents likely eligible for health coverage through the Medicaid expansion. In neighboring Ohio, over 140,000 new Ohioans signed up for Medicaid in the month of April alone.
While the Families First Coronavirus Response Act did send additional Medicaid funding to states by increasing the Federal Medical Assistance Percentage (FMAP), or the percentage of Medicaid costs that the government covers, by 6.2 percent, it is not nearly enough to cover states' increased health care costs and to offset projected state revenue losses.
In the next coronavirus response bill, federal lawmakers must prioritizing an increase in the FMAP rate by an amount great enough to match the need, apply the FMAP increase both to individuals covered through traditional medicaid and the Medicaid expansion, and tie the increased federal funding to the economic recovery rather than an arbitrary end date.
Without increased Medicaid support for West Virginia, we may start to lose the gains made through the Affordable Care Act in reducing our uninsured rate.
If you've lost health coverage recently, there are likely affordable health coverage options available. Read about your options here.
Take action today and urge our federal lawmakers to prioritize increased Medicaid funding in the next phase of COVID-19 legislation.