West Virginia's regional jails, like correctional facilities around the country, are at greater risk of a COVID-19 outbreak. Social distancing in a prison setting is not possible. West Virginia's regional jails see a daily flow of staff and newly incarcerated persons in and out of facilities that operate at the edges of being overcrowded. Combined with a lack of adequate testing, high levels of quarantined inmates, and increasing population counts, West Virginia's regional jails are heading in the wrong direction in the fight to stop a potential COVID-19 outbreak.
Regional jail populations on the rise
After seeing population reductions from early March through most of April, West Virginia's regional jail population is increasing, mostly due to new individuals being held in pre-trial incarceration. Of the 215 individuals who were newly incarcerated between April 23 and May 13, two-thirds (146) are awaiting trial for either a felony or misdemeanor charge.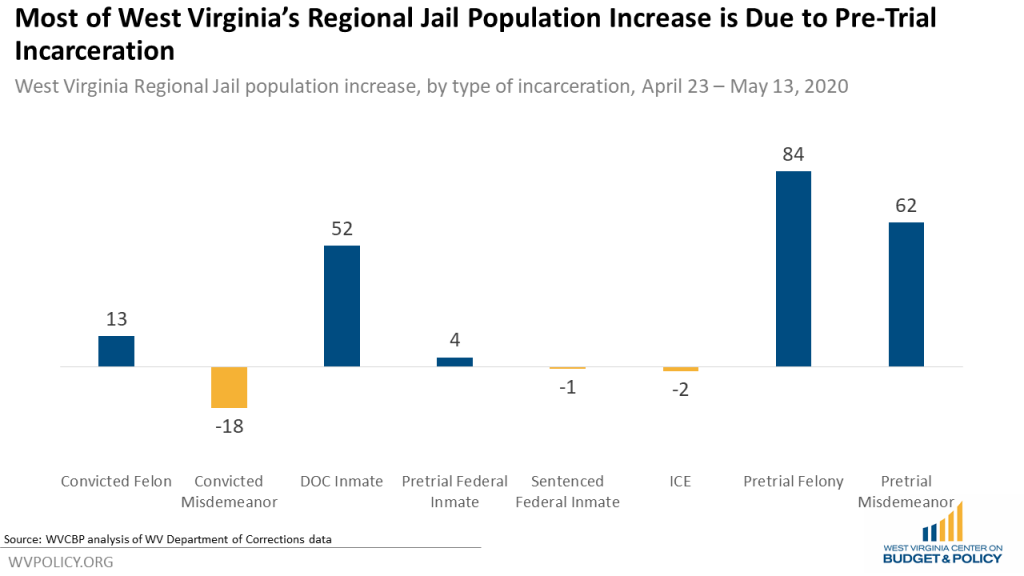 Increasing our state's jail population is counterproductive to containing a pandemic. When compared to the number of verified COVID-19 tests administered within the regional jail system, it becomes even more problematic. As of May 15th, the West Virginia Department of Corrections and Rehabilitation (DCR) had administered 79 tests spread across the state's 10 regional jails. These include those tests that are listed as 'pending' or whose results have not been received. This is a likely indicator that not all newly incarcerated persons enrolled within the regional jail system are being tested for COVID-19 upon entering.
Lack of testing for quarantined inmates presents a significant problem
As of May 15th, the DCR reported 673 total inmates placed in quarantine. The requirements for being placed in quarantine, per the Department are, being a new intake, coming back from the hospital or 'unrelated reasons.' Quarantined inmates, per the DCR, do NOT show symptoms.
With nearly 600 more quarantined inmates in the regional jail system than tests administered as of May 15th, we can conclude that, in addition to new arrivals not being comprehensively tested, inmates re-entering the regional jail system from a hospital visit are not all being tested for COVID-19, further increasing the risk of an outbreak among those incarcerated, staff of regional jails and their families.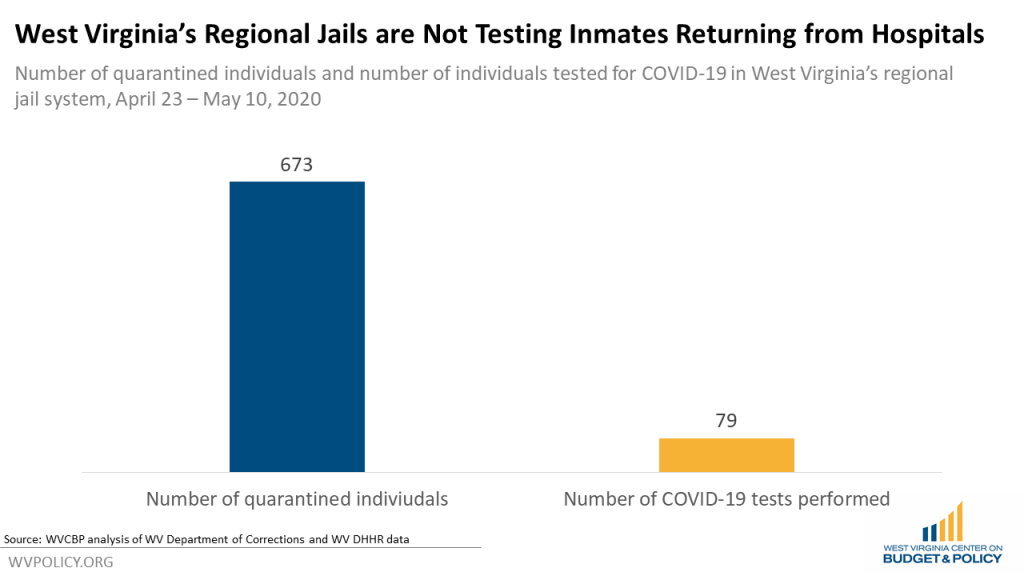 As West Virginia announces the second corrections officer testing positive for COVID-19, state leaders such as Attorney General Patrick Morrisey, Congressman David McKinley and Senator Shelley Moore Capito have called for more sophisticated equipment to be made available to comprehensively test within West Virginia's two federal prisons at Gilmer and Hazelton. Just today, Governor Justice announced that the first inmate at one of our state's prisons has tested positive for COVID-19.
Governor Jim Justice and the WV Department of Corrections and Rehabilitation should follow their lead and institute comprehensive and periodic COVID-19 testing for all incarcerated individuals, staff and the family of staff at all West Virginia correctional facilities-adult, juvenile and community-based. Such action, combined with lowering incarceration rates in general, is critical to avoiding outbreaks in our jails, prisons and communities as a whole.