In mid-March, at the same time that schools and businesses across the state were being closed due to COVID-19, households also began receiving invitations in the mail to complete the 2020 Census. As one could imagine, the timing was not ideal. For families scrambling to find child care solutions, put food on the table, and access unemployment insurance benefits, filling out the census was not at the top of the priority list.
But the census is no less important than usual this year. In fact, the public health and economic crisis that is likely driving our state's low response rate is also an example of why the census is so critically important for every West Virginian. The census helps determine the share of federal dollars that West Virginia will receive to build and maintain roads, pay for schools, fund health care and food security of our residents, and so much more. The Census count also determines how much political representation our communities receive, and our elected officials are our voices and our advocates in times of crisis.
Each year, West Virginia receives over $6 billion in federal programs whose funding is guided by Census data. However, that funding is not guaranteed. It depends on each and every West Virginian affirmatively having their household counted. The WV Department of Commerce estimates that West Virginia will lose over $2,000 per year for each person not counted in the 2020 Census. Just a one percent undercount would cost West Virginia $188 million in federal funding over the ten years in which 2020 Census data is used.
As of April 14, 2020, only 36.7 percent of West Virginia's households have responded to the census, though our state's number continue to improve daily. Higher self-response rates mean fewer people are likely to be missed and fewer households will have a visit from a Census taker to be counted in-person.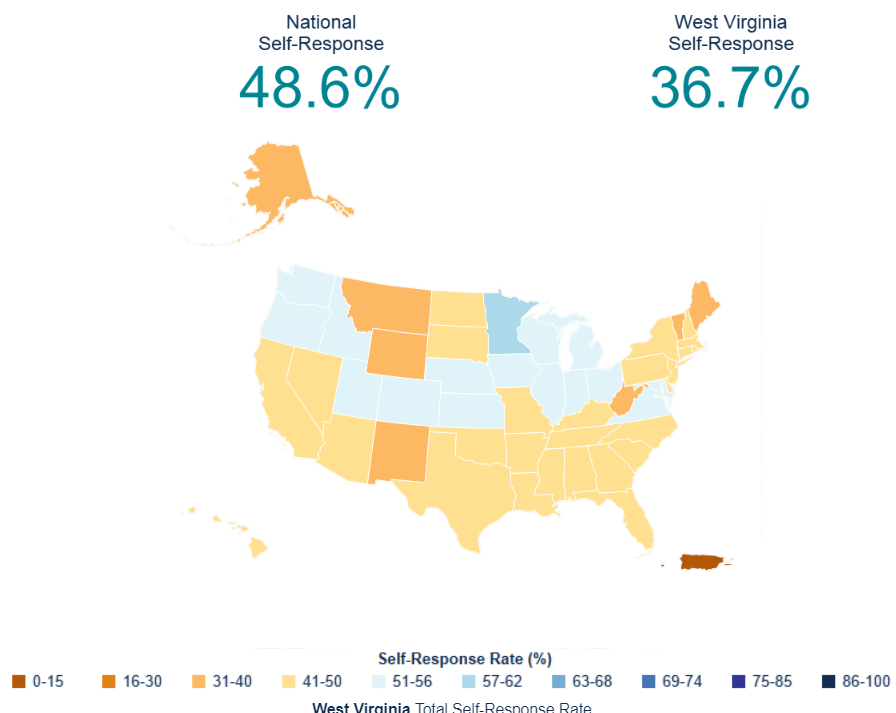 COVID-19 has shone a light on the importance of federal funding in West Virginia. Federal Medicaid matching funds are currently being utilized to provide virus testing and treatment for both Medicaid recipients and our state's uninsured. Federal funding for the Supplemental Nutrition Assistance Program (SNAP) and the national school lunch program are feeding families who've lost work or seen their hours cut due to the economic downturn. Community Development Block Grant (CDBG) funds are utilized for recovery and disaster relief. And in the coming months and years, the federal programs guided by Census data will continue to be critical for West Virginia's communities and their ability to recover from this crisis.
The census determines West Virginia's next ten years by ensuring that we get our fair share of resources for our communities. Filling out the census takes less than ten minutes, and it is safe and secure. You may have received correspondence in the mail with your household's code to fill out the census, but even if you didn't you can respond today by visiting my2020Census.gov to respond online. You can also complete the census via phone by calling 1-844-330-2020 or by mailing in the Census questionnaire you receive.
If you've already filled out the census for your household, you can go even further by contacting 10 friends to remind them to fill out their Census forms. You can also reinforce the importance of the census to friends and family by posting on social media. Post to let everyone know how important this is for you and your community. Follow West Virginia's state grassroots coalition page – Count Me in WV Coalition and use the hashtag #CountMeinWV.