With the unofficial end of summer passing with Labor Day, now is a good time to check in on West Virginia's economy. And while the nation as a whole has experienced a strong recovery from the pandemic, West Virginia is lagging behind on several key indicators over the past year.
The national economy has added 3.25 million jobs over the past year, or a 2.13 percent increase. In contrast, West Virginia has added 6,800 jobs, or just a 0.98 percent increase. Among the 50 states and D.C., West Virginia's total nonfarm employment growth ranks 43rd.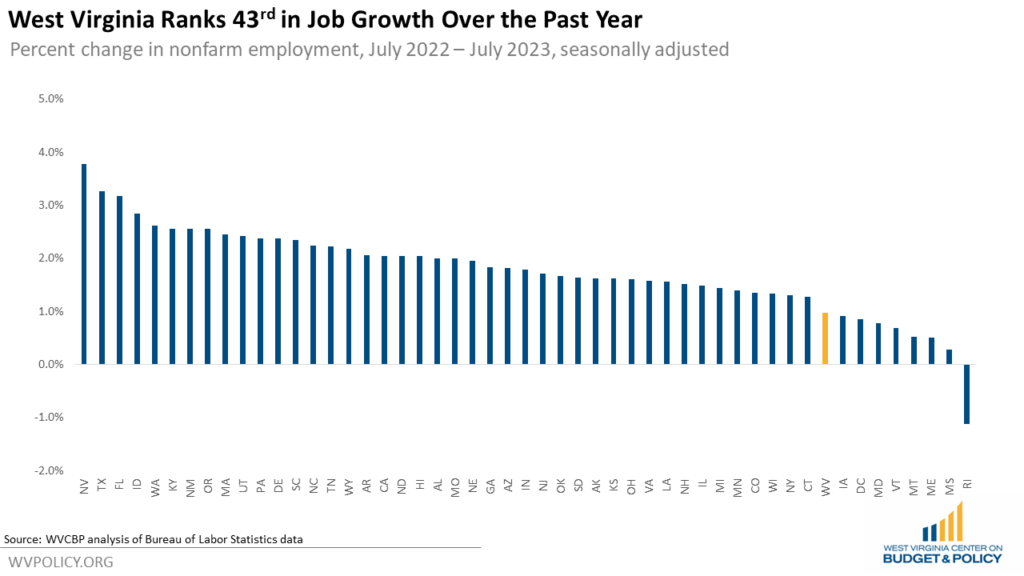 A similar story can be told with GDP. While the national gross domestic product grew by 7.23 percent from 2022Q1 to 2023Q1, West Virginia's grew by only 4.93 percent, ranking the state 49th in growth.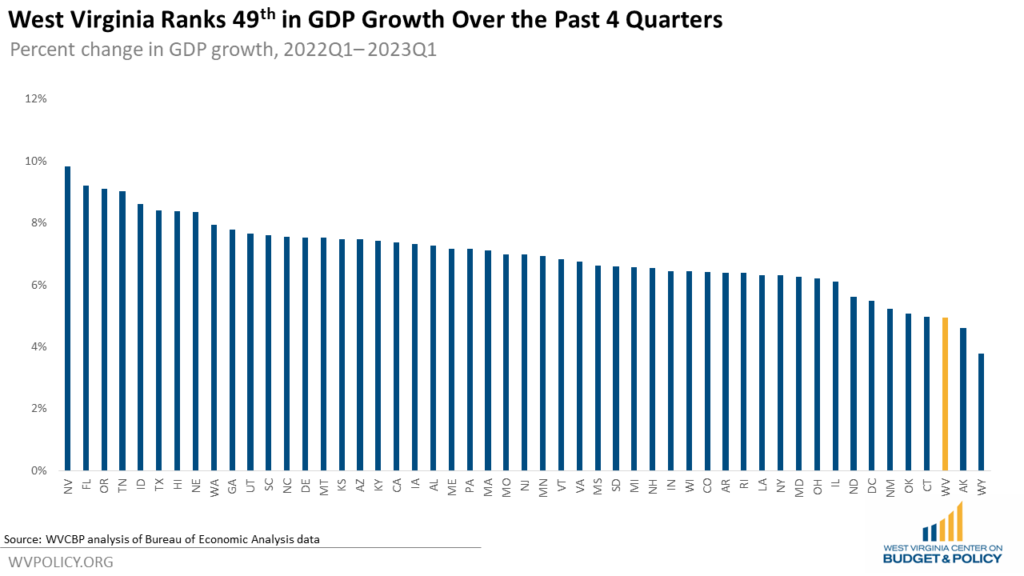 Government austerity is helping to hold back the recovery both nationwide and in West Virginia. Private sector jobs have grown by 8,400 jobs in the state over the past year, while state and local public sector jobs have declined by 1,600.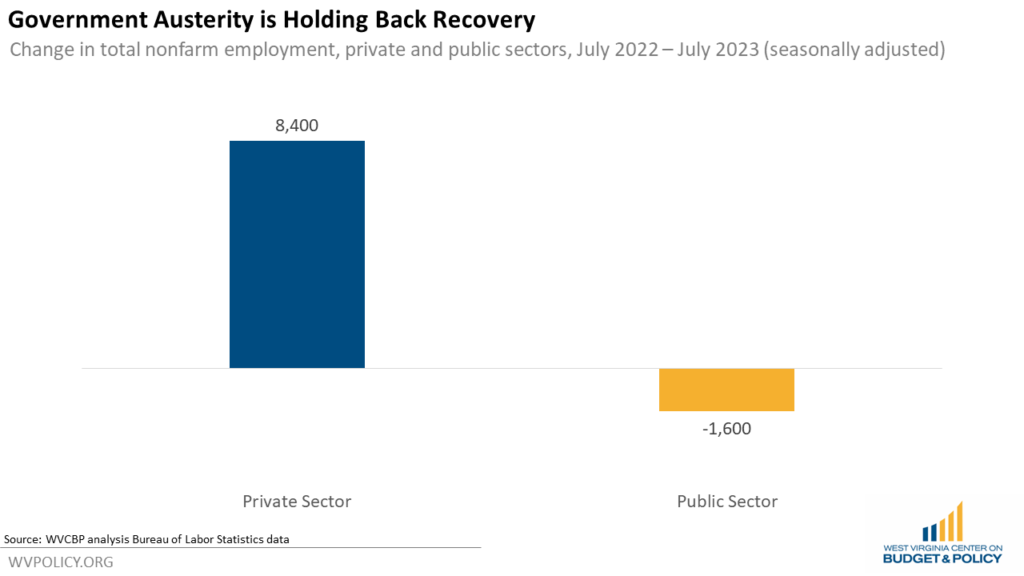 Cuts to government spending are likely to continue as tax cuts and a slowing economy are taking a bite out of tax revenue. General Revenue collections were down $96 million in August compared to August of last year, with some of that decline self-inflicted from sweeping income tax cuts passed earlier this year. As a result, the income tax was down $45 million compared to last August, while the volatile severance tax was down $88 million. The sales tax, which some suggested would make up losses to the income tax, was up only $8.2 million compared to last August. Altogether revenue for the first two months of the fiscal year is already down $142.3 million compared to the first two months of the last fiscal year.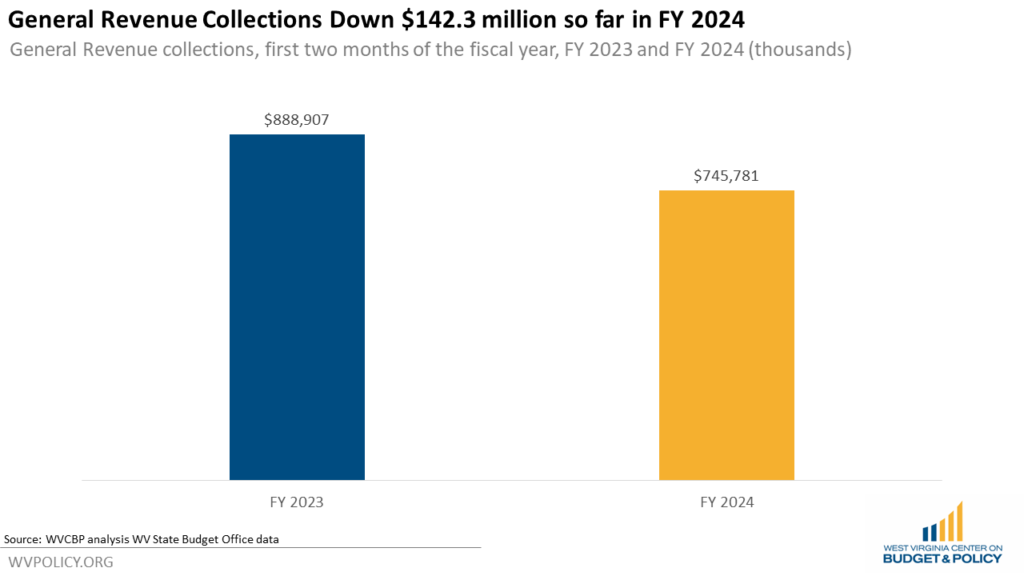 Finally, while the state's unemployment rate remains low at 3.4 percent, ranking 35th, the state still struggles with a low labor force participation rate, which it has faced for decades. The labor force participation rate provides a complementary measure to the unemployment rate, as it captures the share of the total adult population that is available to work, whereas the unemployment rate captures the share of the labor force that is unable to obtain employment at a given point in time.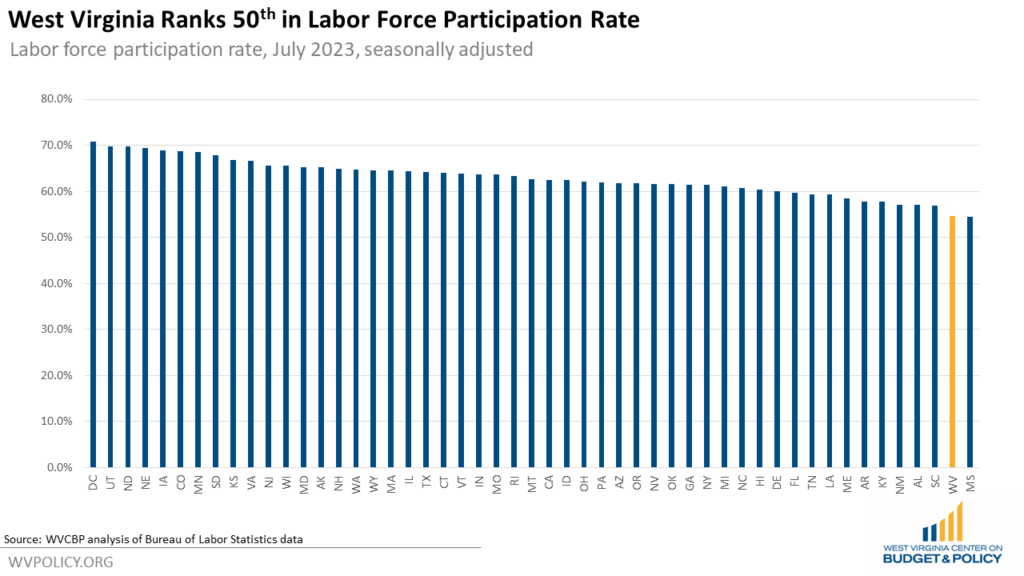 West Virginia's low labor force participation rate points to an underperforming economy, even with a low unemployment rate.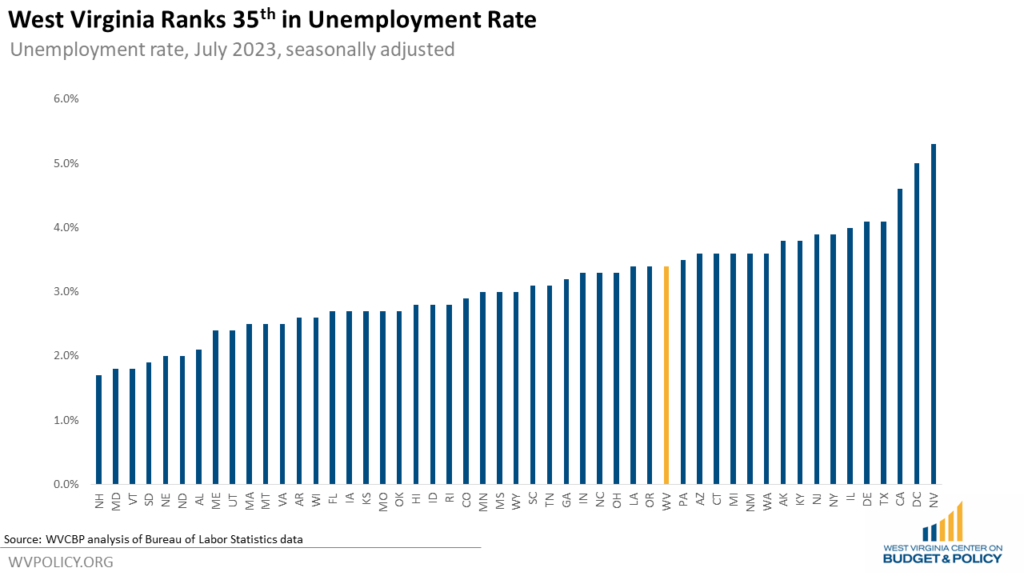 While West Virginia has ridden the wave of a strong national recovery, it still lags behind most states with many of its problems either self-inflicted or failing to be addressed altogether. At a time when many states are experiencing growth for workers and the economy, tax cuts are hurting revenue and potential job growth, while the state's historically low labor force participation rate undercuts its low unemployment rate. Putting those factors altogether, the state has had one of the weakest economic performances among its peers over the past year. Policymakers can grow the economy and well-being for everyone by investing in supports that bring more West Virginians into the labor force (like child care and job training) and filling and restoring lost public sector jobs.