How Tax Reform Should Include Our Working Families
This week at the conclusion of the standing-room-only Our Children Our Future Policy Summit, a diverse coalition of organizations that cares about kids, families, seniors and working people, presented basic principles of fair taxation.
Surrounded by student advocates and allies, leaders from labor, faith-based, and community action groups all spoke to the need to invest in our schools, infrastructure and work force, instead of cutting taxes more for the wealthy.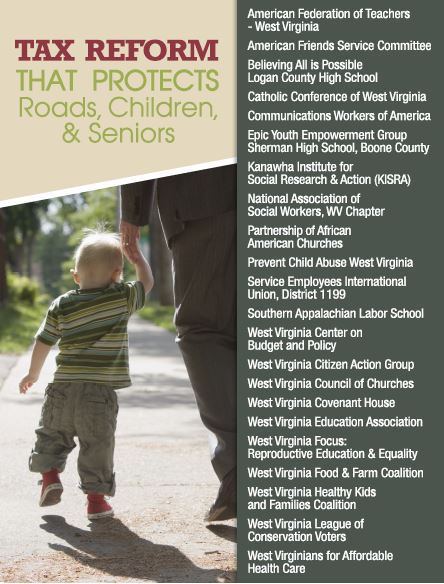 The coalition asked legislators to consider the following:
Any new tax proposal should not jeopardize schools, roads, colleges, kids, or seniors. This includes protecting services for vulnerable West Virginians.
Any new tax proposal should include accountability measures for tax breaks or credits so we know they are working.
Any new tax proposal should not increase taxes on low- and middle-income families; in West Virginia we already have an upside-down tax structure where working families are forced to pay more than their fair share.
Any new tax proposal should consider new and alternative sources of revenue to pay for urgent needs such as infrastructure, education and human services.
Any new tax proposal should avoid changes to revenue generation that would short circuit the democratic process and weaken the state's ability to meet future needs.
Read all about it in the Beckley Register-Herald, the Charleston Gazette-Mail, the State Journal and the Dominion Post. Listen to coverage by West Virginia Public Broadcasting.
It's likely that the Joint Select Committee on Tax Reform will recommend some sort of tax cut for the wealthy, perhaps by cutting personal income tax rates for those with high incomes. Reflecting back at the impact of seven years of business tax cuts, while some state leaders supported them at the time, they are now saying that the cuts went too far and did not bring about their promised gains in job creation. The WVCBP's predictions came true, despite having our opinion called unrealistic by the WV Chamber of Commerce back in 2008. Here's more in the Charleston Gazette-Mail.
Census Numbers Bring Good and Bad News
It was a week of mixed data from U.S. Census with the good news that West Virginia has drastically reduced its number of people who lack health insurance, and the bad news that its rate of poverty stayed stubbornly high in 2014.
Over 90% of West Virginians now have health insurance. The almost 100,000 of us gaining access to health insurance in 2014 was the third biggest decline in uninsured people in the country.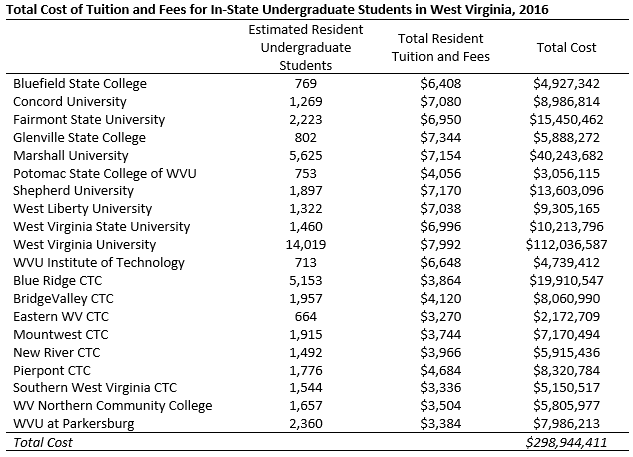 Much work needs to be done to tackle the state's high poverty rate and low median income (see below for how to vote to help make this happen). One in four children in West Virginia lived in poverty in 2014 and the state's overall poverty rate of 18.3% was essentially remained unchanged since 2013.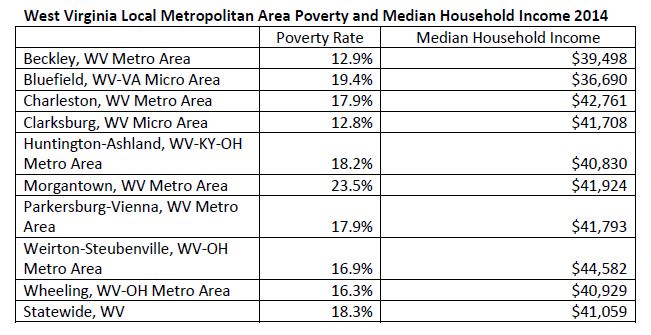 Read much more in today's blog post from Sean and in the Charleston Gazette-Mail.
Cast Your Vote for the 2016 Our Children Our Future Policy Platform!
Now that the 2015 Our Children Our Summit has wrapped up, it's time to vote to select the top issues that will become next year's platform to help end child poverty in West Virginia.
Take a minute and vote for your top five choices today! Help us put a West Virginia Earned Income Tax Credit and Fair Taxes That Protects Roads, Children and Seniors on the platform!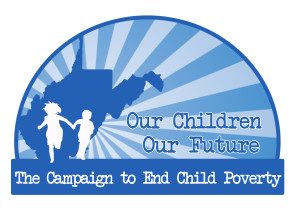 Bridge the Divides: Transform Politics
If you are in the Wheeling area on Monday, you have two chances to join Nuns on the Bus as they call for a new political reality. The group will be collecting stories to take to Congress as part of their call for change.