More on Last Week's Poverty Numbers: Rich Getting Richer
Last week 's data on poverty in West Virginia showed that the number of children and families living in poverty is still too high. What we also learned is that the state's economy is starting to grow again, post-recession, but it's the wealthiest in the state who are seeing the biggest boost. The gap between low-income workers and high wage earners continues to grow and the recovery is not boosting the state's middle class. For more, here is Sean's blog post.
Income inequality affects different states in different ways, and is caused by different policies. With the incomes of lower- and middle-class families remaining stagnant, however, no matter where you live those families will have less to spend. More in this Washington Post article on the far-reaching impacts of income inequality.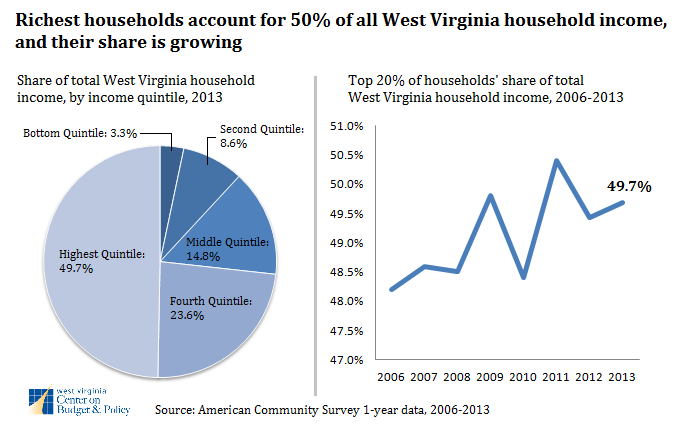 State of Working West Virginia: State's Energy Economy is Moving North
West Virginia is still a coal state but production has been declining in the south and held steady in the north. That trend, coupled with the boom in natural gas production, means West Virginia's energy economy landscape is changing.
Our annual State of Working West Virginia report, due out next week, will paint the complete picture on the state of West Virginia's current employment situation and recommendations for how to give coal miners and the state's economy a smoother transition as coal plays a smaller and smaller role.
A sign of the changing role of coal and other fossil fuels hit Wall Street this week when the Rockefeller Brothers Foundation announced it would divest its interests in carbon-emitting energy sources. Read local reaction in this week's Charleston Gazette.