Poverty Numbers Out This Week Show Stubbornly High Poverty Rate for West Virginia
While its economy has recovered from the Great Recession, West Virginia's people still face an uphill climb in terms of getting out of poverty. Nearly one in five in the state lives in poverty, including one in three young (under the age of five) children.
The U.S. Census data released this week updated the poverty picture that low- and middle-income working families face. While the state's economy continues to improve and its unemployment rate is down, it's the high wage earners that have seen increases in their paychecks. This on-going income inequality is addressed in Sean's blog post today.
Read more in the Charleston Gazette, Charleston Daily Mail, the State Journal and West Virginia Public Broadcasting.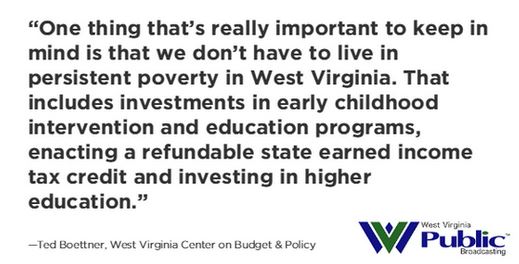 Number With Health Care Continues to Grow
More U.S. Census data also out this week showed that the number of people lacking health insurance in West Virginia continues to decline.
The numbers hint at promising trends for bringing down the number of uninsured. Both Obamacare and the state's expansion of Medicaid are expected to cause an even greater improvement when next year's numbers come out.
Read more in the Charleston Gazette and the State Journal.
Speaking of health care, the Children Health Insurance Program (CHIP) is before Congress for reauthorization. With 25,000 West Virginia children relying on this highly effective program, read more in Erin's blog post on why we should not play political games our children's health.
Save the Date!
What Is A Safe Water System? Let's Make It Happen!
A panel discussion & community conversation on our water
Thursday, November 6th
7-9pm (doors open at 6:45)
University of Charleston, Erma Byrd Gallery (in Riggelman Hall)
Event is free. Register here
Speakers include: Dr. Rahul Gupta (Kanawha-Charleston Health Department),
Fred Stottlemyer (former director of Putnam PSD), and other safe water experts.
Despite legislation and promises from our politicians, our drinking water system is still at risk. The Public Service Commission's investigation of WV American Water has been pushed back until next year, and the legislation we have won is at risk.
Come join your neighbors the evening of November 6th to hear experts explain what a safe water system might look like, and discuss among our community how we can achieve that goal.
Sponsored by: Advocates for a Safe Water System, WV Council of Churches, WV Center on Budget and Policy, National Association of Social Workers, and the WV Healthy Kids & Families Coalition.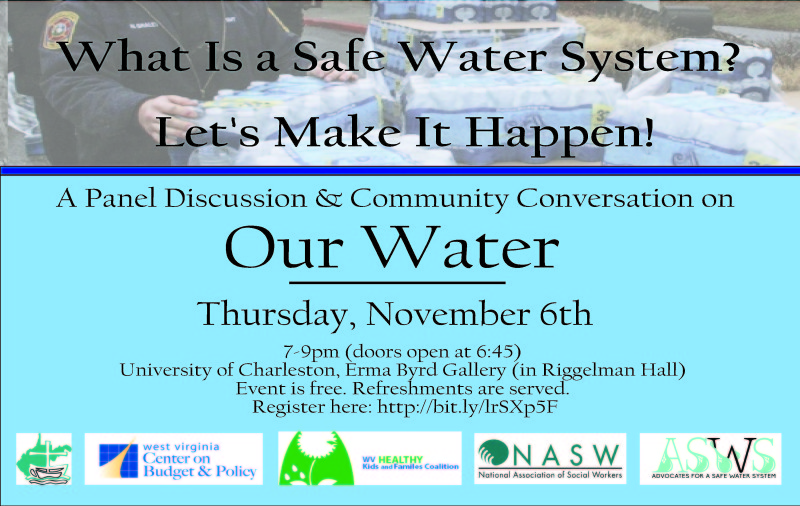 Friday Fun
Go here to check out video documentaries on West Virginia's history and culture, narrated by the people who live here. The website is continuing to grow until it includes all 55 counties.