Our Children Our Future Policy Symposium Brings Together Hundreds from Across the State
The WVCBP was proud to be a partner in the Our Children Our Future Policy Symposium this past week in Charleston. Hundreds of leaders and activists from social advocacy organizations, faith-based groups, government agencies, schools and universities, and families and young people gathered to discuss a wide variety of policy proposals all aimed to tackle poverty in West Virginia.
In just two years, the Our Children Our Future campaign has had 14 victories including an increase in the minimum wage, restoration of budget funding to help working families, and the creation of the WV Future Fund.
As the 2015 Legislative Session approaches, the WVCBP will work closely on two new initiatives in particular – the creation of Voluntary Employment Retirement Accounts (VERA) and a paid sick days policy for West Virginia workers.
Next up for the OCOF campaign is a series of Fall Forums across the state. To learn more, email Stephen Smith with the WV Healthy Kids and Families Coalition.
If you weren't able to attend, check out this video of Day 2 of the Symposium as youth and parents testified before the Joint Committee on Children and Families.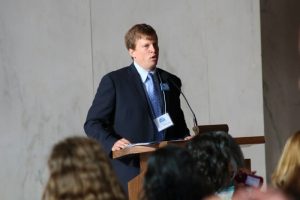 WVCBP Executive Director Ted Boettner delivers opening remarksat this week's Our Children Our Future Policy Symposium at the Culture Center on 9.9.14.
Read more in the Charleston Daily Mail and the State Journal. Additionally, here is coverage from West Virginia Public Broadcasting.
Coal in Ground Could Become a Stranded Asset
To tackle climate change and reduce our carbon emissions, some fossil fuels will be left where they are, becoming a "stranded asset." In an interesting article forwarded to us by Betty Rivard, this New York Times article explains the concept and its far-reaching implications.
Preview on New Poverty Data
Check out this space next week as we look at newly released census numbers on poverty and inequality and how West Virginia is faring.
Here's a preview from the Center on Budget and Policy Priorities:
As in Other Recent Recoveries, Poverty Has Been Slow to Improve
Austerity Policies Likely Hampered Progress Against Poverty in 2013
Unequal Wage Growth Also Slowed Progress
Income Inequality at Record-High Level in 2012
Most Poverty Figures Released on Tuesday Won't Reflect Non-Cash Benefits
Census Will Show Anti-Poverty Impact of Some Cash and Non-Cash Benefits