Funding Cuts Restored
This week, the legislature voted to fully restore funding cuts to family-support programs that Governor Tomblin had vetoed in March. Governor Tomblin has said he will sign the legislation this time around. Support in the House of Delegates was unanimous, with a vote of 90-0.
In reversing course, the governor and legislators responded to pressure from the Our Children Our Future Coalition. Ted Boettner and Jim McKay authored this oped which appeared in last Sunday's Charleston Gazette Mail. And the coalition gathered at the Capitol on Tuesday with families and workers who would be affected by the cuts. Here's more from West Virginia Public Broadcasting.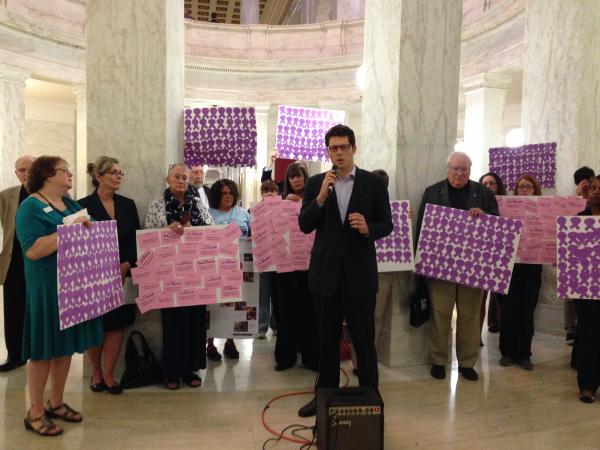 Our Children Our Future Rally on May 20, 2014
(photo from West Virginia Public Broadcasting).
"Our democracy is working. Kids and families made their voices heard, and lawmakers from both sides of the aisle listened," said Stephen Smith, Executive Director of the West Virginia Healthy Kids and Families Coalition. "We congratulate House and Senate leadership for finding a way to make this investment in our state's future. Governor Tomblin has worked hard with his cabinet secretaries, law enforcement, advocates, and lawmakers to vet these programs. The research speaks for itself: we cannot afford to turn away $14 million in leveraged funds; we can't afford to lose 80 jobs."
Here's more on the governor's decision from West Virginia Metro News.
Tweaks Complete to Minimum Wage Legislation
Also while in town this week for interims, the legislature passed HB 201, which allows businesses to continue to use alternative methods of calculating overtime for eligible employees under federal law, while preserving the increase in the state's minimum wage. HB 4283, passed during the regular session, increases the state's minimum wage to $8.75 by 2016 for all employers in the state.
State EITC Would Make West Virginia's Tax System More Fair
In West Virginia, as in other states, low-income workers pay a higher percentage of their wages in taxes than do high wage earners. A state Earned Income Tax Credit (EITC) would create a greater balance, giving a tax reduction to low-income workers. West Virginia should model its EITC after the federal program which has been around since 1975 and has raised millions out of poverty. Read more details in Sean's blog post.
Nonprofit Association Provides Support for West Virginia Organizations
Do you run or work for a nonprofit organization in West Virginia? If so, membership in the West Virginia Nonprofit Association is a great resource. The WVCBP has benefited from its membership with discounted fees for seminars and valuable networking on the group's listserv. Learn more about membership in the WVNPA here.
Reminder: Survey from Governor's Office
If you were impacted by the January 9 chemical spill into the Elk River, now is your chance to tell Governor Tomblin how you think the state reacted to the emergency. You can still respond to this survey until Monday, May 26.