Children's Day at the Capitol
The WVCBP was a proud cosponsor of Children's Day at the Capitol this week. Hundreds of children from around the state turned out to lobby legislators as part of the Our Children, Our Future campaign. Here are two of them checking out our booth.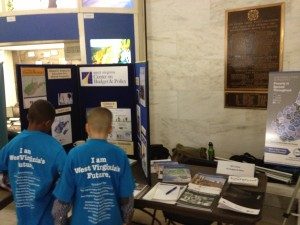 photo by Rebecca Roth 2/26/2013
On Wednesday, Ted presented to the Senate Select Committee on Children and Poverty. Watch his presentation here or read it here. On Thursday, West Virginia Public Broadcasting reported on the committee's meeting.
Evidence Counts – the WVCBP blog
This week Ted blogged about the impact of The Sequester to West Virginia. His post also pointed out that Medicaid Expansion would provide health insurance to one-third of the 11,000 veterans who currently are without coverage.
WVCBP in the News
The issue of children in poverty was in the news leading up to Children's Day. The Charleston Gazette ran an editorial citing data from the WVCBP report released last week.
Ted was quoted in a Charleston Gazette article this week discussing how changes to the way Social Security cost of living adjustments (COLAs) are calculated should be carefully considered. Groups such as the AARP are against changing how COLAs are determined.
Internet Tax Coming to West Virginia?
This week Governor Tomblin requested the introduction of a bill to require sales tax on Internet purchases. HB 2754 would impose West Virginia's six percent sales tax on out-of-state retailers who have a business presence in the state, as Amazon does with its warehouse in Huntington. Such a measure would "modernize our sales tax and treat all businesses the same" as Ted mentioned late last year in this Charleston Gazette article.
Next Week's Budget Hearings
Monday, March 4
House: Department of Commerce at 2PM
Senate: Department of Revenue (Tax-ABCA-Banking-Insurance-Municipal Bond-Racing-Athletic Commission- Budge Office-Tax Appeals) at 3PM, Lottery Commission at 4:00PM
Tuesday, March 5
House: School Building Authority (Joint with Education) at 9AM, Public Education (Joint with Education) at 1PM
Senate: Department of Commerce at 3PM
Wednesday, March 6
Senate: Department of Agriculture at 3PM, State Conservation Agency at 3:30PM, Department of Environmental Protection at 4:00PM
Thursday, March 7
House: Community and Technical Colleges at 9AM, Higher Education Policy Commission at 1PM
Senate: Department of Education and the Arts at 9:30AM, Department of Transportation at 3PM, Department of Veterans Assistance at 3:45PM
Friday, March 8
House: Attorney General at 9AM