Income Tax Cuts for Wealthy Unlikely To Boost West Virginia Economy
As the legislative committee charged with overhauling the state's tax system continues its regular meetings, concerns continue over what recommendations will emerge from this process.
Reducing or outright eliminating the state's personal income tax has been a regular topic of discussion before the committee. Legislators have lots of examples of how such proposals can impact a state's budget and in Part III of his blog series on the issue, Ted explains several outcomes.
In 2016, the $1.9 billion expected to be collected in personal income taxes alone in West Virginia could nearly pay for the state's public education costs. That's a lot of money to replace in the state budget and getting rid of it will likely mean deep funding cuts for schools and other important services, making West Virginia an unattractive place to live, work, and raise a family.
Here's more from the Center on Budget and Policy Priorities on how tax-cutting states have fared economically.

Supreme Court Decision Could Impact Thousands in West Virginia
Once again the fate of the Affordable Care Act is before the U.S. Supreme Court. In late June or early July, the Court is expected to rule in the King v. Burwell case. According to the Urban Institute, a ruling in favor of the plaintiff could cause 41,000 West Virginians to lose their tax credits, and 49,000 West Virginians to drop their insurance plans due to rising costs. Here's more.
Deadline for Policy Proposals to Help Fight Poverty in WV
Time is running out to submit a policy proposal for the Our Children, Our Future Campaign's annual Policy Workshops and Symposium.
Making your voice heard on an issue you think needs attention will require a submitted application and participation in at least one workshop and the symposium.
The deadline to apply is Monday, June 15!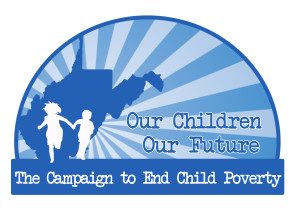 Job Opportunities
The Our Children, Our Future Campaign has several job opening available now!
1. Full-time Try This Coordinator: Try This West Virginia is a statewide movement of West Virginians who want to help knock our state off the top of the worst health lists, community by community. This person would work with the Try This directors to help expand the movement. This is a dream job for the right person – someone who has a passion for healthy food and physical activity and a wide range of skills to help us build the Try This movement. Go here for more information.
2. Full-time, Our Children, Our Future Regional Organizer: perfect candidate will work hard to 1) bring new leaders and volunteers into our work, 2) help plan events/candidate forums/trainings in their region, and 3) lead advocacy efforts on a wide range of issues related to children and family. Pay is competitive ($32-38k, plus health benefits, generous vacation, and travel reimbursement) and position will likely cover the northern region of the state. To apply send a cover letter that gives details about why you are interested in the position and what skills/experiences you will bring to the table; 2 professional references; and a resume to Stephen Smith.
3. Our Vote, Our Future Door-to-Door Organizer. Earn ~$10/hour going door-to-door, registering and educating voters about key issues that affect children and families, and asking them to take action by making a donation or writing a letter. Hours are 2pm-10pm. Canvass is based in Charleston, but will sometimes travel. Must have experience fundraising or be willing to learn. E-mail a cover letter and resume to Alexandra Gallo.