The Fast Fast Facts on "Right to Work"
Check out our second edition of Fast Facts. This issue explains the real meaning of "Right to Work" and its broken promise of economic growth in states that have adopted it. It's a policy that could actually lower wages in West Virginia which already has a median wage lower than the national median wage.
More Facts on Prevailing Wage
This week the Charleston Daily Mail published an oped claiming to define the state's prevailing wage debate. As Sean's blog post points out, the oped was short on facts and long on rhetoric. For more, check out last week's Fast Facts and the top 5 things you need to know about the prevailing wage and what it means to West Virginia workers.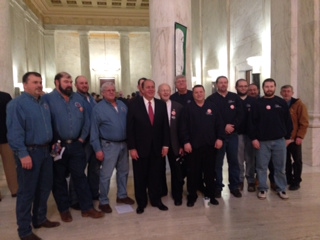 Quick Action: Stand with CFPB on Consumer Protection
Government agencies don't usually get much attention on their birthdays. But the Consumer Financial Protection Bureau (CFPB) is not just any agency. Its rules and enforcement actions already have made a positive difference for credit cardholders and people taking out mortgages and student loans; and it has delivered $5.5 billion back to 14 million defrauded consumers. And that's just a start on the Consumer Bureau's important job of standing up for fairness and transparency in the world of banking and lending.
Join us in sending a birthday message to the CFPB. Congratulate them on the good work to date. Urge them to stand up for what's right in the tough and important work that lies ahead.
Now the CFPB is taking on important new tasks – crafting rules to rein in the predatory practices of payday, car-title and other debt-trap lenders; cracking down on abusive debt collectors; and addressing the use of take-it-or-leave-it forced-arbitration clauses that let banks and lenders break the law with impunity. But the same industry forces that stood against this agency from the beginning are still trying to squelch it.
Let's seize the birthday moment to say thanks, keep at it, and we stand with you for consumer protection. Once you've signed, please take an extra moment to say something about why you, personally, think it is important that someone stands up for fairness in the financial marketplace.
Apply Now For Freedom School
Applications are now being accepted for the American Friends Service Committee's Freedom School taking place August 28-30, 2015 at the East End Family Resource Center in Charleston, WV.
Freedom School will explore:
Why are people poor?
Why are so many people of color in prison?
Knowing your rights with the police
How to organize against racism
….and much more….!
Freedom School is for youth ages 15-21 to learn about racism and how to organize to undo it. Attendees will learn anti-racist community organizing skills and learn from community elders. They will think critically about the education system, the media, and the criminal justice system, and learn and work together to create change.
To get involved, to become a sponsor or if you have questions contact Lida Shepherd at (304) 356-8428 or click here. To apply for the upcoming Freedom School, click here.
Register Today for the Next Our Children Our Future Policy Workshop!