Budget Breakfast – January 22, 2014
The legislative session is just around the corner and that means it's almost time for Governor Tomblin to release his proposed budget. Will there be more budget cuts this year? What programs will bear the brunt? Don't we need to invest more in education if we want to create economic opportunity?
Find out at the WVCBP's inaugural Budget Breakfast on January 22 at the Charleston Marriott from 8-9AM. Registration opens at 7:30AM.
Tickets are $20 and include a breakfast buffet.
Sponsorships are available at the $250 level (includes 2 tickets), the $500 level (includes 4 tickets) and the $1,000 level (reserves a table of 8). Sponsorship includes being mentioned in conference materials.
Future Fund Top Legislative Priority
Senate President Jeff Kessler has stated throughout interims that establishing a Future Fund in West Virginia is a top priority for him during the 2014 Legislative Session. Setting aside assets for the future, an opportunity missed during the coal boom, is a way to break West Virginia's "resource curse." To read more about why this is a good idea for the people of West Virginia, check out Ted's interview in The Appalachian Voice.
On Monday, Ted will also be on a panel to discuss the Future Fund at the 2014 Legislative Lookahead sponsored by the West Virginia Press Association.
Southern West Virginia No Longer Wears Coal Crown
Coal production is declining across the state but even more so in southern West Virginia. Easy-to-mine coal is becoming hard to find and competition from natural gas is making its mark. The data present another wake-up call for West Virginia's policymakers and the need to plan now for the state's changing energy future. Read more in Ted's blog post.
Free Movie – Inequality for All – January 14, 2014
The WVCBP, along with many sponsors, is proud to bring "Inequality for All" to the Culture Center on January 14, 2014. Please plan to attend this free screening and discussion on how the widening income gap is hurting the nation's economy and its workers by sending an RSVP to Alyson.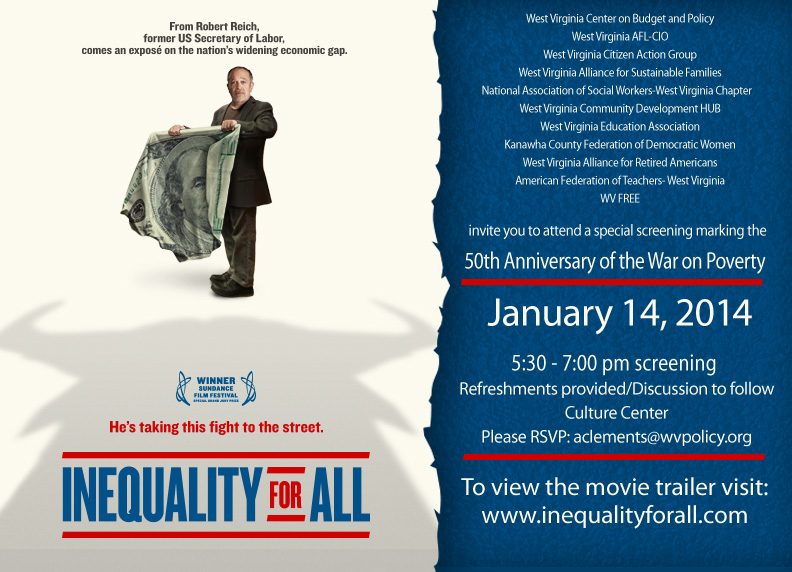 Many Other States Raise the Minimum Wage
One way to tackle the growing income gap is to raise the minimum wage. At the start of 2014, 13 states raised their minimum wage above the federal level bringing the national total to 21. West Virginia, however, remains at the federal level of $7.25 an hour. Even a modest bump in the minimum wage would help provide some financial independence for thousands of West Virginia families. More here in Alyson's interview this week.